You may be ready to kick back, relax, and enjoy the final few weeks of your pool. But, before you do, have you thought about the last piece of the puzzle? Safety. Some local laws, or even state laws, require you to have a fence (like here in Minnesota). These laws mean that you probably already have a fence installed (or at least you should). For those of you that are thinking about getting a pool next spring, this is something for you to consider during the cold months.
So, why do so many states require fencing? And why should you care? Well, pool fences are first and foremost about safety. A pool can be a great time, but it can also be dangerous. Small children, pets, inebriated guests…the list of potential risks goes on and on. In fact, let's take the time to dive deeper into the "why" of your pool fence.
Why You Need A Fence For Your Pool

We might be a bit biased, but fences don't only provide a ton of functionality, but they look great. A pool fence is no different. In fact, the safety factor is not only a necessary addition, but it's also the law.
Keep Your Children Safe
A pool is a fun and exciting place, especially for little ones. If you have children of your own, or friends and family with kiddos, you'll want to keep them safe and secure by providing an additional barrier.
It's scary to think about, but two children under the age of fifteen die every day due to unintentional drowning. It doesn't take long for a tragic incident like this to occur, and it often happens when a child can get to close to the pool without anyone's supervision. The right fence can keep small children safe and at bay.
Keep Your Pets Safe
While you may think that your pets are expert swimmers, they have a lot of trouble getting out without some human assistance. If a pet accidentally falls into the water, it can be a genuinely terrifying and exhausting experience for them that could result in the worst.
Keep Your Neighborhood Safe
Your children and pets may not be the only ones trying to sneak into the pool area. Neighborhood kids or animals might also find themselves at the water's edge if there isn't a properly installed fence. If you host pool parties, a fence can keep everyone safe and secure, and prevent anyone from wandering where they shouldn't. This is even more important during social events where alcohol may be served.
Which Fence Type Should I Get For My Pool?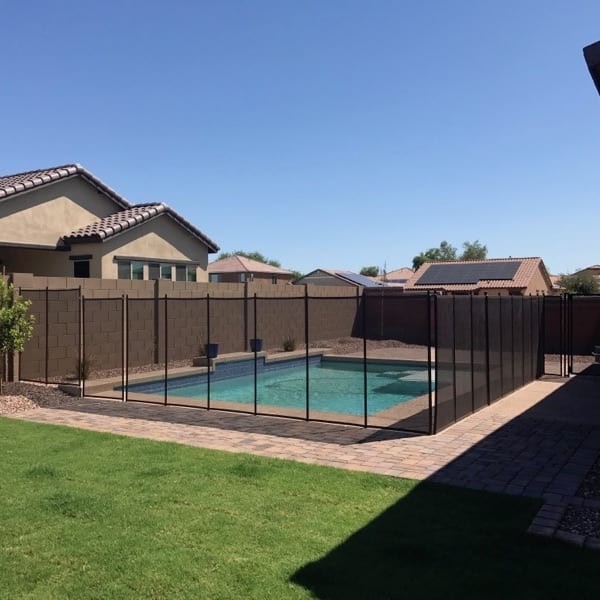 With so many fence styles and types out there, it can be a bit of a headache narrowing down your options. Similarly, with the possibilities you might face when installing a fence in your yard, a pool fence comes with choices.
There are a few considerations you should understand before we start.
What material do I want?
Does it match my current fence or decor style?
Am I considering function > aesthetic?
What is my budget?
How much maintenance do I want to deal with?
Perhaps the most aesthetically pleasing, yet expensive design is the ornamental option. These serve the primary function but aren't necessarily the most secure option. The gaps that this fence provides make it so small pets can squeeze through and do not offer much if any privacy. Also, they aren't very high, which means they may not slow down a determined climber. If powder coated and maintained correctly, these can last a long time without too much maintenance.
Chain link fences are definitely your most affordable solution. However, these fences aren't necessarily the safest. This fence type is perhaps the easiest to climb and is almost entirely transparent — making it a poor choice for privacy as well.
We love vinyl fencing for yard applications, and we also think it's an excellent option for pools as well. It's not too spendy, and the lifespan you get out of it is worth more than what you might pay for a more affordable alternative like a chain link fence. Vinyl is easy to maintain and very sturdy. There are a few options and schools of thought when it comes to the type of vinyl fence for your pool. Both the picket and privacy options have their own unique pros and cons. So, you mostly need to decide whether you would rather have complete privacy and an impenetrable barrier, or a fence that allows you some view of the pool (which will enable you to see if anyone is where they shouldn't be).
What Else Should You Consider?
Aside from the actual fence material and style, there are some other things to consider when installing a fence for your pool.
Is climbing your fence possible for small children? Be on the lookout for hand and footholds. These could be actual design features or decorative aspects of your fence, or objects children could use to hoist themselves up and over your fence. The same goes for pets that may be able to jump or find clever ways to get over your pool fence.
Is your fence high enough to dissuade children from coming in or out? Keep in mind that your children will grow, and unless you want to re-install a fence, you should plan for the future. Also, does your fence meet any minimum height requirements from your state or local laws?
Do you know how to maintain your fence all year round to keep it standing tall? Fence maintenance is a big part of your investment, and your pool fence is no different. So, take a look at our All-Encompassing Guide To Fence Maintenance so that your fence lasts.
Keep Your Pool Safe With The Right Fence
So, while pool season may be coming to a close, next year will be here sooner than we think. Get prepared and start thinking about how you can keep your pool area safe with the right fencing solution. Your landscape and budget surely might affect which fence type you will get. But most of all, keeping children and pets safe should be your biggest concern.
Need a hand with your pool fence installation? Contact us today!