As a homeowner with a yard, there are many benefits to having a fenced-in front or backyard. The dog has space to roam without a tie-out, your kids have a safe place to play, and a fence also offers a sense of privacy and security.
Whether you're considering fence installation for the first time or you need to replace an existing fence, here the best metal fence materials we strongly recommend to all of our customers.
Why We Recommend Metal
While wood is a popular fencing material, and it used to be one of our top fencing materials, it's not a material that we recommend or like to use anymore. Wood is an attractive and affordable option, but it deteriorates, fades, and doesn't hold up long-term through inclement weather (especially during winter in Minnesota).
Since we only offer top-rated materials that we feel confident in using, we offer a variety of metal fence materials to ensure that your fencing lasts and looks great for years to come. While we do build fencing with retired cedar and vinyl, we prefer and recommend metal materials for a number of reasons.
Check out some of the most common types of metal fencing and how we rank them.
Common Materials and How We Rate Them
The type of fencing material that we recommend might not be your top choice, but we strive to help you find the best fence for your property. We do our best to work with what you want, discuss your options, and help you choose a fence that will last for years.
Galvanized Steel
Galvanized steel is our top choice for metal fencing due to its versatility, strength, and durability. When many people think of galvanized steel fence styles, they think of chain-link fencing. While chain-link fencing may not be as aesthetic as a galvanized steel fence with ornamental features, you can trust a high-quality chain-link fence.
Despite its popularity in industrial and commercial settings, galvanized steel fence in a chain-link style is becoming increasingly popular in residential areas. Here are some of the reasons why we recommend chain link fencing:
Affordable
Secure
Durable
Works well on yards with slopes
Quick installation
While we believe every homeowner with a yard benefits from investing in high-quality fencing, we also think that installing a fence should be affordable. Chain link fencing is budget-friendly, so you can spend money on other projects like landscaping that will enhance your yard even more.
Even though chain link fences lack privacy, they are one of the most secure fencing materials on the market (which is why they are popular in all types of industries). Chain link fencing is popular around swimming pools, tennis courts, and other areas where you want to have more control over who has access.
Not only will you keep your family pet and children safe in your yard, but a chain-link fence is more likely to keep trespassers out. Galvanized steel is too difficult to cut through, and if you build a fence tall enough, most people won't bother trying to climb over and trespass onto your property. Chain link fencing is also another great option if you want to keep wildlife like deer out of your yard.
Since galvanized steel is incredibly strong, it will hold up against everyday wear and tear and weather. We've all seen rusty and broken chain link fencing, but our chain link fencing is galvanized or vinyl-coated to prevent rust. Chain link fences are relatively maintenance-free, and we offer a 15-year warranty, so galvanized steel is a worry-free option.
Have a yard with mixed terrain or want an irregular-sized fence? We love galvanized steel chain link fences for these very reasons. It's easy to work with, quick to install, and an excellent option for all types and sizes of yards.
Don't like the look of chain link fencing? We understand that everyone has different preferences when it comes to the appearance of their yard, and that's why we offer a galvanized steel fence in ornamental styles. Our ornamental steel fences have the best of both worlds: aesthetics and durability.
Iron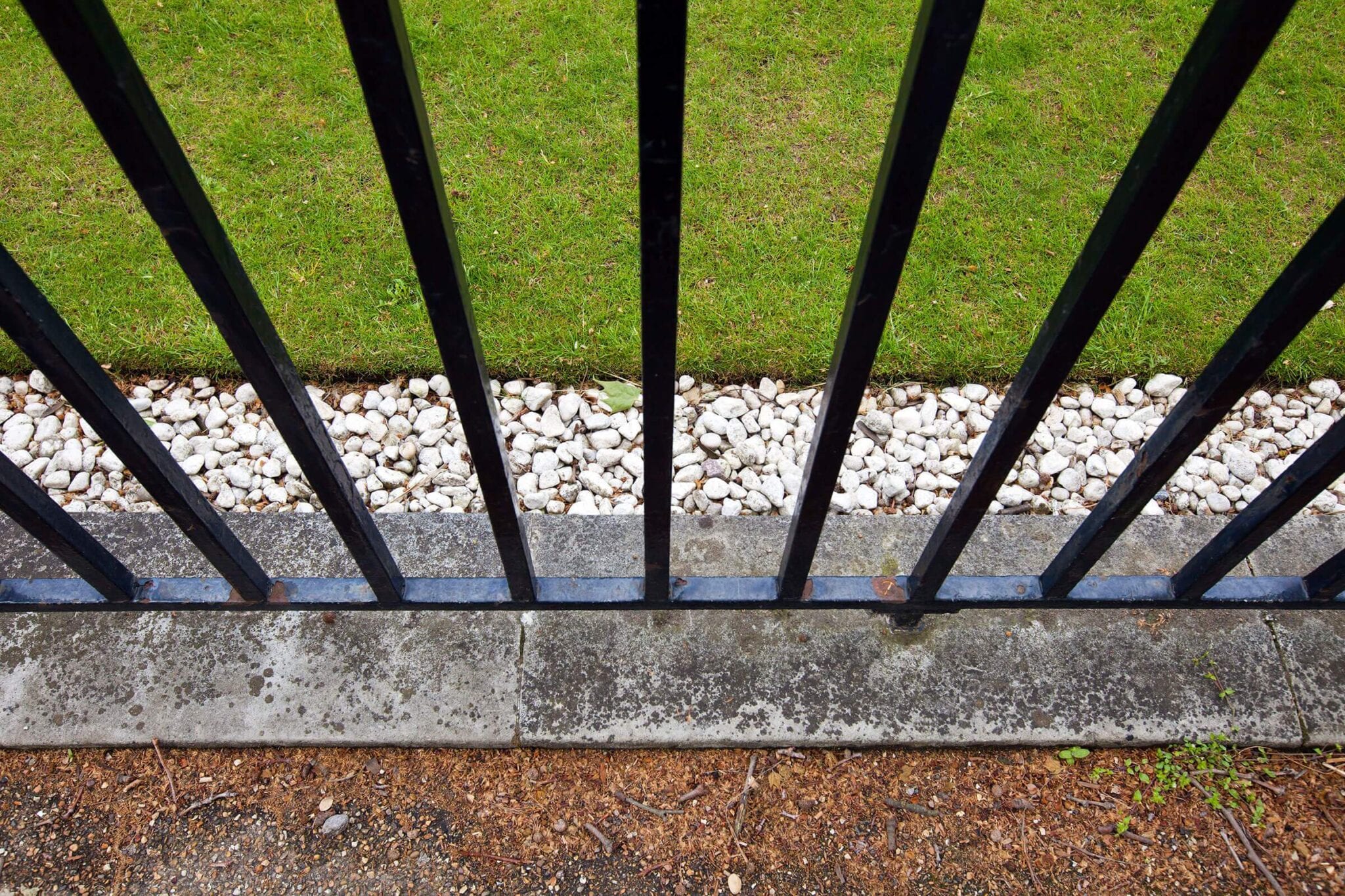 Drive through any historic neighborhood, and you're likely to spot wrought iron fencing and gates. Like many people, we love the look of an ornamental iron fence, but it's not our top choice for metal fencing, especially in Minnesota. Here's what we like about iron fencing:
Attractive designs
Durability
Strength
Aside from wood fencing, iron is one of the oldest fencing materials in Minnesota and worldwide. Many people love wrought iron fences not only because they are durable but because they add a touch of sophistication to any property. Iron fences also have a long history of providing security due to its strength.
Even though iron fencing seemingly lasts forever, it's not our top choice for new ornamental metal fences for a few reasons. Iron is durable, but it's also hard to work with and extremely heavy.
Installing iron fencing is not an efficient use of time or labor. We care about the safety of our employees and hauling around iron fencing is a risk that we're not willing to take. Iron is already an expensive material as is, and the installation process makes it even more costly. We would rather have you spend your money on a high-quality fence that you'll love than upcharges due to labor and installation time.
Another reason why we choose not to offer iron fencing is that it's not as weather-resistant as other metal fencing. If you even get up-close to a wrought iron fence or gate, you will notice that some areas are brittle, paint is flaking off, and even some areas of rust. Wrought iron is not a maintenance-free material, and Minnesota weather is tough on the seemingly durable material.
When we work with customers who are looking for iron fence styles, we recommend something from our galvanized steel ornamental fence collection. The fencing material is durable, affordable, aesthetic, and comes with a 15-year warranty. You can enjoy the look of iron without any of the downsides.
Aluminum
Aluminum is becoming an increasingly popular fencing option for homeowners because it's affordable, lightweight, and easy to install. While we understand the need to find a budget-friendly fencing material, an aluminum fence is more susceptible to damage, and you might end up paying more, in the long run, to fix or replace your fencing.
Aluminum is versatile and is available in a variety of styles, but we strongly recommend investing a little bit more into galvanized steel fencing. Steel fencing stands a better chance than aluminum when a strong summer storm wind blows your patio furniture into a fence panel or if a branch falls down. As a resident of Minnesota, you know that damage from storms is an all too common issue. When it comes to aluminum vs steel fence, we pick steel every time!
If you like the look of certain aluminum fence styles, we are likely to carry a similar, if not identical, style in our galvanized steel collection.
Our Top Choice in Metal Fencing – Ornamental
We have years of experience building fences and using a variety of materials. Even though there are some materials like iron and wood that we used to work with and recommended to our customers, we are constantly striving to improve our selection, the durability of our products, and a price to meet all our customers.
Even though we offer vinyl and retired cedar, you can't go wrong with a metal fence. Our preferred choice of metal is galvanized steel. While we already discussed some of the benefits in-depth, let's look at the highlights:
Affordable: A budget-friendly metal
Durable: Can handle years of wear and tear as well as inclement weather year-round
Attractive: Steel fencing can be simple or ornate, to reflect your exterior designing needs
Versatile: Similar to the variety of design, steel is functional and aesthetic
Maintenance-Free: Galvanized steel is virtually maintenance-free and will stay looking new for years
Perfect for Every Yard: Whether your yard is small or acres in size, flat or bumpy, steel fencing is easy to install and is easy to customize for the perfect fit
We don't recommend a fencing material unless we can stand behind the finished product. Not only should your fence meet your security and privacy needs, but it should also reflect your personality and add to the aesthetics of your front or backyard.
Whether you want a regal looking iron fence to match your Victorian style home or a practical chain link fence for your dog to roam freely and safely, our galvanized steel fences are the best, cheap metal fencing material for your yard.
Contact us today to learn more about our galvanized steel fence collection to see which style is the best fit for your home.