There are so many reasons homeowners choose to install a driveway barrier gate. Some may want it for an added layer of protection and security. Others because it is the perfect final touch to their front yard scene. Either way, driveway gates are a great addition to any home.
However, the search for the perfect driveway barrier can be long and exhausting. There are so many things to consider such as material, maintenance, cost, and installation processes. That's why we have put together a list of some of the best driveway barrier ideas! Now the only research step you have to take is contacting Northland Fence for product decisions and installation plans.
Planning for a Driveway Gate
A driveway gate is not something that one can buy during a midlife crisis. There are many things that should be considered during the planning phase to make sure that it fits with your vehicle and driveway. If it's not the right size, that's simply more money out of your pocket to fix it.
The first thing to do is pick the location of the gate. When picking the perfect spot for your driveway gate, you want to consider the needs of your vehicle. The gate should be in a location that lets your car be on your property when coming home while waiting for the gate to open. Also make sure that there are no obstructions to fully opening your gate such as uneven ground or sloping.
The second consideration is gate material. We will cover this more later, but different gate materials have different attributes that can either strengthen or weaken their protective properties. Things like maintenance, rust susceptibility, and protective nature are all factors to consider when planning your material.
The last thing to plan before starting the buying and installation process is the size of the gate. Most residential driveway gate widths are between 2 ½ to 3 ½ meters. But, you must also take into consideration the size of the vehicles that will be passing through the gate.
For curvier driveways a broader gate may be needed in order to give plenty of turn space as you enter your residence. In terms of height, simply check with your city bylaws to make sure you do not violate the maximums and can still have the gate to a height that you need for protection.
The Types Of Driveway Gates
After you have considered the basics of driveway gates such as size and placement, it's important to know the advantages and disadvantages of the actual gates. There are two main types of driveway gates seen in residential homes: sliding and swinging. Each are great options, but cater to different owner's needs.
Sliding Driveway Gates
Sliding driveway gates are a great option for larger vehicles that may need more space to turn on a driveway. They do not take up extra space when open. Each sliding driveway below can be manual or automatic.
A cantilever sliding driveway gate is commonly seen with a chain-linked fence. Instead of the wheels on the ground, they have the wheels attached to the gate post. This construction helps avoid blocking or accidentally damaging the sliding function. They are sturdy and a great choice for gravel driveways or commercial residences.
The most common type of sliding driveway gate is a retractable one. This includes a fairly wide range of specific constructions, but the main concept is the wheels are on a track on the ground and can retract into itself when opening. They can be both manually or automatically moved, which is a benefit not seen by other driveway barrier ideas.
The final type of sliding driveway gate is the telescopic slide. They are the most unique form of sliding driveway gate as they feature multiple pieces in their construction to allow for the telescopic slide to occur. Since each layer of gate slides behind the next, telescopic sliding gates are great for compact spaces while still giving a large opening.
Swinging Driveway Gates
The second option for driveway barrier ideas is a swinging driveway gate. As the name suggests, this means the gate swings to create the opening for your vehicle. While swinging gates can go inward or outward, it is more common for them to go inward so you can pull into your property as it opens without hitting your vehicle.
The first type of swinging driveway gate is a double swinging gate. It is constructed as two matching gates on individual hinges that meet in the middle of the entryway. For a double swinging gate barrier you must have a fairly large driveway. They need enough space around them to be able to each swing in a half circle.
The second swinging driveway gate type is an ornamental swinging gate. These are often a wrought iron driveway gate known as an ornamental fence. These are a great option for those worried about aesthetics on their residential property. Ornamental swinging gates can make any home feel like a valuable estate by operating manually or automatically.
Choosing the Best Driveway Gate
Given the numerous types and materials that make up all the driveway barrier ideas, it can be tough to figure out the best driveway gate for you. You need to consider your needs and what is the best option to fit all of these including protection material, cost, aesthetics, and maintenance.
To decide on the gate material, the most common materials for driveway gates are wood, steel, wrought iron, and aluminum. However, steel and wrought iron are susceptible to rust and therefore do not have great lifespans near the coast and salty air. Wood is another option, but commonly suffer from rot and pest damage like termites and ants without proper maintenance. To find out the best material for your driveway gate that can stand up to the Minnesota conditions, contact Northland Fence.
The second thing you must consider when choosing the best driveway gate is what you need while driving. Some gates are manual while others are automatic. For the Minnesota winters it is best to get automatic driveway gates so you aren't having to trek through the snow to open your gate. This may be a bit more expensive, but is definitely worth it.
And finally you must look at your available space. Swinging gates need more driveway space than sliding gates because of their arcs needed to open. However, sliding gates sometimes need to be wider (with the exception of the telescopic sliding gates). You don't want sliding barriers or potential damaging objects as well. Make sure you have the perfect space ready for a driveway gate.
How Much Protection Does a Driveway Gate Provide Against Thieves?
Driveway gates provide a substantial amount of protection against thieves and other criminals trying to get into your home. Thieves are less likely to approach homes that have an extra line of defense. An outer sign of security usually infers an inner line of security as well, and makes a home harder to invade.
They also protect against other intruders such as kidnappers. With a driveway gate you can have your kids and pets playing in the yard care free without the threat of them walking into the street or others approaching them. A driveway gate is the first and most reliable line of protection for your property and family.
Which Is the Best Driveway Gate?
In reality, none of the driveway barrier ideas are better or worse than the others. It all depends on your needs and desires for your driveway gates. It depends on the space that you have available and the conditions in which you live.
In general, metal gates do tend to be more popular than other materials because of their strength and long lifespan. Additionally, automatic sliding gates are popular as well because you don't have to leave your vehicle and don't need as much space as a swinging gate.
With hundreds of 5-star Google reviews, Northland Fence is one of the top fencing companies in Minnesota. Whether it's privacy, aesthetic, or protection reasons, we are here to help you find the perfect fencing product for your needs. Simply call us at (763) 316-4881.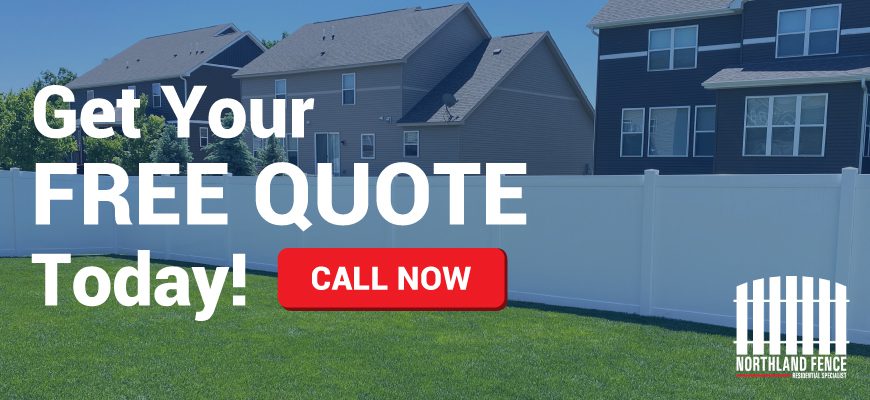 FAQs About Driveway Barrier Ideas
Do you need planning permission for driveway gates?
The short answer is no. As long as the driveway gate and subsequent fence is on your residential property and adheres to your city's bylaws, permission is not necessary. However, if you want to go outside the bylaws for an aspect like gate height, then you will need to gain permission to install a driveway gate or replace an old driveway gate.
Can the driveway gate add value to the home?
Yes, a driveway gate has the potential to add value to your property. Not only does it enhance the curb appeal and draw in potential buyers, but if it has an automatic opening, it can add approximately 5% to your home's value. It is one of the most beneficial ways to add value to your home.
Are there different types of automatic driveway gates?
Yes! There are 6 main types of automatic gates: slide gate, swing gate, cantilever gate, vertical lift gate, bi-folding gate, barrier arm gate. It's important to pick the type of gate the works the best for your budget and home needs as they all have different attributes, maintenance requirements, and lifespans.