Although none of us want to believe it, winter is just around the corner. Everyone is busy stockpiling their pumpkin spice drinks and arguing over Fantasy Football draft picks. But not you. You're worried about your fence this winter because you want it standing tall next spring.
Well, you're not alone. Many Minnesotans and perhaps Midwesterners up here above the frost line are also looking for a way to preserve their fence and keep the winter woes at bay. Unfortunately for us, winter can be a real problem for our fences. Whether they are enclosing our yard or even just our pools, fences need some love and care before the freezing temperatures arrive.
Why? Unfortunately, cold weather takes its toll on all fencing. Some materials suffer more than others, but nearly every fence type needs some preparation before winter. Even those fence types that are extremely easy to maintain don't often get the cleaning they need when it is frigid outside. If you don't take the time to winterize your fence, you could risk the following:
Decreased security
Reduced privacy
Hurting your overall curb appeal
Expensive repairs
Possible fence replacement
Some of these consequences might not bother you too much, while others can be extremely costly. If you think you're too busy or it's too expensive to winterize your fence now, it will undoubtedly cost you more time and money in the future. Just like with most maintenance problems, small issues only grow more substantial in the winter.
Regardless of which fence type you may have (wood, vinyl, galvanized steel, wrought iron, aluminum) — there are some steps you can take to preserve your enclosure. Some of these precautions will vary depending on the materials, so it's important to get to know your fence type and what steps you need to take. You should always be performing some of these maintenance steps throughout the year. If you're looking for information on how to maintain your fence, take a look at our "All-Encompassing Guide To Fence Maintenance."
In the meantime, let's explore the various ways you can keep your fence standing tall this winter.
Vinyl Fencing
The first step when winterizing almost every fence type is performing an inspection. Vinyl is no different. Take a stroll around the entire perimeter of your enclosure and make a note of any damage. Missing or loose parts or panels should be taken care of, along with your fence posts. If you do notice any damage, make sure to repair before winter arrives.
Alright, well what else can you do to keep your vinyl fence in good condition? Before the first frost, give it a solid cleaning and get rid of any lingering debris or dirt. Power wash your fence is you notice any mold, algae, or other tough stains. We would also recommend contacting your local fencing professional to perform an inspection or a walkaround to check for any loose or damaged parts. An expert eye might catch something you may have missed during your inspection.
Galvanized Steel
Most ornamental fences used to be made from wrought iron, which was an absolute pain to maintain, especially in more extreme weather conditions. That's why many fence companies made the switch to galvanized steel for their ornamental fence options. While the right coating can protect galvanized steel fencing, there are some steps you can take to make sure that winter isn't too harsh on your enclosure.
Moisture is not your fence's friend. The whole point of an ornamental fence is aesthetic and failing to maintain your enclosure before winter pretty much erases the whole point. Scratches, scrapes, or damage to the paint or coated layer can expose your fence to oxidation and rust. If you do notice any damage, take a look at this article for how you can repair and maintain your fence and protect it from the winter. Powder coats are your friend, especially right before winter.
Aluminum Fencing
Aluminum is a bit more resistant to rust than other metal fencing alternatives, but that doesn't mean it shouldn't be taken care of before winter. Aluminum fences are often neglected the most because they are usually the chain-link fencing variety. However, if you want your fence to make it through the winter without significant damage — you need to keep an eye out on a few things.
Before winter arrives, take some time to spray down any rough-looking areas with aluminum-surface paint. If you do notice rust, scrub it away with a brush. Coat any moving parts like hinges or latches in a rust protector and powder-coat your fence for reduced maintenance needs.
Wooden Fences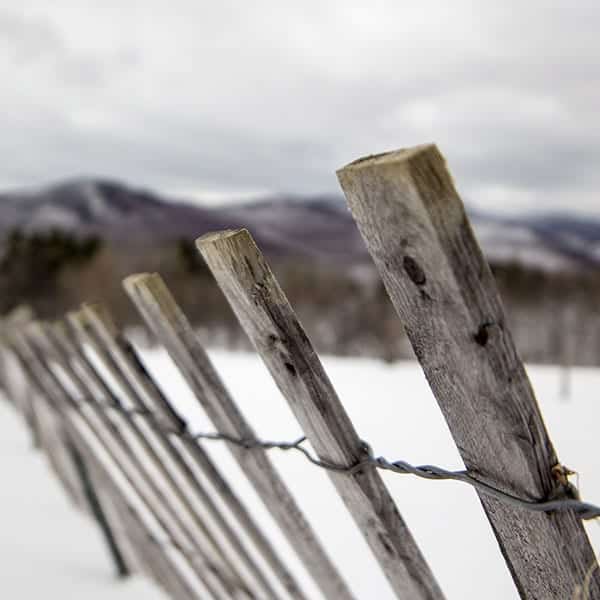 While we don't recommend wood, notably cedar, we know that man you have wooden fences. That being said, you should know what you're up against. Unfortunately, wooden fences aren't made for wet and cold weather. Just like with any fence, you'll need to perform a fall inspection. For wood, be sure that you do this on a dry day where the wood hasn't been stained by moisture. Be on the lookout for any areas that may be affected by rot. This is something you'll need to take care of right away before it spreads. Also, be on the lookout for areas that are damaged, loose, warped, or sagging.
If you notice areas that look a little worse for the wear, here's what you should do. Cut or remove areas that are damaged. Fill in gaps with wood putty. Scrub down your fence with a detergent and bleach solution. Whenever handling chemicals like bleach, use gloves, and eye protection. We'd also recommend painting and re-staining your fence as a final step in winterization.
Be Proactive
You can either be proactive or reactive when it comes to your fencing. Unfortunately, you can't skip winter — which means you can't skip out on winterizing your fence. No matter what kind of fence you have, there are always steps you can take to prepare your fence for the frigid cold.
If you're looking for a hand with prepping your fence for the winter, feel free to contact us. We've been a family-run business for fifteen years, dedicated to installing and maintaining fences with the customer at the forefront of our processes.