Perhaps the most common reason why our customers want to install fencing, especially in their backyards, is for extra privacy from their neighbors and those passing past on the street. It's difficult for you and your family to fully enjoy your backyard if you always feel as if people are watching you.
But what is the best method to enhance your privacy? We offer three different materials for our fencing, wrought iron, vinyl, and chain link. You could use any for creating extra privacy, but some have clear benefits over others. However, there is no reason why you can't combine them or use other objects and materials to add extra privacy.
How Can You Get More Privacy?
There are two primary methods for getting extra privacy, the first it to create an opaque wall so that people can't see through and the second factor is height. A 3-foot opaque fence doesn't do much, while a 6-foot version of the same wall might give you your desired privacy.
However, a fence doesn't need to be completely solid or opaque to give you privacy; it depends on how much extra solitude you need. Some will be fine with a chain link or wrought iron fence while others desire a solid surface to block out prying eyes completely.
What Height Do You Need?
The height of your privacy fence is just as important as the material and style that you choose to use. Too much height will waste materials and therefore money, while simultaneously making you feel locked in.
To decide on the height that you need you must consider your neighbor's properties. Are they higher or lower than you? Do they have a raised deck? Are they in front or behind of you?
Answering these questions will tell you where you need to position your fences and how high they need to be. If you are slightly higher than their properties a 4 feet fence might be ideal, whereas if they are higher and have a raised deck you might opt for 7 feet on the sides and small fence on the rear to allow light in.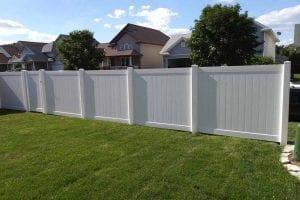 Vinyl Fencing
Our most common suggestion for a privacy fence is vinyl because it is completely opaque and replaces the wood materials that we would have used in the past. Plastic is long-lasting, sturdy and impossible to see through. Plus, because it is man-made, it is available in a huge variety of heights and widths to suit your needs.
Vinyl is perfect for those who want complete solitude from prying eyes. However, the main drawback of this type of fencing is that it can leave you feeling enclosed. Unfortunately, this feeling of being trapped competes with privacy, and you need to decide which is more important.
One solution to this problem is to only have high fences on the sides which face those who are most likely to look into your yard. For many, this might just be the rear onto a street, while for some it could just be the sides. This method allows you to have lower fencing at some points to let light in and to prevent you from feeling trapped.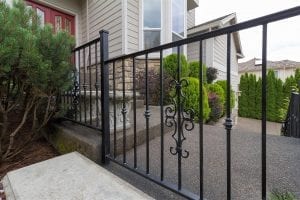 Wrought Iron with Plants
Wrought iron is a beautiful and strong material, but it's not a sectional material like vinyl and therefore explicitly allows people to see through. However, by bringing the posts much closer together, it can still be incredibly useful, especially if your neighbors aren't very close to your property.
Another suggestion is to add plants alongside the fence and potentially even up the iron itself. Some use ivy or other climbing plants which will wrap around the fencing to create naturally green fencing that can feel less restrictive for some.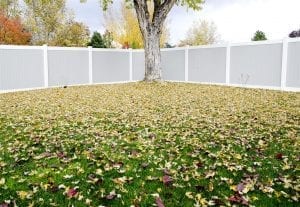 Gapped Vinyl Fencing
Finally, to reduce the feeling of enclosure, you should consider gapped vinyl fencing which is usually done in a 2:1 ratio. This ratio means that the gap between each section is half the width of each panel.
Gapped vinyl fencing allows plenty of light through but unless people are looking directly through the gaps from only a couple feet away they will be unable to get a clear view.