Warmer weather is just around the corner, and along with spring cleaning, it's time to start thinking about your spring maintenance checklist. Your fence is one of the most noticeable parts of your landscaping and can make a lasting impression on neighbors and guests. By taking a few preventative measures to maintain these enclosures every spring and fall, the longevity of our fence will likely increase while ensuring they continue to look their best year after year.
While quality fences are made to last, it doesn't mean routine fence maintenance should be avoided. Before plant life flourishes and the weather continues to warm up, you're encouraged to evaluate the needs of your fence this spring with the following tips.
General Fence Maintenance
While every property owner has different methods of caring for fence structures, below are a few examples of areas you may want to focus on once you start your spring clean-up process.
1.  Remove overhanging tree limbs. Parts of trees may have broken under the weight of snow and ice and must be cared for before they fall and cause damage to the fence. This is more applicable for vinyl fencing, but damage can still occur to ornamental and chain link fencing depending on any weak spots present and the overall weight being placed on the structure. Monitor and be aware of any trees within falling distance of the fence and trim back any branches that may cause an issue in the future.
2. Prune surrounding greenery. Any shrubs or plants next to the fence should be groomed and trimmed to allow space for the greenery to grow correctly. The rails should also be cleared of any debris such as acorns, leaves, shells, and twigs as these can cause issues if not removed.
3. Conduct a thorough inspection. Be sure to physically survey the fence regardless of material one to two times a year to check for any potential problems such as areas of weakness, missing caps, broken or bent hardware, signs of rust, and chips, nicks, or scratches. Catching issues early will allow you to resolve them before your fence is damaged further, and the repair cost increases.
4. Wash and Condition. Your fence should be washed one to two times a year, along with applying any necessary conditioning treatments. A gentle cleanser with a soft cloth can be used to remove dust, bugs, and debris from the fence. For more stubborn spots, a soft brush may work more efficiently. Chain link fences can typically just be sprayed off with a garden hose or pressure washer. A magic eraser can be useful for vinyl fences. Ornamental fences will need a gel-type car wash wax applied after cleaning to provide an added layer of protection against the sun's UV rays and prevent fading.
5. Rust Maintenance. If working with an ornamental or chain link fence, watch for any rust spots and address any as soon as you find them to avoid any additional damage. Rust spots are an indicator that the bare metal layer of the fence has been exposed to air and moisture. The rust spots can usually be sanded off with sandpaper and need to be wiped down before being painted over.
6. Conduct repairs and schedule professional help. Identify broken pieces and damaged hardware on the fence. Any replacement pieces can be ordered, or compatible hardware can be utilized. Evaluating the situation and being proactive can help get your fence in good condition for the warmer months and minimize stress. Repair issues on your own, order replacement pieces so extras are on hand, and schedule any necessary professional help.
Mildew Removal
The climates and weather conditions vary across the country, and mildew can be an issue for vinyl fencing. Initially, it will appear as black spots and can be found in areas where rain doesn't fall. There are many different solutions, both manufactured and homemade, that can be used to minimize the presence of mildew. It's encouraged to wear gloves and apply the solution you've selected carefully as some chemicals are hazardous to the environment and your skin.
Here are a few examples of homemade solutions:
1/3 cup detergent such as Tide
2/3 cup Trisodium Phosphate such as Soilax
1 quart 5% Sodium Hypochlorite such as Clorox
3 quarts water
or for something using fewer chemicals:
1/2 to 1 cup white vinegar
1 to 2 gallons of water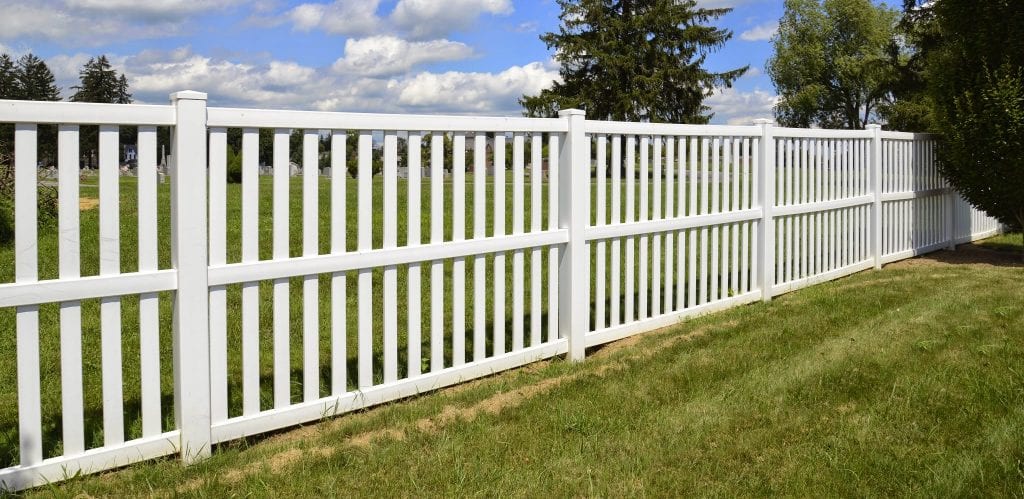 Vinyl Fencing
Low maintenance and reliable, vinyl fencing can provide sturdy protection for your property. Regular cleaning of your fence can be accomplished with warm water, a sponge, and a cleaning solution of your choice. A soft brush can be used to conquer tough spots as it provides the friction needed to remove stains and grime from vinyl. If your fence needs repair, it's best to call a professional to ensure it's done correctly. Vinyl fences require special care to stay visually appealing and functional year after year.
Minimal Maintenance
Durable
Flexible
Variety
Long Lifespan
Easy Installation
Here at Northland Fence, we offer vinyl privacy and picket fences in a variety of colors and styles. Vinyl fences provide a lot of versatility as they require minimal maintenance and are incredibly durable when it comes to weather. Unlike other fence materials, vinyl will not chip, peel, rot, crack, or fade. We also offer a lifetime non-prorated warranty on materials and a 10-year warranty on labor.

Ornamental Fencing
Ornamental fencing improves the curb appeal of your property with an elegant and beautiful appearance. Over the years it has evolved into a preferred choice for many property owners. If you have an ornamental fence on your property, regular inspections are encouraged to help prevent rust buildup and damage to surfaces that are exposed to sun and rain. If there is existing rust or pitting, professional treatment may be required.
Style Versatility
Durable
Increased Curb Appeal
Minimal Rust
Recyclable
Low Maintenance
For our ornamental fencing, we use galvanized ornamental steel, which gives us a step above our competitors. This material is powder-coated to prevent rusting, rot, or chipping, making the need for professional treatment a minimal requirement. We offer a 10-year warranty on labor and a lifetime non-prorated warranty on materials.

Chain-Link Fencing
If you're in search of a cost-effective solution, a chain-link fence is a perfect option. These fences are low-maintenance and should be checked annually to identify any damaged areas and see if any rust or corrosion has occurred. Staying on top of yearly checks will drastically extend the life of your chain link fence. Monitoring the growth of weeds and brush to ensure they don't take over the fence line can help reduce the risk of any damage occurring.
Security
Affordable
Low Maintenance
Fast Install
Aesthetic Options
Safety
We offer both commercial and residential grade chain link fencing that consists of galvanized or black vinyl coated chain link. During the installation process, our team members utilize pneumatic driven posts that create a sturdy, long-lasting finished product for your fencing needs. We offer a 15-year warranty on materials and a 10-year warranty on labor.
Cedar Fencing is No Longer
While many different materials can be utilized to build your enclosure, the ones mentioned above have gained popularity and slowly phased out cedar fencing. Cedar boards have been the go-to material for fencing for quite some time, but this isn't necessarily the best option for most climates due to the wear and tear it can experience. The material will likely break down quickly and is susceptible to decay, rot, discoloration, and termite or pest damage.
Less Cost Upfront
Variety of Stains and Paint
This material is high maintenance as it requires regular care to prevent rotting and discoloration. It is likely that you will have to seal, stain, or paint your fence every two to three years to protect the wood and maintain a charming appearance. On average, cedar fencing can last about 20 years, but throughout that time frame, you will likely have to provide several treatments, stains, and repairs. Cedar fencing is very appealing right away, but it can be very time consuming and costly for property owners to upkeep.
Make Your Spring Checklist Today
With the weather starting to change and summer on the way, it's time to start working outside and getting your property ready for the warmer months. A fence adds to the curb appeal of your property and, depending on the appearance, can make a lasting impression on neighbors and guests. Become familiar with fence care, how to minimize mildew, and the pros and cons of fencing materials. If you complete all these steps, your enclosure will be adequately maintained, and the longevity will increase as it will be in excellent shape for years to come. Quality fences are made to last, and completing routine maintenance will help make that a reality.