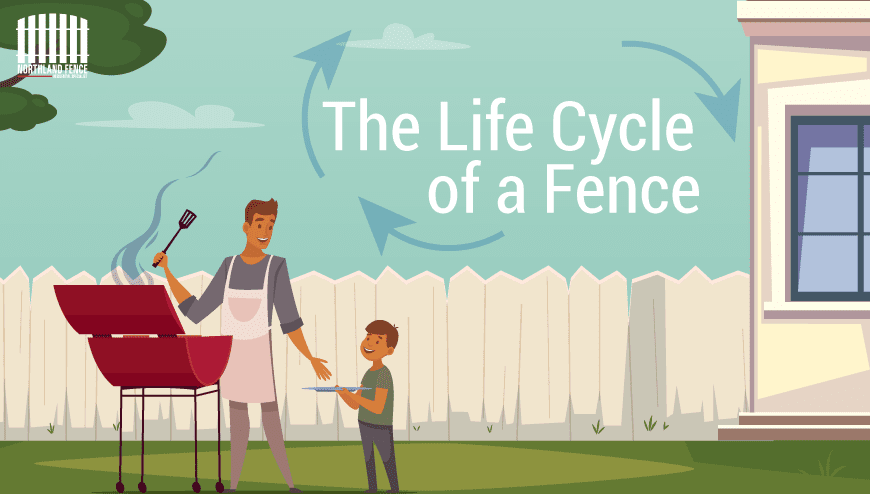 Fences protect your property with strength and durability. They withstand years of wear and tear, hopefully maintaining their appeal along the way.
With anything, you want to know just how long your investment will stand the test of time. If you're looking to purchase a fence, you've more than likely wondered the same thing.
The answer isn't complicated, but it does come down to a few different factors. The aging process is a part of life, even for your trusty fences.
Whether you're looking for something with some curbside appeal or something to keep unwanted guests out, there's a fence out there for you.
If you're in the market and looking to do some research before purchasing a new fence, you've come to the right place. Let's take a look at how long fences last, and how you can extend their lifespan.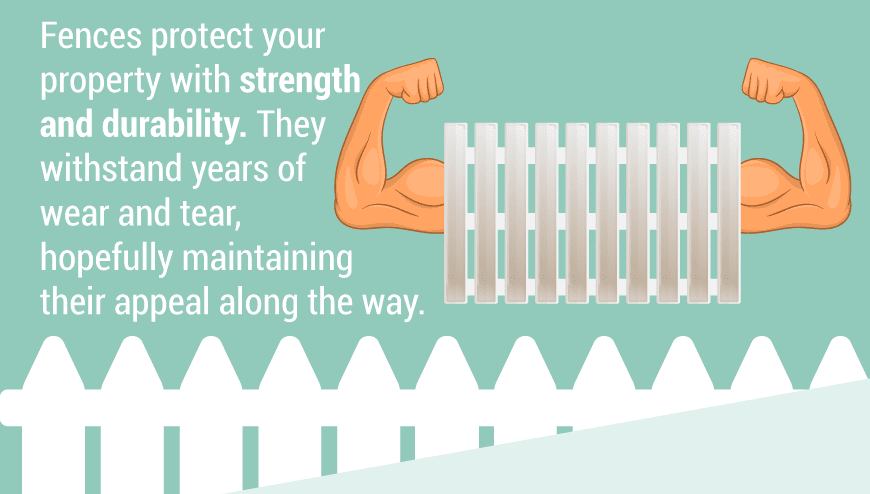 Examining the Types of Fences
You probably have a good idea as to what type of fence you're interested in. If not, we'll go over a few options.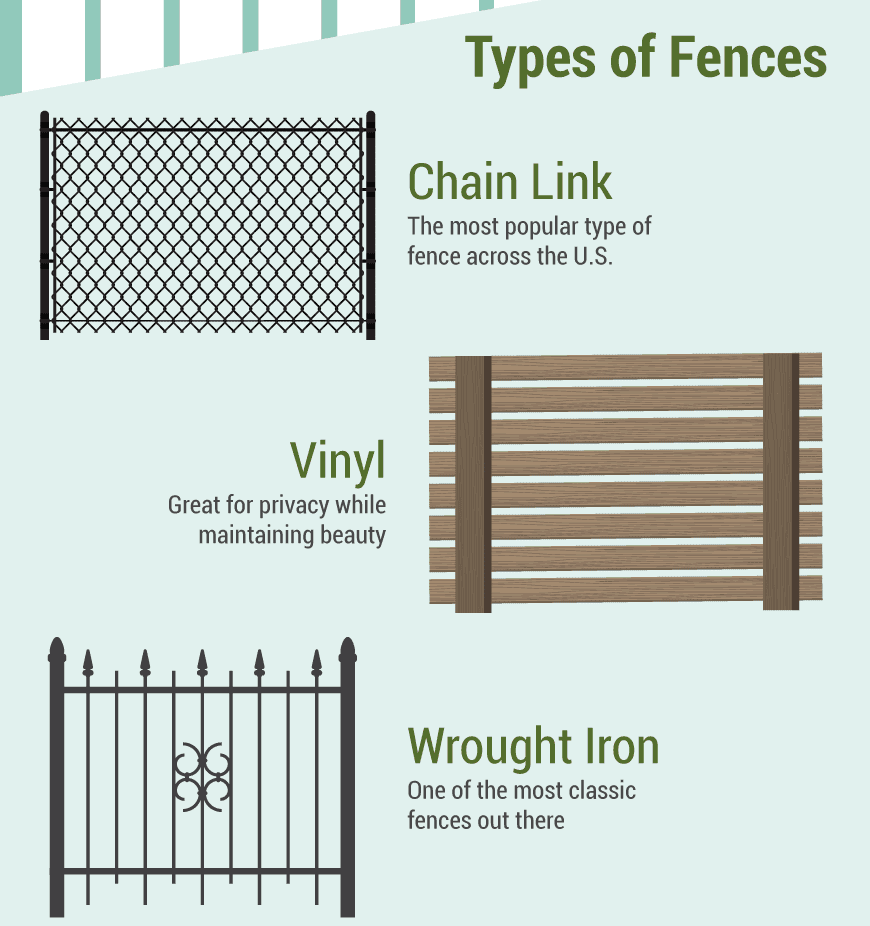 Let's start with chain-link fences, which many consider being the most popular type of fence across the U.S. Chain link fences are woven and run vertically in a diamond pattern. This creates a mesh steel net. Usually, the fence posts are pushed into the ground instead of being placed into concrete. These fences are strong, affordable, and great security for the family and pets alike.
Another common choice is vinyl. Vinyl is a type of plastic that creates a durable and weather-resistant fence. Vinyl fences are great for privacy while maintaining beauty. Usually, there's very little maintenance needed for these fences. Typically, vinyl fences do not chip, fade, or rot away.
Finally, there's the wrought iron fence. Perhaps one of the most classic fences out there, wrought iron fences can be seen around famous sites like the White House or Buckingham Palace. Many modern wrought iron fences are actually made from galvanized steel, making them incredibly tough. And as if that weren't enough, they're downright beautiful.
It can be a hard decision to make. Just as it is with anything you would buy, research is key. You can find some great examples of each of these fences here.
How Long Will My Fence Last?
It truly depends. A recurring theme here will be the materials used for the fence.
Chain link fences are durable, contrary to what some may think.
The mesh design helps strengthen the fence, making it hard to break or damage. These fences can last decades even if you perform no maintenance at all. Especially if your chain link fence is made from galvanized steel, it should last many, many years. Galvanizing will combat the pesky rust that leads to the decay of many fences.
A vinyl fence might actually be the last fence you'll ever have to purchase, especially if you're working with the right company.
The vinyl should be age and weather-resistant, and as mentioned earlier, it isn't prone to rotting or fading. No matter the climate or situation, vinyl fences shine.
The mighty wrought iron fence's durability is on display around the world at some of the most historical landmarks. Some wrought iron fences have been around for hundreds of years.
You can expect your wrought iron fence to be around for decades. Thanks to galvanized steel, the lifespan of a wrought iron fence is quite long. Some companies admit wrought iron fences are their strongest.
Other materials, such as wood, aren't as durable. In some states, the wood is more prone to rotting away and falling victim to the aging process. If you're looking for safety and more bang for your buck, it's probably best to look at the three previously mentioned fence types.
Extend the Life of Your Fence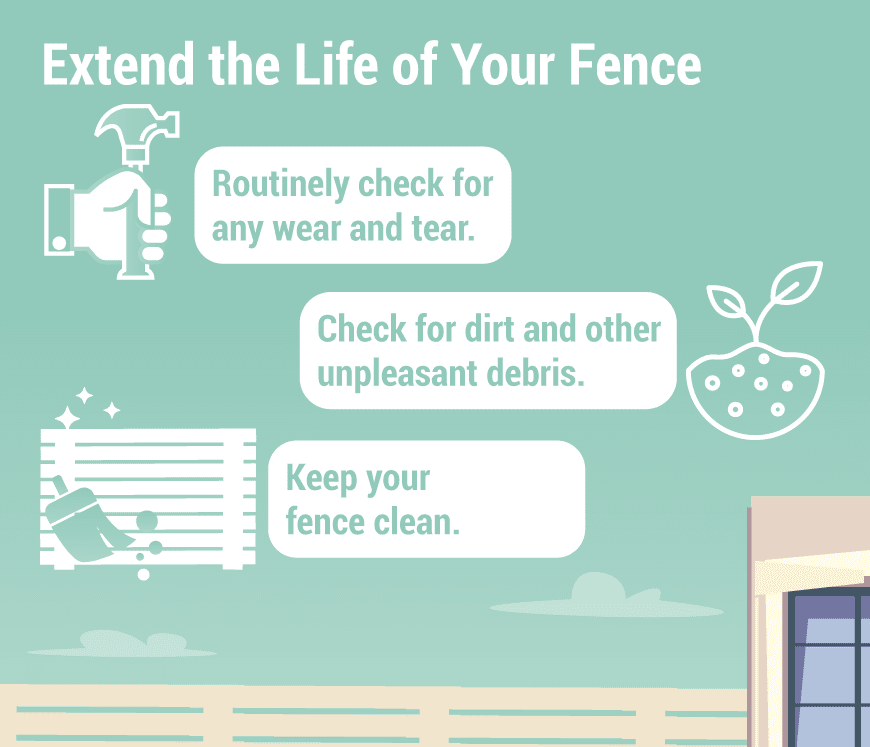 There are some things you can do at home to extend the life of your fence. After all, you did invest your time and money into it. Why not take care of it?
Generally speaking, for just about every fence type, routinely check for any wear and tear. Some materials fade faster than others, but it's always a good idea to keep an eye out nonetheless. A simple wash can also go a long way. Try to remove any dirt or other foreign materials from the fence when you see it.
While vinyl fences are built to last, you should still check for dirt and other unpleasant debris. Again, a quick wash should do the trick. You'll also want to remove any plants growing on the fence.
As for wrought iron fences, make sure you're checking for any rust. Also, clean the fence at least two times a year using some old-fashioned soap and water. If you decide to do some painting, use a primer beforehand.
With a chain-link fence, go ahead and remove any plants growing on it and give it a wash as well. Just like you would with the other fence types, keep a close eye out for damage.
Fences are built to last, but some love and care can help maintain their beauty and even add years to their life.
The Fence Building Process
If you're ready to move forward with your fencing plans, you'll find a virtual fence planning tool to give you an idea of how much it would cost to build your desired fence.
Simply type in your address, and you'll then see a satellite image of your property. You'll be able to choose a fence type, its height, color, and more.
This is a recommended tool for anyone looking to buy a fence. You might avoid some surprises, and preparation is always crucial for any major property project.
The price will come down to the type of fence you've chosen, whether any work is needed to remove old fencing, size, and whether you've chosen to install a gate. Fences can cost anywhere from $10 to $75 per linear foot.
Call Northland Fence Today

Northland Fence has been around for 17 years and has provided fantastic customer service, great work, and an overall great customer experience ever since.
According to the Better Business Bureau, Northland Fence has a near-perfect rating and zero customer complaints.
By understanding the needs of the average customer household, Northland Fence is able to go above and beyond. In order to give customers the best product possible, they have eliminated materials from their inventory that cause issues for fence buyers.
Northland Fence offers quality chain link, vinyl, and wrought iron fences. They're also the first company in Minnesota to use driven posts on all fences since they're more durable and waterproof.
Northland Fence offers a 15-year warranty on material for chain link fences, a lifetime non-prorated warranty on vinyl fence materials, and a 10-year warranty on labor.
Call 763-316-4881 today to request a free estimate.
FAQs
How much does it cost to install a new fence?
There isn't really a concrete answer to this question since there are different materials to choose from, and sizes of fences vary. Depending on the materials, you can expect them to cost anywhere from $10 to $75 per linear foot. Vinyl fences can cost anywhere from $2,000 to $5,000; chain link fences usually fall between $1,100 and $2,800; and wrought iron fences fall between $1,200 and $8,000.
What is the best material for a fence?
It comes down to preference and what you want to achieve. If you're looking for something affordable yet durable and great for safety, you might consider a chain link fence. If you're looking for more privacy and less maintenance, a vinyl fence might be for you. If you're looking for something aesthetically pleasing and also durable, a wrought iron fence might be the way to go. It's important to note Northland Fence has abandoned using wood as it's less durable and prone to rotting.
How do you maintain a wooden fence?
If you already have a wooden fence, there are ways to maintain it and extend its lifespan. You can start off by staining your fence once a year to help prevent rotting. It is hard, however, to prevent wet rot if you live in an area prone to heavy rainfall. Also, keep your fence clean of dirt and other unwanted pests. This goes without saying, but keep an eye out for any rotting at all. Finally, make sure you're checking for any loose nails, as you'll want your fence to remain as durable as possible. There are many problems that come with owning a wooden fence, which is why Northland Fence doesn't recommend it.