When people think about how to best secure a fence, they might think about using concrete bases. Here at Northland Fence, however, we prefer to drive our fence posts during the installation process instead of using concrete. Our 15+ years of experience in the field and our constant desire to deliver the highest quality fencing possible has led us to choose driving over concrete.
We drive our fence posts at least 4 feet into the ground. When you drive a fence post that deep, you don't have to worry about the potential for heaving, cracking, or erosion compromising the integrity and structure of your fence. This also provides a cleaner installation process, not leaving any messy spots from digging for concrete, nor is there any waiting time for drying after the fence is finished being installed.
We want only the best for our customers. We believe in treating them and our employees like family, which means not short-changing them on quality when we install our fences. Learn more below about the different ways to secure your fence and how driving works in the long run.
Is It Required to Add Mixing to Keep a Fence Post Sturdy?
The way your fence post is installed directly impacts the life of your fence as well as what you might need to do to maintain it over time. If you don't drive your fence post into the ground, many people will instead opt for concrete in order to create a sense of stability.
If your fence post isn't driven into the ground, you will need something else to support it so it won't easily fall over and it will be able to support the weight of the fence around it. Many people might opt for concrete because it's more readily available to them or it's the only method they've heard of before.
Here at Northland Fence, our years of experience have led us to see the benefits of driven posts versus concrete in the long-run for our customers. Driven posts provide the best strength and lifespan with the least maintenance. If you have driven fence posts, you don't need to add anything to them in order for your fence to stay strong and secure. Most homeowners and small fence installers don't use this method because the machinery to drive fence posts costs over $1,000 for a decent driver. That doesn't make sense for a homeowner using the tool only once or the smaller contractor without a budget. At Northland Fence, we install thousands of fences a year, so we our able to purchase the highest-grade tools to help our customers get the best possible fence.
How Many Bags of Cement Are Required per Fence Post?
There are many variables that come into play when you decide to use concrete in the support system for your fence posts. The post size and depth all impact how much concrete you need in order for it to maintain good integrity. These numbers can vary anywhere from 1 bag per post to 11 bags per post.
This can add up quickly and still have the potential to fail due to erosion, inclement weather conditions, or even man-made accidents such as a car hitting it.  In addition, there is a lot of additional work that comes with installing a post using concrete. With concrete, you have to dig up a much larger area to make room for the installation. Then there is the drying time to consider where you have to be potentially delicate around your fence posts until it's fully cured.
With driven posts, once it's in the ground, it's totally secure. There's no additional wait or messy dirt to worry about afterward. This is just one of the many reasons we at Northland Fence choose to drive our posts when installing your fence.
Does the Height of the Fence Determine How Deep a Fence Post Should Be Buried?
In order for fences to be nice and secure, they have to be driven into the ground an amount that depends on the fence itself. It's generally recommended that at least 50% of the length of what's shown above ground is buried below ground. This means if you have a 6-foot tall fence, there would be 3 feet buried underground.
However, putting the post deeper into the ground than the above suggestion will not hurt the fence. In fact, it will make the fence a little more secure. The deeper it is underground, the less you have to be concerned about potential issues of erosion affecting your fence.
Overall, there are many pros to driving your fence posts into the ground versus using the traditional method of concrete bases. With driven posts you get:
Extreme durability
Posts that are guaranteed not to heave
Safety from water-related damage
Cleaner installation process
Superior strength compared to cement posts
Having a Professional Setup Your Fence
While some people may opt for setting up a fence themselves, there are many benefits to hiring a professional that can outweigh some of the potential cost concerns that many think they're saving by doing it themselves.
The type of fence you want to set up will greatly impact the amount of work and money that goes into its installation process. As an average homeowner, you may not have some of the necessary materials and equipment needed to properly install your fence the first time. In addition, mistakes can sometimes be costly, not only in money but in time. Hiring a professional ensures that it's done right the first time, quickly and easily. And, our course, our work comes with our industry-leading guarantees on parts and labor. If there were problems with your DIY installation, then you'll be footing the bill for repairs.
At Northland Fence, all of our employees are in-house, meaning we don't contract out work when installing fences. This ensures that all of our employees are reliable and up to par with the standards we find best for our customers.
In addition, all of our fences come with two warranties: a labor warranty and a material warranty. Our labor warranty is 10 years long. We're so confident in our quality and so dedicated to ensuring customer satisfaction that we will come to fix any problems you may have for free in the first ten years.
We also offer a free estimate to anyone looking to get started on building the fence of their dreams. We want to work with you to make sure you're completely satisfied with the end product. We won't hide any fees from you and will help you get the best bang for your buck. Because of our long-term experience in the fencing industry, we know how to get good deals on all of our materials and we directly pass those savings on to you.
If you have any questions about fence installation or want to get started on your dream fencing, give us a call today at 763-316-4881 and we will be happy to help.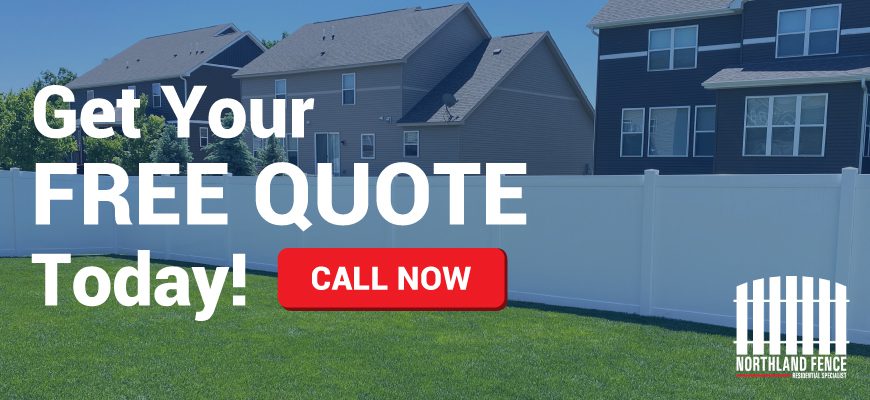 FAQs About How Deep Should a Fence Post Be
Does each fence type determine how deep a post should be buried?
The height of your fence is what primarily impacts the depth at which a post is driven. It's recommended to drive your fence at least 50% of the above-ground height into the ground. This means if you have a 6-foot tall fence, the post would go at least 3 feet underground.
What is the lifetime of a wooden post?
Wooden fencing doesn't last as long as ornamental steel, vinyl, or even chain link. With wood comes rotting, cracking, and many other problems that drastically shorten the lifespan of your fence – especially in our Minnesota climate.
Is it possible to set up a post without adding a concrete mix?
If you drive your fence posts into the ground, you won't need to use concrete to support them. This offers not only a cleaner installation but a longer and sturdier lifespan for your fence as a whole.