There are so many ideas and options when it comes to patio fence ideas, not to mention the considerations of cost, aesthetic, and maintenance. From metal, wood, and vinyl options Northland Fence is here to help you through the process of choosing the best fence for your patio desires.
Whether it's privacy or decorative fencing you are looking for, Northland Fence has all the options you need to find your perfect patio fence. Our professional-grade products ensure a clean look with low maintenance at the lowest costs on the market. The hundreds of 5-star reviews that Northland Fence has on Google proves our customer satisfaction guarantee and upholds our standing as the best fence installation company in Minnesota. We encourage you to call 763-316-4881 for idea guidance and a free estimate.
Privacy Fence Ideas for Your Yard
Yards are a place of joyful kiddos running around, get-togethers with friends, and late-night bonfires. These events are all special and intimate, and there's no need to have the whole world looking in as you enjoy your yard.
A privacy fence offers protection from intruders and prying eyes to give you peace of mind while enjoying the outdoors. There are many different options for privacy fences, so you don't have to sacrifice beauty or cost to have the privacy you deserve.
Wood Privacy Fence
Wood is one of the cheapest options for fencing material, and doesn't hike up the price of privacy. Many wood slats can be found at construction sites or lumber factories for DIY installation. It's important to make sure that you find the strongest pieces when searching for wood fence material. Otherwise, the fence will not hold up to the most inclement of Minnesota weather conditions.
One of the best privacy fences made from wood is repurposed pallets. They are easy to set up as the wood is already pieced together, and you quickly gain the privacy that you are looking for. This fence in particular is guaranteed to be one-of-a-kind whether you use the pallets themselves or strip them of their planks and use those.
Pallets are built to hold heavy loads and can stand up to strong winds or snow. However, wood fences have a few downfalls to them as well. Wood is easily susceptible to rotting or mold in wet conditions. It requires quite a bit of upkeep to continue looking its finest meaning while the first down payment may be relatively cheap, maintenance and continuing costs may not.
Of course, the best option is to hire a professional installer to get the highest grade cedar fence possible. If you want to be confident your fence will be done right and the peace of mind of a warranty, give us a call here at Northland.
Private Vinyl Fencing
Vinyl is one of the most aesthetically pleasing fencing materials on the market, and while it is not necessarily the cheapest option, it guarantees no open slots in the fence. It is a solid material that can stand up to even the harshest weather conditions. It does not rot or rust, making the long-term cost extremely affordable.
Northland Fence highly recommends the increasingly popular vinyl fencing material. It is the last fence that you will ever need to purchase for your yard as it comes with our lifetime warranty on material and a 10-year warranty on labor. Any malfunction you find is covered and fixed at absolutely no cost to you.
Patio Privacy Fence
Just like your yard, a patio is simply an extension of your home and deserves the same privacy that your house's walls offer. There are plenty of options on the market that can give you this privacy without breaking the bank, such as metal, vinyl, or wood. It's important to really understand what you are looking for in a private patio fence before choosing what's best for you.
Privacy Screens
Another option for homeowners could be privacy screens. These are especially recommended for patio privacy because they can be pulled back to allow for more guests when needed. There are plenty of options for privacy screens, including DIY wood slats, bamboo rods, growing fences, and retractable options.
Backyard Fence Ideas
A backyard fence has so many purposes. It needs to be able to contain pets, kids, and anything else that might try to get through. There is an element of privacy that comes with backyard fencing, but luckily there are so many options that neither aesthetics nor cost need to be compromised for this to be achieved.
Backyard fencing could be almost anything. There are metal options, wood options, vinyl fencing, and ornamental. Each of these has its pros and cons, and to help assess which, Northland Fence is at your service!
Metal Fence Materials
Metal fencing is some of the most highly recommended, sturdy, and long-lasting materials on the market. It is great for any type of security, privacy, yard, or patio fencing needs as it can be molded into different shapes and options.
Galvanized steel is one of the best options for metal fencing. It is steel that has a protective zinc coating around it. The main reason behind the galvanization of steel is to prevent rusting. The rust will eat at the zinc coating rather than the metal underneath, meaning less maintenance and replacement is needed throughout the years.
Galvanized steel is used in plenty of fences, though chain link is the most common. It's great for backyard fencing because it provides security from outside intruders but is not toxic for toddlers or pets. It stands up well to Minnesota weather conditions and is highly recommended for any fencing need.
Decorative Fencing Materials
In reality, almost any fence material can be decorative. Vinyl fencing has a clean aesthetic that, while not necessarily detailed, can be a nice decorative option. However, ornamental fencing might be the way to go for more complex decorative fencing.
Ornamental fencing is great for a backyard because it ensures no children's fingers get pinched while remaining aesthetically pleasing. Northland Fence offers both flat top and spear ornamental fencing. Both options come with our 10-year material and 15-year labor warranties to ensure this is the last fence you'll ever need to buy.
However, ornamental fencing is not the only option for decorative materials. There are eco-friendly versions, horizontal metal slats, or even combinations of metal and wood for aesthetic and decorative fences.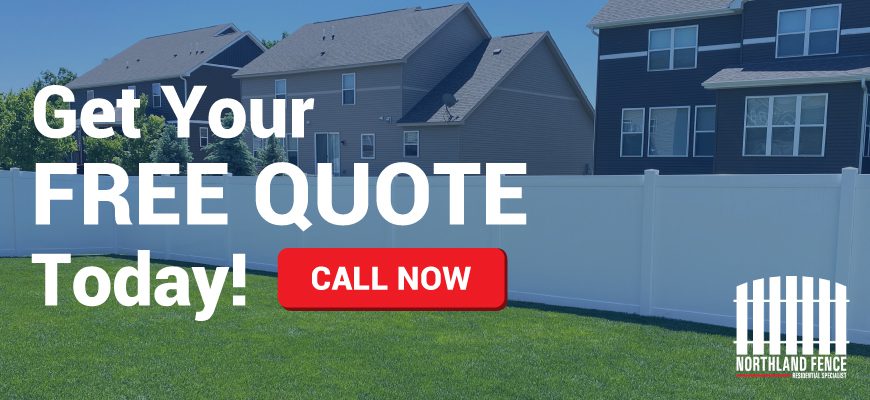 FAQ's About Patio and Privacy Fencing
What is the cheapest type of fence to put up?
The cheapest type of fence is wood. It's material that comes in large quantities helping to drive the cost down. For those on a tight budget, wood slats can also be found in construction sights or other lumber factories. Often those slats can be taken for free or very cheap and installing it yourself helps make the whole process as cheap as possible. However, to have the job done right and ensure quality of material, hire a professional installer instead.
What can I put up instead of a fence?
There are plenty of things that you can put up instead of a fence without sacrificing aesthetics. Trees are one of the best options. While it may take some time for them to grow extremely big, baby trees can still create enough of a barrier between you and your neighbors. Other options could be bamboo, hedges, stone walls, or a vertical garden.
What is the cheapest fence for privacy?
Similar to the cheapest fence material, the cheapest fence for privacy would be a DIY wood fence. It's important to understand that this is just the cheapest down payment. We recommend vinyl for the most affordable, long-term, and secure private fence. It guarantees no peeping eyes and holds up to the elements with little maintenance down the road. A large down payment means less continuity costs as well as overall affordability.
How tall should a patio fence be?
A patio fence should be approximately 6-8ft tall. This is slightly higher than a regular fence of 4-6ft. Make sure to check on city codes and regulations, but that height should fall under many of them.