For discerning homeowners looking to have a simple aesthetic while not seeming "cheap" or lazy about their fencing, ornamental steel fencing may be the right choice. It is simple yet pleasing to the eye and can match any sort of environment.
Northland Fence now has all the ornamental fence supplies, accessories, and hardware needed for a successful installation. Whether it's flat-top or spear-top, we have them at some of the lowest prices in the industry. Ornamental fences are a great aesthetic addition to any residential home and even work for some commercial purposes as well. Call (763) 316-4881 for a free estimate today!
Why Choose Northland Fence Ornamental Steel Fences?
Our ornamental steel fences are made from galvanized steel, unlike many of our competitors. This ensures the fence's long life free of corrosion, rust, and other effects of inclement Minnesotan weather. In most urban settings, our galvanized steel fences last 20-25 years, and in rural settings last twice that long.
Our ornamental steel fence supplies also come at some of the lowest prices on the market. We know the industry well and are the 3rd highest buyer of fence supplies in the nation. This means we know how to get the best deals from our manufacturers and are able to transfer these to our consumers. However, even with our amazingly low prices, we still guarantee professional-grade fences that come with low maintenance and easy installation.
Check out Northland Fence's offers on flat top and spear top ornamental fencing, guaranteed to lead to customer satisfaction every time.
Ornamental Fence Accessories & Hardware
When thinking about ornamental steel fence supplies, it isn't as simple as the posts and the rods. There are quite a few accessories and hardware that are necessary for not only installation but to ensure the best customization of your fence. Northland fence has all the ornamental steel fence accessories and hardware in one spot, making customization and purchasing a breeze!
Ornamental Fence Panels or Fabric
Panels or fabric fencing helps make installation of the fence a breeze. Rather than needing to set up each individual post and rod, fence panels are big squares of fencing that have all the rods already connected with rails. The only necessity is installing posts to connect the panels. It is a lot less work and a great choice for those looking to install the fencing themselves.
Gates for Ornamental Fences
Gates are another addon to ornamental fence supplies. They make it much easier to access the yard, front porch, pool, or whatever it is that has a fence around it. For residential housing, if you enjoy having guests over, a gate is almost required within your fence for their access, otherwise, they'll be climbing over or you'll have to leave a gap within your security.
While gates do have a few extra parts to install such as hinges and a latch, they do not stand out from the fence. They are made of the same material and come in the same size as the rest of our panels to blend in. You can still get the aesthetic look you are hoping for while still allowing for visitors and maintaining security.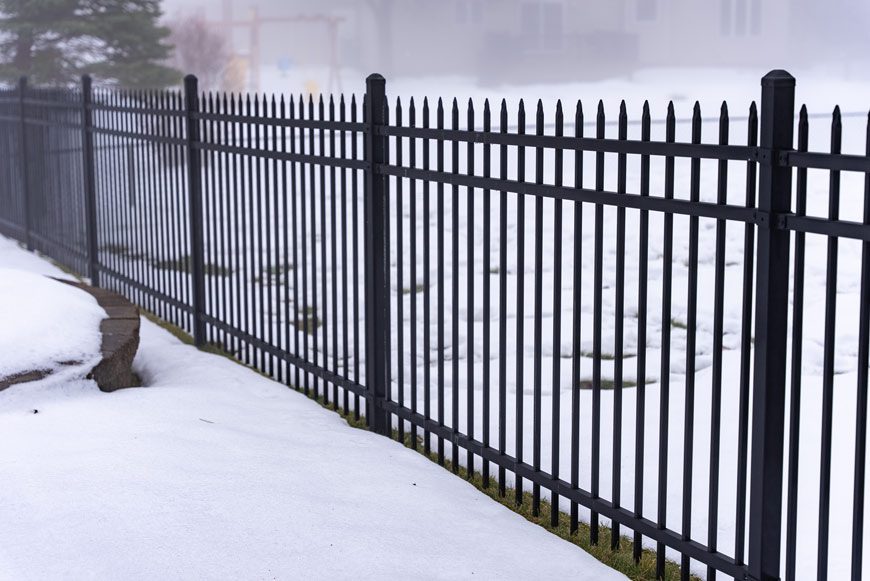 Ornamental Fence Posts
With ornamental fencing, the posts are one of the hardest decisions to make. They help to connect each of the panels of fencing to each other and stabilize them within the ground. Northland Fence offers two types of fence posts: flat top and spear top.
A flat top fence post is a classic rectangular post with a flat square at the top. It is a simple look that is commonly found around public pools. It is aesthetically pleasing while not distracting. These posts are great for pets as they cannot squeeze through but are still able to have a fairly unobstructed view of the surrounding area.
For a spear top post, the top of the rod is a spade shape that juts out a bit. These can be a bit more dangerous for families with kids who are curious and try to climb the fence. The posts come to a point and could easily scrape a hand, however, for those who value security, this could be the perfect fit.
Ornamental Fence Hardware
The hardware associated with ornamental fence supplies is pretty standard. It's a bit easier than some other fence types for a self-installation being mainly just some nuts and bolts as well as the grounders needed to have the ornamental fence stay on the post.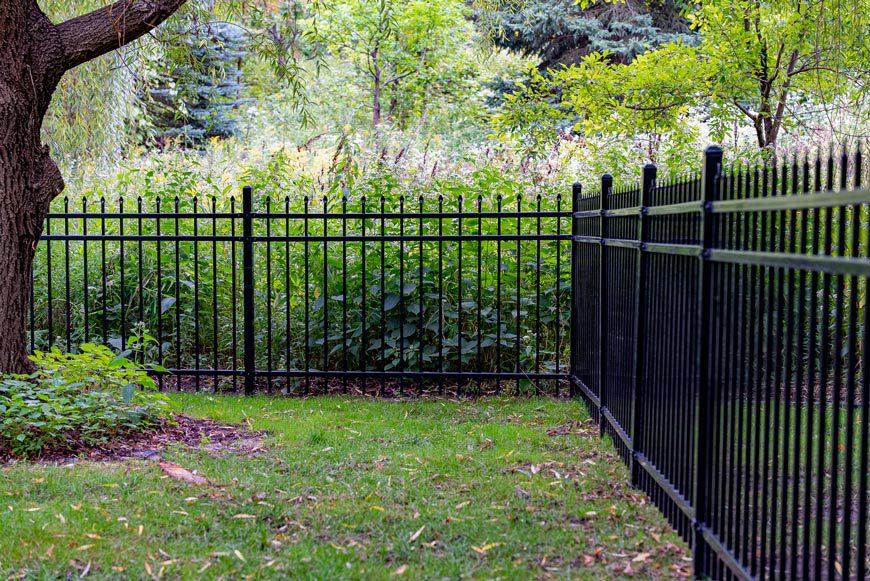 The Northland Fence Ornamental Steel Fence Warranty
When you purchase ornamental steel fence supplies from Northland Fence, it comes with our 15-year warranty on materials. This means that, should you find any corrosion, rust, or anything of the like within 15 years of installation, we will come and replace it at no cost to you. It's our mission to ensure your confidence in our products as we pride ourselves on guaranteeing professional products that hold up to the standards you expect.
We also offer a 10-year warranty on labor after initial installation. Should you find at some point that the fence was installed incorrectly and it is our mistake, we come out to your location and fix it for free. This helps to support our mission of 100% customer satisfaction which is testified through the hundreds of 5-star Google reviews of Northland Fence. Call us today at (763) 316-4881.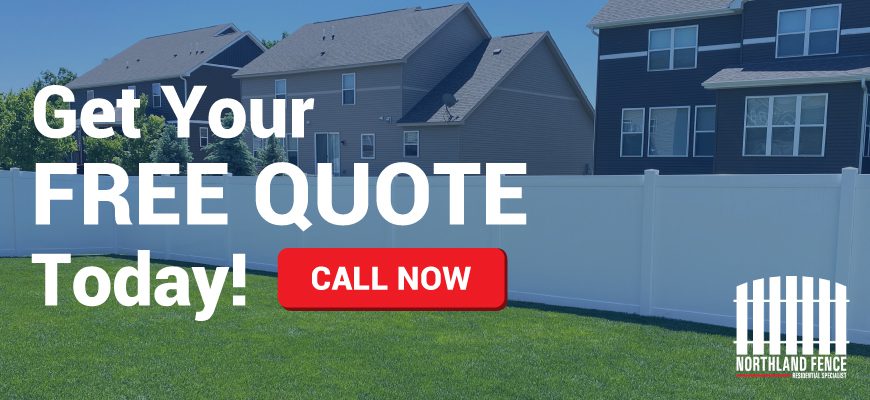 FAQs About Ornamental Fencing for Sale
What is an ornamental fence made of?
Our ornamental wrought iron fences are made from galvanized steel. This is a step-up from many of our competitors who use aluminum fencing as galvanized steel fares better in inclement weather and has a longer lifespan.
How do you install ornamental iron fences?
Similar to other fence styles, ornamental iron fences are installed panel by panel. Northland Fence uses a driver technique to stake the posts deep into the ground rather than the traditional cement grounding. This technique ensures that the posts will remain strong as well as provides a cleaner finish than cement.
What are the parts of an iron fence?
The two parts of an iron fence are the vertical posts, also known as spires. These can be topped flat or with a spear. The second part is the horizontal rails that run near the tops of the spires. It holds the whole fence together and can also be decorative if desired.