The Neigh-Ked Truth: Vinyl Horse Fencing
We've got several equestrian hopefuls out there in the great state of Minnesota. There are some critical questions you must ask yourself before getting a horse: How much will the horse cost? Where will the horse be kept? And the most important question of all: What vinyl horse fencing will work best for my horse?
Northland Fence has got you covered as we will discuss why vinyl fences are the best type of fencing for horses, and the types of vinyl fencing Northland Fence offers.
What Is a Vinyl Fence?
Before getting a certain fence, it is important to know about the fence you are getting. Vinyl is a type of fence made from polyvinyl chloride, or PVC. The resin of the PVC is combined with some other materials, making a strong, weather-resistant material. These fences are a little pricier but last much longer.
Now, the question becomes, "What makes vinyl fences the best type of fence for horse fencing?"
Low Maintenance
Look, you will be fencing in a horse. Expect your fence to get dirty from time to time. The beauty of vinyl fences, though? They don't take much maintenance! Because of their durability and weather resistance, they won't need to be repainted, and beyond occasional cleaning, they are upkeep-free.
Durability
If you live in the Land of 10,000 Lakes, you are no stranger to the snow. It snows a tremendous amount here in Minnesota, and that snow has the potential to ruin certain fences, like wooden ones. Vinyl fences are weather resistant due to the material from which they are made, meaning that your fence will still be standing after the harsh winter.
Fantastic Privacy
Vinyl fences are fences that you can't see through. Unlike chain-link or wrought iron fences, these fences provide the utmost privacy from nosy neighbors, giving you and your family freedom to enjoy yourselves without that threat.
Affordable
While these aren't as cheap as chain-link fences, vinyl is still relatively inexpensive compared with other materials. Vinyl fences can be made in large quantities and are super easy to transport, saving you a pretty penny. Speaking of pretty …
They Look Amazing!
Vinyl fences are just plain beautiful. The solid opaque walling comes in several different colors, in both picket and solid options, and gives you much more variety than the wood options.
They Last a Long Time
Vinyl fences will be a mainstay on your property for decades. One of the biggest advantages of a vinyl fence is that you spend much less money long term. Why is that? Well, because vinyl fences have a lengthy lifespan. This means that even though the price upfront is higher than something like a wooden fence, you would need to replace a wooden fence sooner, you would need to do more general upkeep, and you'd have to deal with rotting wood. A vinyl fence will maintain its strength and form for so long that your youngest child will be having kids of their own before you think about replacing it!
So, What Makes Vinyl Great for Horses?
Admittedly, we have only hyped up how great the vinyl fence is itself (we can't help it). Now, how do any of those qualities of the vinyl fence relate to being great for horse fencing? Hyping up these fences surely means that they are the best for horses, right? Well, dear reader, you are absolutely correct!
The durability of a vinyl fence is fantastic for horses as it will be helpful in keeping the horses contained. While this may not prevent them from attempting to run through the fence, it will slow them down and prevent them from getting any splinters or nails in their hooves.
With these fences being low maintenance, there won't be too much dirt getting on them, and there will be no need to repaint them! We are highlighting this because repainting fences can be difficult to do in general. Add your equine friends to that and it becomes much more stressful.
They also look amazing, so aesthetically, it will look like you have the best ranch in Minnesota with our vinyl fences and your beautiful horses. These are just a few of the things that make vinyl fences great for horse fencing, but believe us, there are many more.
Fire Resistance
This is not something that many think about when it comes to fencing as no one wants to think about the possibility of a fire breaking out at their home, but this is an important reason to choose vinyl. Because of the PVC material, vinyl doesn't readily burn like most plastics. As a matter of fact, the material produces a gas that can help extinguish the fire while giving off a strong odor that alerts nearby people of the fire's presence.
This is fantastic for horse fencing as it reduces the chance of a grass fire destroying your fence and reduces the possible harm caused to your horses. This would eliminate the danger of horses being trapped in the remnants of a burning fence as well as cutting down on harmful gasses that could affect their respiratory systems.
Environmentally Friendly
Especially when dealing with animals, you will want to make sure your fences are environmentally safe. Step right up, vinyl material! PVC is made largely from regular salt. This means that there would be no toxic chemicals leaking into the soil or the ground. PVC is also the most commonly used plastic in building construction, having a long track record of safety. How does this relate to horses? Well, this tells you that the material isn't dangerous to install and highlights that durability.
Heat Resistant
This is a generally great quality for vinyl fences. Sometimes, the color of fences can fade when exposed to sunlight for a significant amount of time. For vinyl fences, many manufacturers add titanium dioxide to the outer layer of the vinyl. Titanium dioxide is the active ingredient in many sunscreen products and helps to generate sun resistance. This ensures that your horse fencing is bright and beautiful for years to come.
Electrification Compatible
Whether this matters depends on the needs of the owner, but vinyl fences are electrification compatible. You might need electrification for the protection of your horses, or you might just want it.
To understand why vinyl fences are compatible with electrification, we must discuss why the other fences aren't compatible. To electrify a metal or wooden fence, you would need to install special insulators. This would get expensive. However, vinyl fences are already an excellent insulator and allow you to directly attach electrified wire to your fence. This saves you a ton of money, and we're all about saving you some cash at Northland Fence.
Get a Quote at Northland Fence
Northland Fence is here to provide you with high-quality fences while giving excellent customer service. Our fences, combined with our passion and care for our fellow Minnesotans, make us stand out as the best fencing company in Minnesota. From being the first company in Minnesota to use driven posts on all our fences to removing a traditional material (wood) from our product offerings because it doesn't line up with our core values, we are proud to be one of a kind. Call (763) 316-4881 for a consultation today.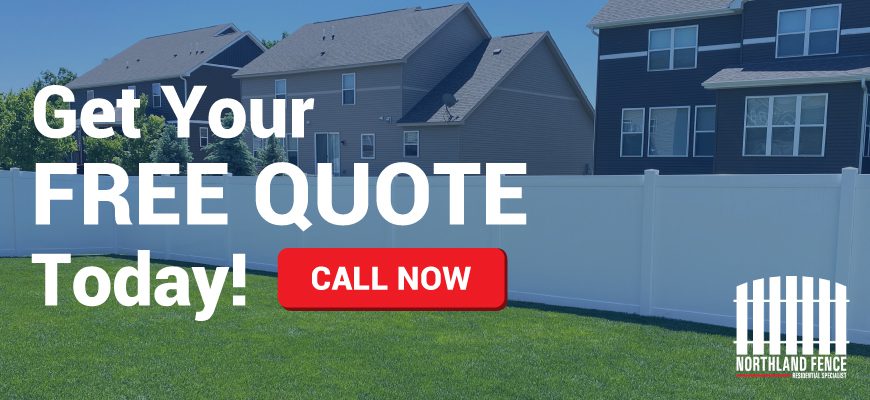 FAQs:
How much does vinyl horse fencing cost?
Average horse fencing prices are about $35-$40 per foot, but it is always important to get a quote first. While vinyl isn't the most inexpensive material, it will save you much more money in the long run as opposed to a wood or chain-link fence.
Is vinyl fencing OK for horses?
Yes. Vinyl fences are great for horses! They are durable, meaning that your horses wouldn't be able to get out of the fences easily; they are environmentally friendly, which means that there is no chance of your horses ingesting toxic chemicals; and they are low maintenance, which means that you won't have to worry about cleanup or repainting as much.
What is the cheapest horse fencing?
The cheapest materials for horse fencing are rope fencing or electric wire fencing. While vinyl gives you the most bang for your buck, these materials are much less costly upfront.
How much does a 100-foot vinyl fence cost?
While getting a quote is important, on average, a 100-foot vinyl fence ranges from $1,500-$4,000. Again, these may cost more upfront but would cost much less in the long run due to the low maintenance and durability of vinyl fences.