Building a Quality Dumpster Enclosure
Is your dumpster being left out in the cold Minnesota winter?
Do you own a dumpster, a waste management company, or simply a business that uses a dumpster? Have you noticed your dumpster is constantly being used by people who don't pay for your services? Or that your property is being tagged with graffiti? It may just be that your dumpster is constantly being raided by raccoons. Maybe you're afraid that your dumpster will get moved or even stolen.
It may be time to put in a dumpster enclosure, also known as a dumpster corral. A dumpster corral will help keep your dumpster out of the public eye, and it will keep out people and pests alike who may damage or use your dumpster without your permission.
No matter what kind of problems you're having (or fear you might have) with your dumpster, and no matter what size your budget is, Northland Fence can build a dumpster enclosure that will fit your needs and desired style.
Dimensions of a Dumpster Enclosure
When deciding what dimensions you need for your dumpster enclosure, it's important to take a few things into account. First, of course, the enclosure needs to be able to fit your dumpster(s) inside of it. But you don't want the enclosure to be too snug. You obviously want to be able to get in and out of the dumpster enclosure easily so you can dispose of your waste. You also need to make sure that a garbage truck can easily back up to and lift your dumpster so that waste removal isn't a problem.
You can build a dumpster corral with dimensions that fit your individual needs, but these dimensions are a good place to start:
8-foot height
14-foot depth
19-foot width
15-foot-long gate
A gate that swings at least 90 degrees or more
20 feet of overhead clearance
60 feet of room for the garbage truck to be able to approach the gate
These are standard dumpster enclosure dimensions that should ensure your dumpster is contained while also leaving room so you can get in and out of the enclosure, and so can the sanitation workers who keep your space clean.
It's also important to note that some cities have requirements about what dumpster enclosures are made of. Be sure to check your city regulations before you build your dumpster corral.
Chain Link Dumpster Enclosure
If you are looking to build a dumpster enclosure, a chain link fence might be a good fit. Chain link fences are very affordable, so if you're on a tight budget, chain link may be a good option. Chain link fences are also pretty easy to install, so if you are looking for a quick construction turnaround, that is another plus on the side of chain link fences.
You may be concerned that chain link fences are easy to climb. However, high industrial chain link fences are tall enough to ensure that anyone who might attempt to climb the fence would encounter great difficulty. If you're concerned about people being able to see through your chain link fence, you could add privacy flats.
Chain link fences are also great because they require very little maintenance. Even if you ignore it completely, the material should last for decades to come. Chain link fences are also very difficult to break without equipment, making them a good way to secure an area.
Our chain link fences are created using galvanized or black vinyl coated steel wire. Galvanizing the steel helps to prevent rust, which can add years to the life of the mesh, helping you to get even greater value for your money.
Wrought Iron Dumpster Enclosure
If you're looking for more of a steel fence design, wrought iron steel may be the way to go for you. Wrought iron steel is a little bit more pricey than a chain link fence. However, the steel fence has a very professional, polished look to it.
Wrought iron steel is also extremely durable, impossible to break without power tools, and practically impossible to climb over the top of. If you're still not convinced, you can have spikes installed on the top of your iron rods. You may be concerned that someone could slip themselves in between the bars of the enclosure, but we can put the rods close enough together to make it impossible for people or pests to slip through.
The galvanized steel that we use for our wrought iron fences also means that there is relatively little maintenance needed. While other metals may rust and be damaged by harsh Minnesota weather conditions, our steel fences won't rust and will stay looking nice for years to come.
A wrought iron dumpster enclosure is sure to make your dumpster more secure while also making your location look classier.
Vinyl Dumpster Enclosure
Vinyl is another great option for your dumpster enclosure. Unlike chain link or wrought iron fencing, vinyl is completely opaque to ensure that your dumpster is completely obscured from view. This ensures that it is more difficult for the public to see and take advantage of your dumpster.
Vinyl is a great choice for Minnesotans because it holds up well to extreme weather. It won't rot or be damaged by sitting in water or snow over the winter. It also requires very little to no regular maintenance or upkeep.
In addition to all of these great benefits, vinyl also looks nice and comes in multiple colors, which is another plus.
While vinyl may be a bit more expensive than, say, a chain link fence, it is surprisingly affordable because it can be mass-produced. And while plastics often get a bad rap for being cheaply made, PVC (which is what vinyl is made of) is super strong and durable.
Vinyl fencing for your dumpster enclosure ensures that you have plenty of privacy while also giving your property a nice, clean look.
Wooden Dumpster Enclosure
Wooden dumpster enclosures are also a classic option. Like vinyl, wooden enclosures give you lots of privacy and fully obscure your dumpster from public view. They also have a very classic look and can be built inexpensively.
However, wood has many of the same positives as vinyl but with a number of cons. It does not handle Minnesota weather as well as other materials. It has a tendency to absorb water, which can warp the wood and also cause rot that damages the integrity of the wood. Because of this, wood fencing requires quite a lot of regular maintenance.
Building a Fence with Northland Fence
Whether you need a dumpster enclosure for your business, a backyard fence for your home, or anything else in between, Northland Fence is ready for the job. 
Northland Fence has been putting up fences in Minnesota for 17 years. In that time, Northland Fence has provided excellent customer service, solid work, and an overall great customer experience. According to the Better Business Bureau, Northland Fence has a near-perfect rating and zero customer complaints.
When you hire Northland Fence, you will work with Northland Fence employees from start to finish. We don't hire subcontractors to do our work for us. We also will help you ensure that your fence is 100% up to code.
Northland Fence can help you pick out the perfect vinyl or metal fencing (chain link or ornamental wrought iron) with a 15-year to a lifetime warranty on materials, depending on the material, and 10 years on labor.
We plan to meet and exceed your expectations with our friendly, knowledgeable customer service.
Are you ready to build a dumpster enclosure or your dream fence? Call (763) 316-4881 and get started today!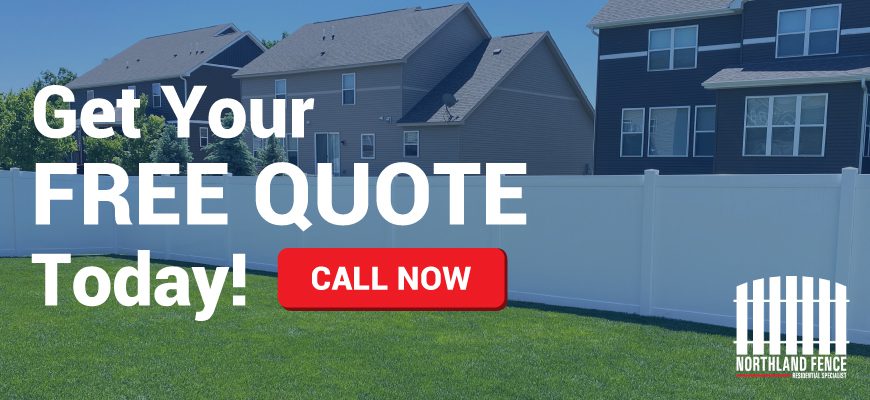 FAQs:
What is a dumpster enclosure?
A dumpster enclosure, or a dumpster corral, is a fence that you put around your dumpster to obscure it from being viewed from a distance, protect it from people and critters alike, and prevent it from being moved.
What is the fence around a dumpster called?
A fence around a dumpster is usually called a dumpster enclosure or a dumpster corral.
What is a dumpster corral?
A dumpster corral, or a dumpster enclosure, is a fence that you put around your dumpster to obscure it from being viewed from a distance, protect it from people and critters alike, and prevent it from being moved.
How big should dumpster pads be?
The dumpster pad should extend 10 to 15 feet in front of the dumpster and should be at least 6 inches thick.