There are few things in life as important as a safe and secure place to feel at ease in the world.
Having a quiet, serene and secluded space to yourself after a long day at work—where you may have talked for hours on end to customers, coworkers, peers, students, classmates, and/or any number of other people—is truly an unmatched feeling. Having a trustworthy and visually appealing fence is step one in creating this peaceful oasis.
There are many questions to consider when planning your oasis. You've come to the right place to answer those questions and learn about costs. 
Is Vinyl Fencing The Correct Choice?
Once you make the decision to demarcate your property with fencing, the first step is to choose the type of fencing. For many, the style that fits the bill by being beautiful, practical, and secure is vinyl fencing.
Vinyl fencing offers great protection and privacy from the outside, but it's also an affordable option that comes with a stunning aesthetic when compared with wood paneling that tends to rot during harsh weather conditions like those we face in Minnesota. 
By choosing vinyl fencing, you're able to add an appealing look to your property while creating a private area for you and your family. It also keeps pets and children inside the yard.
There are of course other options for fencing, such as traditional wood, chain link, and wrought iron. Each of these options come with different advantages and disadvantages.
With wood fencing, you'll face many maintenance challenges for years to come from potential deterioration due to the weather.
Chain link fencing comes in a little cheaper than vinyl fencing, but it has less customization, less visual appeal, and less privacy.
Wrought iron fencing adds a regal and elegant look to your property, but at a higher price. This also comes with less privacy than even chain link fencing. While it's not the best solution for many, wrought iron fences are tasteful and the pick for some.
Vinyl Fencing Saves You In the Long Run
Wood fencing, which has been a traditional choice for many years, is likely the tightest competitor to vinyl fencing, as many looking into vinyl fencing are simply looking for privacy. However, with a history of showing issues with discoloration, decay, and pest damage, many have chosen the lower-maintenance option of vinyl fencing.
Vinyl fencing is largely maintenance free. It's not prone to warping, weathering, or chipping. Cleaning the fence simply requires spraying or wiping it down with a rag or sponge, and by not cleaning it, you're only losing visual appeal since the fence will not be damaged simply by dirt.
Wood fencing requires sealing, staining, painting, and more just to protect the wood. Still, the wood falls apart after so many years. Given our harsh Minnesota winters, you're guaranteed to need to replace the fencing at some point if you decide to use wood.
A vinyl fence will last many decades without needing upkeep from the property owner.
What is Vinyl Fencing? Is It Indestructible?
Based on the comparison with wood fencing, vinyl fencing can certainly sound like an unbreakable piece of fencing. While that is not true, vinyl fencing is certainly as strong and durable as is needed in Minnesota.
Vinyl is a plastic fence made from polyvinyl chloride, commonly known as PVC. The PVC resin is combined with other ingredients, creating a strong, sturdy, and weather resistant material that will stand the test of time. 
Some might scoff at the thought of using plastic since it often is considered weak, but plastic makes for a very durable material that can be relatively affordable. The durability and resilience of vinyl fencing, along with its privacy, make it a safety feature for any property. 
What Does Vinyl Fencing Cost?
Trying to figure out the cost of fencing for any given property, and answering the questions that come with it, is challenging. The fact is that finding an accurate dollar amount online for fencing is nearly impossible due to all of the factors that go into it.
It's important to have a strong understanding of material and labor costs before diving into the estimation and quoting process. As stated earlier, the most common options for fencing are chain link, wood, ornamental wrought iron, and vinyl.
In general, a homeowner or property owner can expect to spend $10-$75 per linear foot of fence depending on the material. For vinyl fencing, you will likely pay $15-$35 per linear foot. 
Chain link will be the cheapest option that comes with any semblance of security. Wood fencing would be the next cheapest option when factoring in up-front material alone. Vinyl fencing and wrought iron fencing, coming with the most positives, will cost the most.
While vinyl fencing is not the first thought when it comes to affordability, you can still check off the affordability box if you consider the bigger picture. 
When considering return on investment, vinyl fencing is the premium option. When attempting to sell your home, a vinyl fence can bring in more money. Home buyers tend to look for homes with sturdy and aesthetically pleasing fences. A vinyl fence fits that bill.
Finally, vinyl fencing is durable. You can save your money by saving on repair costs. Over time, you don't need to worry about the fence deteriorating, and the maintenance is minimal. As far as your budget is concerned, vinyl could be the way to go.
How Much Is Vinyl Fencing Construction and Installation?
Aside from the upfront cost of materials, you must remember there are installation costs as well. Consider these costs and work that must be done before making the final decision:
Manual labor ($30-$80/hour)
Acquiring building permits
Marking underground utilities
Hauling old fence materials away
Excavation and dirt removal
Gates, hardware, and other decorative elements
How Can I Make Fencing More Affordable?
One of the best ways for you to get a fence that is affordable is to work with a reputable company. When you work with someone who's been in the fencing industry for years, you can save money.
When you work with an established company, you also get the luxury of knowing they aren't overcharging. A company that has positive reviews and over a decade of experience is one that you can trust. Instead of overcharging you and blowing your budget, they will get the job done right.
It's worth noting that working with a reputable company can be cheaper than a do-it-yourself job. Often, individuals don't have the tools, experience, or materials for a DIY fence. You could blow your budget by the time you buy all the equipment you need. However, a fencing company already has all the necessary tools. They also get materials at a lower cost. In the end, they pass those savings on to you.
A Reputable and Reliable Partner in Northland Fence
If you have examined your options and have decided to add fencing to your property, there are great options for it in Minnesota with the people at Northland Fence. 
Northland Fence has had consistent growth since its opening in 2004, going from two employees to 35. As a family-run, locally owned business, we're committed to building fences that are stronger and better through innovative techniques, and we also focus on honest, friendly, and knowledgeable customer service.
Vinyl privacy and picket fences are becoming an increasingly popular choice in Minnesota, as is the choice to use Northland Fence. With the low maintenance requirements of vinyl fencing, Northland has become a leader in Minnesota for vinyl fencing options.
Northland offers many colors and styles to choose from to allow for optimal customization.
Northland's fences come with a lifetime, non-prorated warranty on materials and a 5-year warranty on labor for all of our vinyl fence installations. Just think of it as the last fence you will ever need. Hands down, the durability of vinyl allows for the best lifetime value that far outweighs the slightly higher initial costs.
Call Northland Fence Today
Northland Fence is as reputable and reliable a fence company as you can find in all of the United States, especially in Minnesota. Choosing them and picking vinyl fencing for your home or property is a great decision. 
If you are still on the fence about using Northland, you can visit the website anytime at https://www.northlandfence.com/ to discover more, including a better look at cost estimation for your property with the help of the cost estimator tool. There you'll also find special offers for those who reach out online. Northland Fence has the goal of providing honest, friendly, and knowledgeable customer service to every person who chooses them. 
Don't settle for a wood or prefab fence that's going to degrade over time and only cost more money and headaches in the long run. Northland Fence is prepared to partner with you to make the decision to add fencing as pain-free as possible. 
We want you to be happy and confident in the fence you choose. Call us today at (763) 316-4881 if you have outstanding questions about vinyl fencing and installation through Northland. We want to chat whenever you are ready.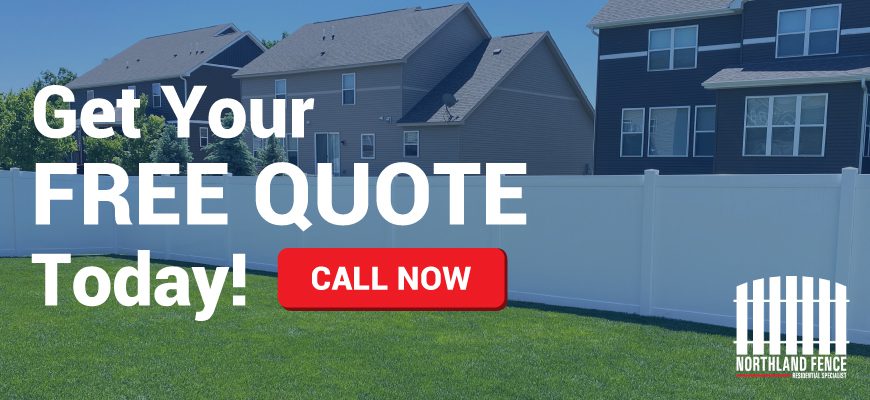 FAQ
How much does vinyl fencing cost per foot?
The price of vinyl fencing ranges anywhere from $15-$35 per foot in upfront material cost. While vinyl is not the first thought in affordability, it will offer a headache-free future with a low level of maintenance needed to keep it doing its job.
While using chain link or wood fencing is a cheaper option, the struggle to keep it maintained and the loss of privacy will hurt in the long run, especially for those looking for a safe and secure space of their own.
What can affect the average cost of vinyl privacy fencing?
Vinyl privacy fencing and vinyl picket fencing range in price from $15-$35 per foot on average, but the prices can vary depending on a number of factors including location, quality of material, color, company, and more.
Working with a reputable company like Northland Fence will ensure you're receiving the best bang for your buck and you're not being overcharged for materials by someone who's inexperienced.
How much does vinyl privacy fencing installation cost?
Installation of vinyl fencing and fencing in general ranges greatly due to a number of factors. These factors include removal of prior fencing, excavating, manual labor, marking of underground utilities, building permits based on land and location, dirt removal, gates, hardware, and other decorative elements.