Homeowners like yourself value beauty. You're the one who gets to enjoy your yard each day, and therefore it's worth choosing a beautiful style. Beauty is one factor, but here are four others for a total of the top five reasons to consider vinyl as the right solution for your fencing needs.
Attractive To the Eye
Okay, we've already established that vinyl can be a beautiful choice to establish your property line, but how exactly? The color wheel offers a pallet of options to enhance your home's exterior while doing its job as a keeping pets safe, welcoming visitors, acting as a security agent, privacy protector, or garden guardian, and more.
Vinyl provides an opaque wall that comes in both picket and solid options. It offers security, minimizes unsightly exterior views, deters dog barking, and creates a private oasis. It is available in a variety of color selections from light to dark as well as a two-tone option, which provides customization that will have you feeling like the Martha Stewart of fence design.
Picket vinyl comes in several color selections and has the advantage of symbolic nostalgia. A white picket fence holds its place in history as a display of pride in homeownership. Benefits include adding to the charm of a home's overall curb appeal while delineating your property line and keeping children and dogs safe. Not having to worry about chewed-up wood fence slats from critters or rotting boards falling off is an added benefit.
Friendly To the Environment
Due to vinyl's consistency, harmful chemicals to treat for waterproofing, paints, and stains aren't applied after manufacture, meaning vinyl is a non-toxic material with no volatile organic compounds.
Vinyl fencing is also fully recyclable at any point in its life because natural gas is a significant component in its composition. You won't have to worry about sending any scraps to the landfill, and if you ever need to replace your vinyl fence, the whole structure can be recycled at many recycling centers. You could even take sections and donate to non-profit organizations since the vinyl panels are very durable.
Can Help Home Value
A fence is one of those items that may persuade a pet owner to purchase your home, but not seen as a necessary "must have"  if the need is not there. However, real estate experts say that a fence with cheap materials in an unkempt state will be sure to help someone scurry on to another home tour. Quality materials and an attractive design guaranteed to last for years will beckon those with kids or dogs and can make someone reconsider what wasn't initially on their must-have list.
Minimal Maintenance
At Northland Fence we believe all our fences should be built with the best products available.
Vinyl fences are virtually maintenance-free and no painting or staining is ever needed. Vinyl cleans easily with soapy water and a rag. You don't need to worry about scrubbing to get rid of moss or mildew because mildew can easily be removed with a little bit of bleach. If you don't want to use a rag, vinyl fencing can easily be cleaned with a pressure washer.
Vinyl fences are also made to withstand the elements and won't rot, chip, peel, crack, or fade.
Vinyl fences come with a lifetime non-prorated warranty on material and a 10-year labor warranty.
Withstand Minnesota Weather
In Minnesota weather, anything that is going to stand the test of time needs to be strong and durable. Your fence provides a protective barrier around your home, which increases the demand for the durability and strength a vinyl choice offers.
Vinyl is known throughout the industry as being five times stronger than wood. We go a step further in durability demands at Northland. Our fence panels are installed with driven posts at least four feet directly in the ground, no hole digging needed, and no cement footers that will crack later. This increases the already-durable vinyl fence panel's overall performance against the strong Minnesota elements.
Feel Secure When You Choose Northland Fencing
So there you have it, folks. Just like we promised, there are five main reasons to choose vinyl as your fence material.
Attractive to the eye
Friendly to the environment
Can help home value
Minimal maintenance
Withstand Minnesota weather
Now that you've selected a fence material, let the fun begin! Stop by our online gallery to see our vinyl selection. Visit our website's fence planning tool to see the best layout for your yard. Keep gates in mind for access points and go ahead and compare with our chain link and ornamental fence options. You can also request a free online quote or view our online specials.
When you're about to make a significant home purchase, there is often a feeling of second-guessing yourself. You can truly put your mind at ease knowing any fence you purchase from Northland Fencing is one backed by our guarantees in material and labor. Our excellent online vinyl fence reviews have established us as Minneapolis' fence company, which we started in 2004. When you choose a vinyl fence from Minneapolis' fence company, just think of it as the last fence you will ever need. Call Northland Fence at (763) 316-4881.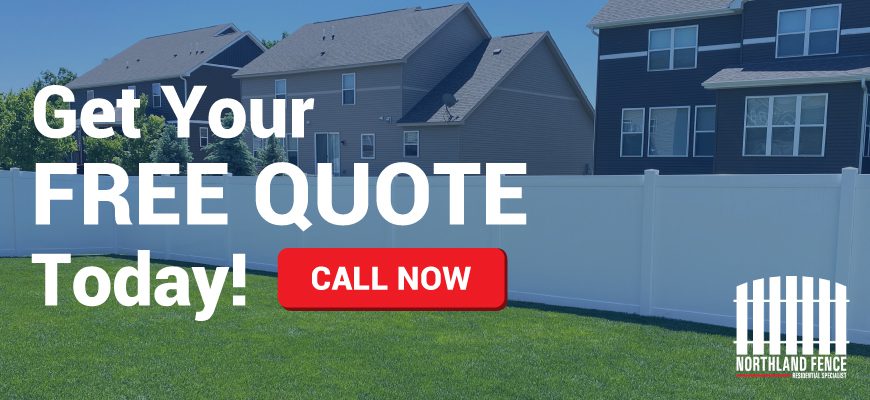 FAQs:
How Long Do Vinyl Fences Last?
Vinyl is five times stronger than wood and can last for 20 years and beyond, requiring little to no maintenance other than an annual washdown.
Are Vinyl Fences Worth it?
Vinyl fences are similar in cost to other fencing materials with the added benefit of durability and strength.
Does a Vinyl Fence Increase Property Value?
As with all fences, they are typically considered beneficial for some and unnecessary for other homebuyers. A fence in disrepair, however, isn't attractive to any would-be buyer and can decrease property value.
Do Vinyl Fences Break Easily?
No, vinyl fences are very durable and can withstand Minnesota's outdoor elements. If they receive a direct impact from a vehicle, for instance, individual panels can be replaced.
Which Is Better: PVC or Vinyl Fencing?
Polyvinyl chloride is a component of vinyl fencing, which leads to the common phrase PVC fence. This phrase is not accurate, however, as vinyl fences are made of PVC and other additives for maximum performance and to protect against brittleness.