Vinyl privacy fences are one of the most popular fence styles among American homeowners, offering numerous advantages after a minimal investment. Installing a vinyl privacy fence is an affordable option that provides privacy and a plethora of additional benefits.
Vinyl is a durable material that has become a prevalent part of fence manufacturing in modern times. Many home and business owners prefer the vinyl fence materials over other alternative style options such as chain link fence gates or an ornamental wrought iron fence and for very good reason. Vinyl fence materials are:
Durable
Affordable
Easy to clean
Simple to repair
Available in versatile style options
Defines property lines
Great for all property sizes
Compatible with gates and other accessories
Applicable in residential and commercial settings
Unlike vinyl picket fences, which are comprised of evenly spaced pickets and slats for a more traditional feel, vinyl privacy fences are solid all the way across, providing even greater benefits for homeowners. Below, we dive further into the different reasons Minnesotans and homeowners around the country are constantly choosing to install a vinyl privacy fence.
1. Privacy
Obviously, the number one reason homeowners have an eye for vinyl privacy fences is precisely as the name implies. Privacy fences provide a barrier between your backyard or other exposed areas of your property from neighbors, busy roadways, or sidewalks where pedestrians often travel.
Vinyl privacy fences are a practical choice for homeowners who have pools, spas, patios, or other entertaining areas where enhanced levels of privacy are always welcome. Properties located on busy street corners can take advantage of the increased privacy levels as well. Privacy is a crucial component of comfortable living for many homeowners.
Properly installed vinyl privacy fences are a necessity for anyone with nosy neighbors, helping to put your mind at ease while prying passersby are stuck looking at a solid panel of impenetrable vinyl.
2. Security
The second item on our list of top reasons to install a vinyl privacy fence is the increased security these structures can provide to your yard. Fences are a crucial component of any property, acting as a barrier between your home and the outside world. Vinyl privacy fences will be a strong deterrent for both intruders and pests alike, as the solid vinyl fence panel pieces create a blockade that's virtually impossible to break through or climb.
Common pests can be a huge problem for every fencing style and property size. However, unlike wooden fences, the smooth vinyl material of privacy fences makes an uninhabitable environment for many insects and bothersome burrowing critters. Privacy fences also protect growing herbs, vegetables, or flower varieties within your garden walls.
Some of the pests, insects, and other animals your vinyl privacy fence will help guard your yard and garden against include:
Squirrels
Raccoons
Mice and rats
Opossums
Deer
Rabbits
Various bird species
On top of everything vinyl privacy fences keep away from your property, they also provide security and protection for people or pets in your household. Well-installed and adequately maintained fences are exceptionally effective in corralling children, dogs, outdoor cats, and other wandering creatures within the confines of your yard. Vinyl privacy fences provide immense security to a home's residents, making it a reliable fencing style for families.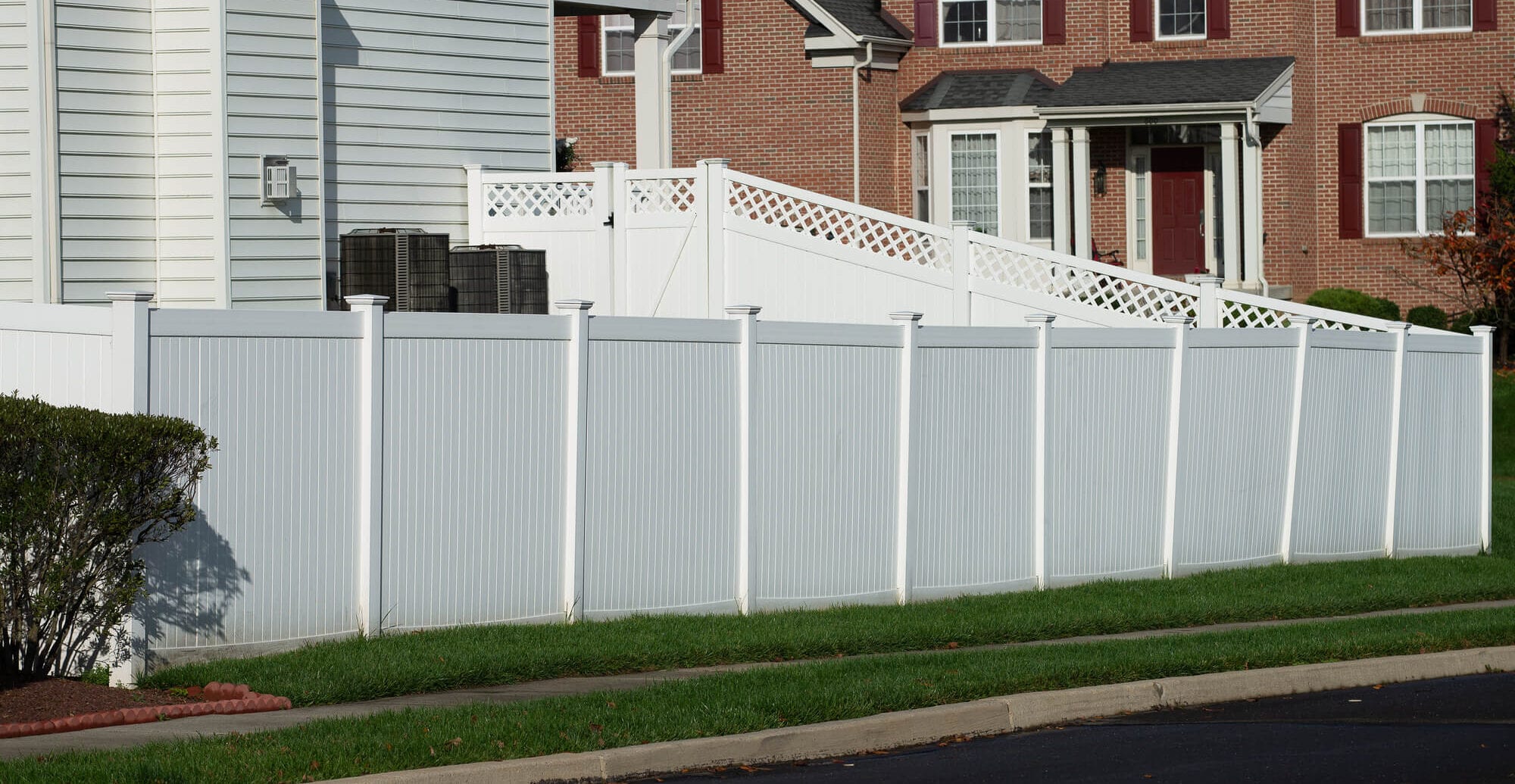 3. Noise Reduction
Vinyl privacy fences block more than just pests and intruders from entering your property. The solid panels of privacy fencing provide additional noise reduction when positioned between busy roads or other high traffic areas and your yard.
Your backyard should be a place to relax and unwind after a long day of work or during sunny weather. The constant sounds of cars, trucks, vehicles, and other passersby can be a big distraction from the moment of zen that you deserve. Installing a vinyl privacy fence is an effective way to lower the noise levels in your backyard, allowing you and your family or friends to enjoy the sunshine with peace of mind.
4. Curb Appeal
Every homeowner has an individual style and aesthetic, which is why vinyl fencing materials make such a great option for those picky kinds of people that we all know. Your preferred fencing company can provide vinyl privacy fencing in a wide variety of colors, textures, and finishes.
Whether you prefer glossy or matte coating, classic white or a more vibrant fencing color, or an attractive lattice-top design, your vinyl privacy fence can contribute significantly to your home's curb appeal.
According to the Wall Street Journal, a recent study found that curb appeal can drastically improve your likelihood of selling a home in a competitive real estate market. Fences can make all the difference when calculating your current property value. Install a vinyl privacy fence to boost your property value and have the best chances of closing on the sale of your home quickly.
5. Value
Vinyl privacy fences are an excellent addition to any home or property for their immense value. The cost of vinyl fencing materials is already relatively low, and a reliable fencing contractor can typically provide a quick installation at affordable rates.
It's incredibly simple to repair sections of vinyl fencing if damage ever occurs. Plus, the plastic-like materials are easy to clean and maintain throughout the year. Items as simple as soap and water can wipe away dirt and debris, leaving your vinyl privacy fence looking as beautiful as ever.
All in all, very few expenses go into installing and maintaining a vinyl privacy fence, making this fencing style a favorable choice for the value it provides.
Conclusion
Vinyl privacy fencing is an understandably popular option amongst homeowners in Minnesota and around the country because of its wide range of exceptional benefits. Installing a vinyl privacy fence can bring much more to your property than a simple barrier between the neighbors or a busy street.
Add security, appeal, and value to your home with a high-quality vinyl privacy fence installation from a trusted fencing contractor in your area. Whether you're looking for more privacy while you lounge poolside or need a durable partition for deterring pests and other intruders from entering your home's garden, vinyl privacy fences are the perfect option for properties of every size.
Another great thing about vinyl fencing is its affordability. Vinyl privacy fence installations, repairs, and the simple annual maintenance this material requires will hardly break the bank. You will easily find a fencing company that can work within your budget to build a beautiful vinyl privacy fence for your property. Contact a fencing company like Northland Fence to find a new vinyl privacy fence to perfectly suit your home's existing style, and start taking advantage of all vinyl fencing has to offer immediately.