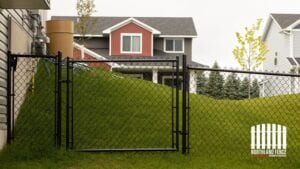 When you're in the market for a fence, you might be shocked by some of the prices you come across.
When you jump in with the hope of buying wrought iron or vinyl privacy fencing, you may quickly have a moment of unfortunate realization that the budget isn't there for it.
While you may not have the budget for the greatest privacy and visual appeal desired, you still have options to protect and secure your property for a far cheaper price.
Chain Link Fence, Enter The Party
Once you've decided to fence your land, it's hard to abandon the idea. Even when you've been hit with the realization that what you want is not what you can afford, the desire is still there.
For those who need something more affordable, the best option is to go with chain link fencing.
Chain link fencing offers great protection for your property and allows you to fully mark what land is yours, asserting your claim to what you've worked hard to keep and maintain. It offers this at an incredible discount.
By choosing chain link fencing, you give yourself security in knowing that you'll be able to protect your land and have some privacy when you desire it. It also is great to help keep children and pets from escaping, because we all know what a pain that can become.
There are, of course, other options in fencing such as vinyl, wrought iron, traditional wood, and more, but these come at a higher cost to you. They each have their own advantages and disadvantages, too.
Wood fencing is likely the most popular option. While you gain privacy and early visual appeal, the work it takes to maintain the fence (especially in harsh Minnesota winters) makes the wooden fence less practical.
Wrought iron fencing adds a level of sophistication to your property with its visual appeal. But it comes with less privacy than any other option, and at a very high price.
Vinyl fencing is a practical option for those seeking a fence that requires little maintenance, as you have with chain link fencing. But vinyl comes in at a higher price because of the material and the possible customizations.
Chain link fencing offers protection and is a low-maintenance option at the best possible price.

Chain-Link Fencing Is One and Done
With another fencing, especially wood, there is a level of maintenance that must be kept up.
Boards rot, you have discoloration, decay, damage from pests, and the process of staining and sealing often.
Chain link fencing comes with virtually no maintenance. The metal used can withstand the weather conditions we face in this part of the world.
The most you will ever need to do for your chain link fencing is keep a watchful eye out for damage. You will also need to keep the fence clean to avoid buildup of dirt, grime or mold; corrosion; or rust.
If a chain link fence rusts and goes untreated, it can hurt the quality and effectiveness of your whole fence.
Also, you have to remember that things happen and sometimes they cannot be avoided. Trees fall, storms come through with high winds, and there are occasionally things that may try to enter your yard (like dogs, rodents, etc.).
When these things happen, the damage could require a lot of work.
If the day comes that replacement is needed, chain link is still going to be the cheapest option.
In the likely scenario that no replacement is needed, your chain link fence is ready to do its job for decades to come.
What is Chain Link Fencing?
Most chain link fences are made from galvanized steel.
The galvanized coating used on the fencing is to protects it from rusting over time.
Rust is natural in any setting in which metal, like steel, is left to various weather conditions like rain, cold, heat, and humidity. By having a galvanized coating, you're prolonging your fence's life by decades.
Still, when rust comes, it can be handled with relative ease and at a small cost.
Removing rust can be done with one of two approaches.

What Is The Average Cost of Chain Link Fence?
You're here because you want fencing to protect your land but don't want to pay an arm and a leg to get it.
Congrats, you've found an answer. Chain link fencing costs, on average, from $4 to $10 per foot. This range depends on the quality of the steel and its coating.
This cost is considerably less than for other fence types. It's the first thought that should come to your mind when you think about affordable fencing.
Wood fencing is likely the next cheapest option but comes with much more maintenance than chain link fencing.
It's important to note here that the figures stated are only for materials.
It can be difficult to find a firm number in pricing fencing online, but step one is always to know your material costs.
The fact is that finding an accurate dollar amount online for fencing is hard due to all of the factors that go into it.
You must consider labor, among other things, when finding total cost.
Regardless, having a firm understanding of the material cost of each possible fencing type is important to the process.
When you consider your return on investment and the longevity of your fence, the choice is clear if you're looking to stick to a strict budget. It's chain link fencing.
With money saved in repair costs and maintenance on top of the money saved from material cost up front, you're getting the absolute best bang for your buck.
How Much Does Fence Installation Cost?
With the topic of material cost out of the way, it's important to discuss the other potential costs you can face when dealing with fencing.
The most important cost to consider is labor. Placing fencing is not easy work, and for the most part, you're not going to want to do it yourself. A team of workers can do it much faster, and they also have more experience in doing things right.
You should expect to pay from $30-$80 per hour for labor. Thankfully, chain link fencing is among the easier and most convenient fence types to install, so these costs will be considerably less than with other fence types.
You must also consider the cost of hauling old materials away if you are replacing an old fence.
The other cost to consider is for extra features. If you want to add an extra feature, such as a gate, the cost will go up.
Consider these things as well:
Acquiring building permits
Marking underground utilities
Excavation and dirt removal
How Can I Make Installation Even More Affordable?
If you're still on the fence (pun intended) because of cost, there are ways to make the experience even cheaper and less damaging to your wallet.
The No. 1 way to cut down on costs and ensure you're making the right move is to work with a reputable company with many years of experience in fencing.
When you work with someone who's been in the fencing industry for years, you can save money in the long run because you know things are being done the right way.
You also don't run the risk of someone overcharging you. A company with decades of experience and a long history of success did not get there by overcharging people and being shady. They did it with exceptional service and hard work.
By doing the job right the first time around, you will save in the long run.
And if you're the type of person who thinks you can just do this all on your own without any experience, the best thing we can say is good luck. We appreciate people who understand the amount of work that goes into fence installation.
We do want to warn you that if you try to do this yourself, you actually run the risk of spending more money because of a lack of tools, experience, and materials. Longstanding companies receive their materials at a discounted rate. Those savings are passed on to you.
One miscalculation in making fencing a DIY job could lead to a budget disaster.
A Reputable Partner in Minnesota-based Northland Fence
If you've read this and have come to the conclusion that a chain-link fence is your best option, you don't even have to leave the page to learn how to take your next step.
For those of you in Minnesota, Northland Fence is here and ready to work.
Northland Fence has grown since its opening in 2004, going from two employees to now 35.
As a family-run, locally owned business, we're committed to building fences that are stronger and better through innovative techniques, and we also focus on honest, friendly, and knowledgeable customer service.
Chain link fencing has long been a popular option for Minnesotans. The same can be said for Northland Fence. We've worked with many in our state who want chain link fences because of the reasonable cost and low maintenance needs.
Customization is more limited with chain link fencing, but there are still options provided by Northland.
Northland offers both commercial and residential grade chain link fencing using either galvanized or black vinyl metal.
We drive posts deep into the soil using pneumatic drivers that create a tight and deep fit, which secures the posts, making them tremendously strong and durable.
We offer a 15-year warranty on the materials and a 10-year warranty on our labor. We do this because we're confident you'll love our fences as much as we do. Get a quote today and let's start planning!
Call Northland Fence Today
Northland is as reliable a fence company as you will find in the United States, especially in Minnesota. By 1.) Choosing Northland Fence and 2.) By picking a chain link fence for your property, you are making two great decisions.
You will not be given a sales pitch to ask you to make more expensive decisions. We understand fully that everyone has a budget to stick to, and picking chain link fencing is practical, cheaper, and dependable.
If chain link wasn't a great option, we wouldn't provide it.
Also on this website, you will find a cost estimation tool to help in the process before calling us out for a quote.
We intend to offer honest, friendly, and knowledgeable customer service to every single person who reaches out to us.
Adding fencing to your land is important as a property owner. Do not settle. Use a company that is ready to make the decision as pain-free as possible.
Call us today at (763) 316-4881 if you have any questions about chain link fencing and the installation process with the help of Northland.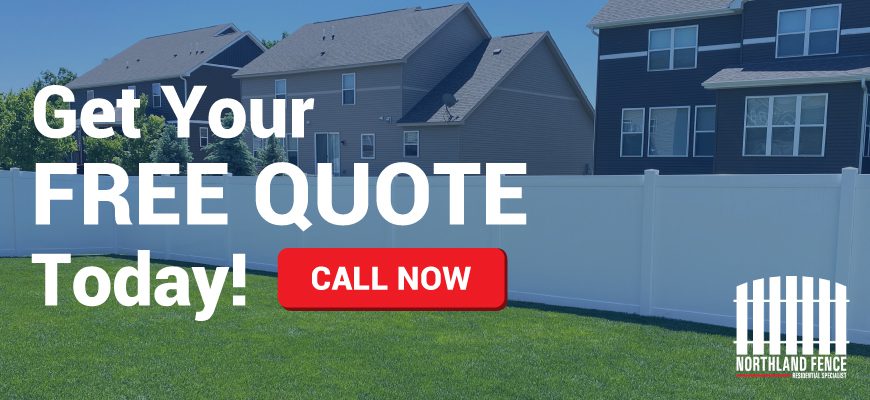 FAQs
Is chain link fencing the cheapest?
Generally speaking, yes, chain link fencing is the cheapest. Coming in at around $4-$10 per foot, it's considerably cheaper than another fencing that offers more visual appeal and privacy.
How much does it cost to chain link fence 1 acre?
If the acre of land is a perfect square, it should be at least close to 835 feet of fencing needed. The average foot of chain link fencing will run from $4-$10. So you can guess the cost of materials will be between $3,500 and $7,500.
On top of this, you will have labor and other costs. Other costs to consider include:
Acquiring building permits
Marking underground utilities
Possible removal of dirt and excavation
Hauling old fence materials away
Added features such as gates
How much does a 4-foot chain-link fence cost?
This all depends on the cost of labor, permits, dirt removal/excavation, hauling away old materials, added features, and of course the size of the area to be contained inside the fence.
On average you can expect to spend from $4-$10 for one foot of chain link fencing.