If you're looking for a creative way to enhance your property, you might consider wrought iron fencing. Throughout the history of wrought iron, it developed from weaponry into the stylish and robust fence we commonly see today. Wrought iron offers many benefits to homeowners, including added security and aesthetic appeal. Therefore, installing wrought iron fencing is one of the most sophisticated ways to increase property value.
But what if you're looking for a more unique way to incorporate wrought iron into your property? Thankfully, wrought iron fencing is elegant in almost every way it is included, so there are numerous design possibilities. Let's explore seven imaginative design principles for wrought iron fencing.
1. Play With Height
If you want to install a wrought iron fence on a large property, you get to decide how much of your property's perimeter you wish to include. For example, do you only want to fence in your backyard? Or do you want a wrought iron fence to surround your entire property?
Depending on your needs, you can consider a tall or short fence. Tall fences offer grandeur and added security, while shorter fences protect without affecting your line of sight.
Property owners in the countryside often choose tall wrought iron fencing because there is room to fill on the land. However, if your property is located in a metropolitan area, shorter fences are often a popular choice.
Shorter wrought iron fences provide a secure barrier around your home, but they don't make you feel trapped or closed in. Instead, short fences allow you to accent the architecture of your home without covering it up.
2. Include Greenery
Plants of all kinds accentuate the already beautiful design of a wrought iron fence. Greenery on or around iron fencing adds a stunning, soft contrast to the strong iron. You can incorporate wrought iron fences in gardens or add foliage if the fence wraps around a larger property.
Charming plants to include on or around your wrought iron fence are:
Ivy
Honeysuckle
Hydrangeas
Roses
Clematis
Ipomoea purpurea (Morning glory)
Geraniums
Groomed shrubs
3. Gates With Personality
Wrought iron fences are sophisticated by nature, but entrances and exits allow your personality to shine. When you begin the fence installation process, you can collaborate with a fencing professional on your gate design. If your style is simple and streamlined, you may opt for gates that blend in with the rest of the fence.
However, if you want a more ornate flair, you can choose an extravagant gate that stands out from the rest of the fence. For example, if you have hedging surrounding your property, an attractive design principle is to add an ornate wrought iron gate to your hedge fence. An elaborate entrance on a simple enclosure may boost your home's curb appeal, but each property and personal taste is different.
4. Accentuate Small Areas
There is a level of grandeur to wrought iron fencing, but you don't need to surround your entire property with it if that's not your style. Wrought iron can also act as a detail rather than the main event.
Wrought iron fencing makes a fantastic detailed addition around small areas such as:
Flower beds
Birdbaths
Yard fountains
Small waterfalls
Driveway edging
Dog houses
Wrought iron gates make excellent stand-alone pieces. Even the simplest gate adds a level of rustic elegance to a small outdoor area. Add a wrought iron gate into a small garden, or distinguish your pet's area with short, two-foot-tall edging fencing.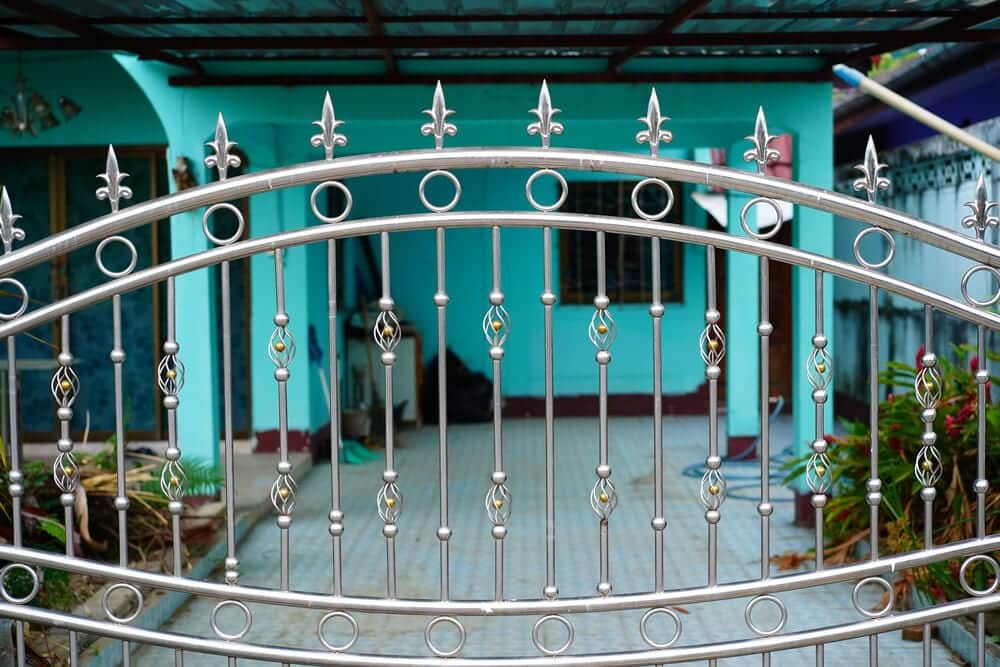 5. Enhance Your Patio
If you don't have a large yard, you may think wrought iron fencing is out of the question. However, if you have a patio on your property, you're in luck. Wrought iron fencing adds security and design to patios, with or without a grassy yard.
Vinyl and wooden fences completely block off the patio area, but wrought iron offers privacy without obstruction. You can see out of wrought iron fences, and they allow you to socialize with people on both sides.
Wrought iron fences work for elevated and ground-level patios alike. In addition, commercial businesses such as restaurants, bars, event centers, and country clubs frequently utilize wrought iron fencing around outdoor patios.
6. Gold Stands Out
Suppose you have ever been lucky enough to travel abroad and visit places such as London, Paris, or Vienna. In that case, you may have noticed the renowned wrought iron gates surrounding Buckingham Palace, the Palace of Versailles, or Belvedere Palace. The extravagant nature of these fences and gates is recognizable around the world.
A common detail in these famous fences is the gold color. Wrought iron fences are traditionally black, but gold details make the design stand out. In fact, an entire section of fencing called the "Golden Gate" at the Palace of Versailles is completely covered in gold leaves.
If you want to add gold accents to your wrought iron gate, you don't have to go through the tedious process of applying gold leaves. Instead, rust-inhibiting spray paint will do the trick. If you want to paint your wrought iron fence, follow these steps:
Pick a dry, temperate day
Lay drop cloths around the area
Remove any old layers of paint and rust
Apply two coats of a rust-inhibiting primer
Spray on several coats of a rust-inhibiting paint
7. Decorative Post Caps
Typically, wrought iron posts are offered with flat tops or spear tops. Spear tops provide a more regal aesthetic, while flat tops provide a more family-friendly solution. On every wrought iron fence, there is a thicker post throughout the fence design.
You can use post caps to decorate the thicker posts. Post caps come in all kinds of decorative shapes and sizes, from domes and ball tops to spearheads and even pineapples. Keep the design of your fence fresh by alternating post caps with the season.
The Versatility of Wrought Iron Fencing
As you can see, wrought iron fencing has more than one trick up its sleeve. Many unique design principles keep wrought iron fencing fresh on your residential or commercial property. So whether you are fencing around a large property, adding accents to a garden, or creating a private patio, wrought iron fencing is a fantastic solution.
If you're excited to add wrought iron fencing to your property in any capacity, don't wait to get started. Contact Northland Fence today, and we will help you find the perfect fencing solution that fits your needs.