Chain link fences are durable, practical, affordable, and flexible enough to fit exactly what you are looking for. The linking wire can be made to as long or as high as you need it to be. Shop Northland Fence's chain link fence supplies to find all the supplies, accessories and hardware needed for custom installation in one place.
Northland Fence has all the chain link fence supplies, accessories, and hardware needed for a successful DIY installation. Whether it's a panel, some posts, or simply a roll of wire that you need, we offer them at some of the lowest prices in the industry. Chain link fences are great for any residential home or commercial purposes to help with safety and security. Visit northlandfence.com or call 763-292-4748 for a free estimate today!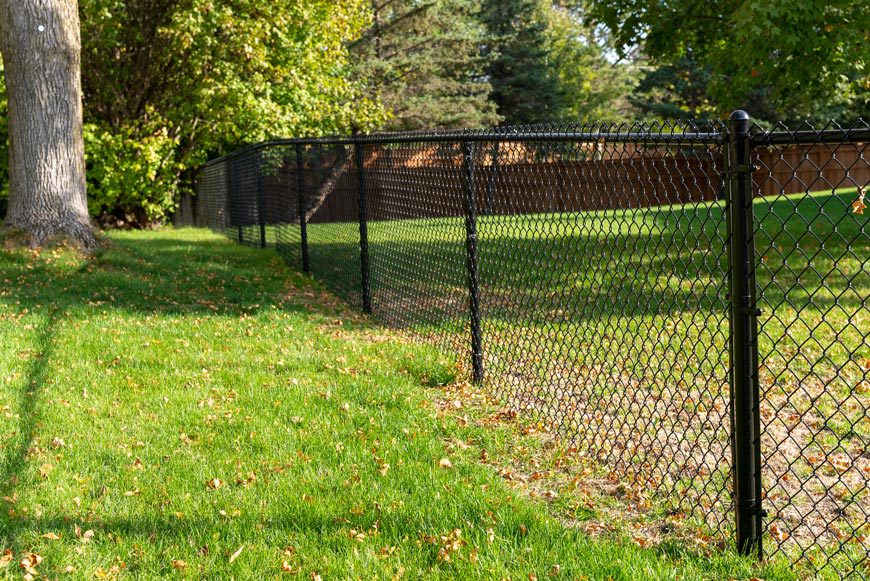 Wholesale Chain Link Fence Types
Black Chain Link Fencing
Black chain link fencing is the more aesthetically pleasing of our two supply options. We use black vinyl coated metal to create a more durable fence than many other materials. Unlike wood, vinyl does not rot or mold and can stand up to the more inclement Minnesotan weather. Black vinyl continues to retain its opaque color for years, never losing the aesthetic feel.
This is our top choice for residential chain link fencing because, not only can it fit the feel of any home, it is safer for kids and pets. It can keep them inside the yard without the fear of splinters or pinching fingers. Vinyl coating is also recyclable and non-toxic, making it perfect for eco-friendly families, or those with curious toddlers or puppies who just can't resist trying to take a bite and escaping.
Galvanized Chain Link Fencing
This chain link fence is constructed from galvanized steel, lending itself to a grayer and more industrial look. In particular, a galvanized chain link fence is for families whose first priority is safety and security. The galvanized steel has a tough protective coating that resists damage and the zinc covering provides coverage from oxygen and water, meaning no rusting.
Galvanized chain link fencing has an average lifespan of 25 years in severe urban environments, and double that in rural areas. With easy maintenance and great protection, this is one of the most affordable fencing options on the market and great for anyone looking to secure their yard.
Chain Link Fence Accessories & Hardware
Fencing doesn't have to be just the boring steel that is put up to protect your yard. Especially when looking for DIY installation and purchasing, it is beneficial to look into some accessories and hardware that could enhance your fencing experience.
Chain Link Fence Panels or Fabric
The first accessory that's important to look at is chain link panels or fabrics. These are not the same as a chain link roll, the more typical sight of chain link fencing supplies. Rather, panels have the meshed wire attached to fence posts to form a solid square panel of fencing. These are commonly seen in temporary construction sites or exclusive events. They are also what is used to create a chain link gate.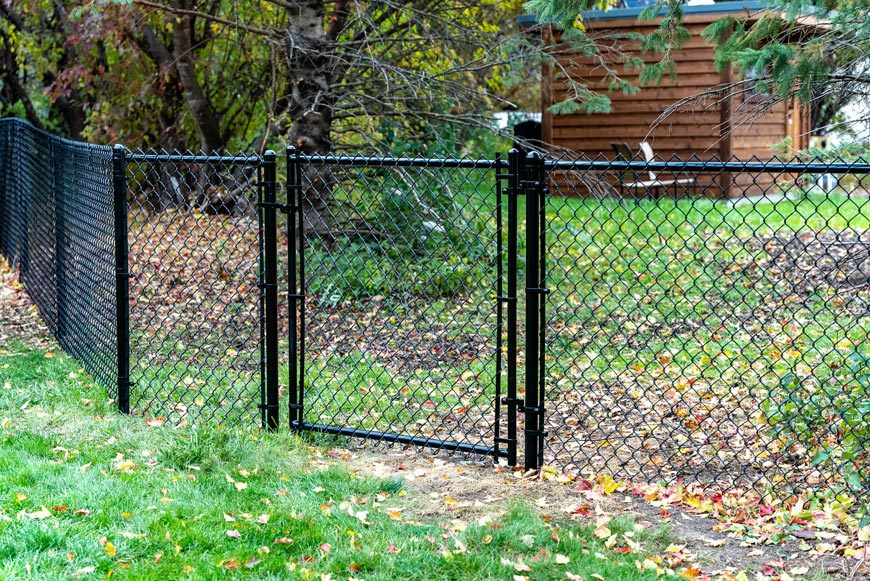 Gates for Chain Link Fences
Gates are simply a chain link panel put on hinges and attached to the rest of the fence by a latch or lock. Gates are a great accessory for those looking to have easy outside access to the yard. If you are a family that tends to host many bonfires, or are looking to have a front yard fence, a gate allows visitors to come through the fencing without climbing or needing to traipse through the house. It is easy to install and easy to use without complicated mechanics.
Chain Link Fence Posts
Fence posts, as you might have guessed, are imperative to any fence building endeavor. Chain links in particular are best when the posts are made out of galvanized or coated steel. This matches the look of the chosen wire. Without fence posts, the wire of a chain link fence will not stand up. It hooks onto the posts in order to become a fence. Northland Fence drives these posts deep into the ground during installation instead of the traditional cement base for a more durable, and clean look.
Chain Link Fence Hardware
There are quite a few pieces of hardware needed to correctly build a chain link fence, especially if you are buying a roll instead of a panel. Items like a brace brand, tension brand, and carriage bolt are all needed to hook the wire up to the fence posts.
Additionally, many people choose to put in a top rail to help stabilize the wire roll from folding. Northland Fence offers all of these necessary parts, including bolts to secure the wire to the posts, and is ready to walk you through everything you need to know to make sure your fence is stable and installed correctly.
Additionally, for a more aesthetic look, you may look into caps for the fence posts. Rather than leaving the post as a hollow tube for fingers to get caught or toys to get lost, capping them avoids these tragedies and creates a more finished look on a chain link fence.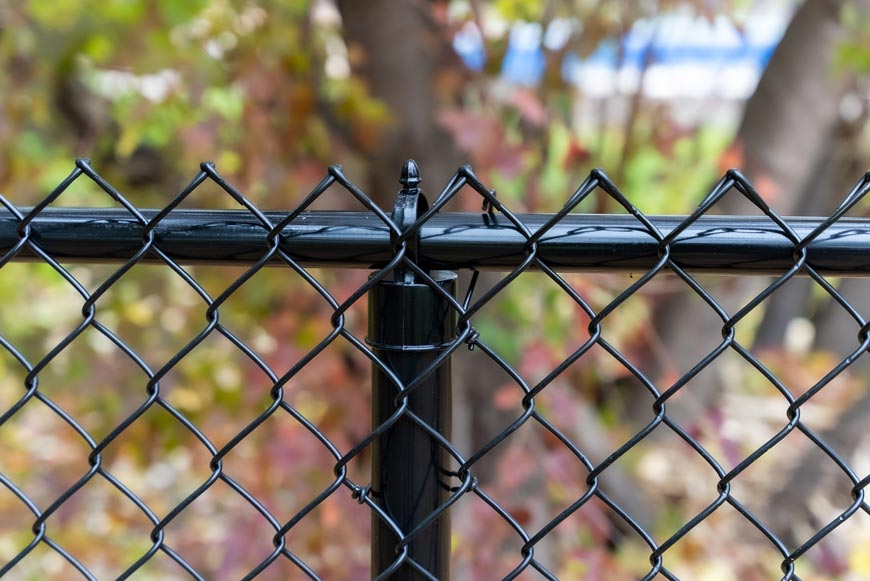 Northland Fence's Chain Link Fence Warranty
Northland Fence offers a 15-year warranty on our materials for chain link fences. This upholds our guarantee for professional-grade products that give the longevity you are looking for. Whether it's weather damage or rusting, it is ensured that our chain link fence material stays up to its promises.
We also offer a 10-year warranty on our labor. If you find that we did something wrong, or down the line that the chain link fence is collapsing and not standing up to our customer satisfaction, we come to fix it for free. We pride ourselves on the trust our customers give to us regarding their security, which is why we have over five hundred 5-star ratings on Google..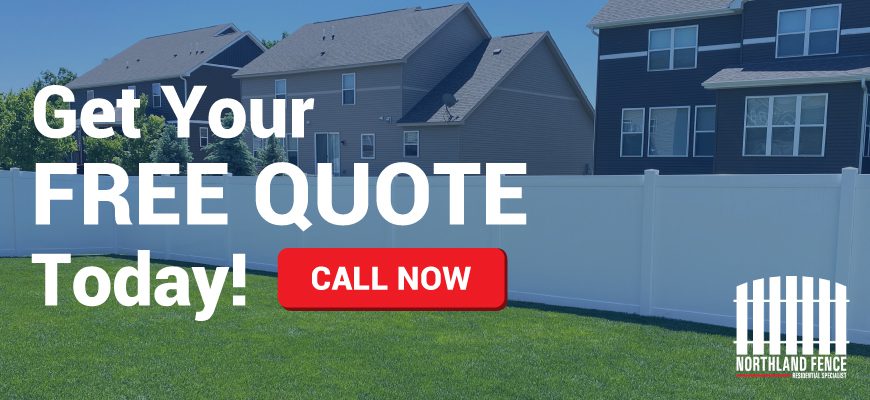 FAQs About Chain Link Fencing for Sale
What are all the parts to a chain link fence?
There are many parts that go into a chain link fence, including: bolts and nuts, a brace band, tension bands, post and loop caps, a top rail, a rail end, and optional gate forks and frame hinges.
What is the average cost per foot for chain link fence?
Chain link fence supplies are one of the most affordable types on the market. Typically, depending on type and height, chain link fencing costs around $7-$25 per foot. The higher the fence, the higher the price, and usually a vinyl coating will cost a bit more than galvanized steel.
How far apart should posts be on a chain link fence?
No more than 10 ft. While posts can be placed closer if desired, the maximum amount of space is 10 ft. If posts are placed farther apart, it will negatively affect the strength and stability of the fence. One of the most important things to remember while spacing out posts is to make sure they are even. This ensures stable quality throughout the fence and spreads the burden of wind and such evenly.