Do New Homes Include Fences?
There are a lot of things going through the mind of someone looking to buy a new home. What're the neighbors going to be like? Is it a good school district? How close is the grocery store? How will this change my commute to work? Fencing isn't always the first thought that comes to mind when buying a new home, but that doesn't make it any less important. So, do new homes include fences? Should a new home include a fence?
We here at Northland Fence have been in the industry for over 15 years. We're not strangers to new homes being built, helping out HOAs or subdivisions, or working one-on-one with individual clients to meet their fencing needs. There are many good reasons to have a fence available on a property that is for sale. Today we're going to talk more about what buyers are looking for, the value fences can add, and what steps you can take to add some fencing to your properties.
Who's Responsible For Building a Fence on The Property?
When looking for a new home, it's not uncommon to have a specific list of things you want in the property. If one of them is a fence, you may be asking yourself how many homes already have fenced-in yards. If you're looking to buy a new home, or the home you're looking at is within an HOA or subdivision, you might wonder if you're even able to build a new fence.
Some new homes and neighborhoods may have properties that come with fences. This can vary depending on the contract between the builder and the developer of the neighborhood. In some cases, you may even get a say in what fence will be going into a property you're purchasing.
In the case of HOAs, this will vary depending on your specific HOAs rules and regulations. Some HOAs may have specific contractors that install fencing for those who want it. Others may just require specific design styles but allow the homeowner to install the fence at their discretion. Finally, some may have leeway regarding designs and placement but require a professional fence installation. Make sure if you live in an HOA to double-check their rules before starting the process of installing a fence.
Types of Fences That Add Value to Your Property
Adding things to your property can impact the value of it. Adding a nice inground pool, for example? That can boost the value of your home if you ever choose to sell it. What about adding a fence, though? Are all fences going to add to the value of your home? Do any fences negatively affect your property's value?
Anything that can add value to your property can also take away from it if it's not properly taken care of. A really nice vinyl fence, for example, can boost your property value. If you take the same fence and take a sledgehammer to it, or spray coats of mud onto it, this can negatively affect the value. It's all about how well-maintained and properly installed your fence is.
The types of fencing that can potentially add the most value to your property include ornamental fencing and vinyl fencing. Vinyl fencing, in particular, can be a nice boost because of its longevity and ease of maintenance.
Chain link fences, when well taken care of and properly installed, can also add a benefit to your property. While not everyone likes the look of chain link, there's nothing that you can add to your property that will always please everyone. A nice, vinyl-coated, black chain link fence is what we offer here at Northland Fence. Not only can it elevate the appearance of a normal chain link fence, but the galvanized steel and vinyl coating can add to its longevity as well.
The Steps You Need to Take Before Installing a New Fence
When wanting to install a fence there are a few things you need to know and take care of first. Let's run through them together so you can be prepared to work on getting the fence of your dreams.
Check the requirements for your HOA/Subdivision/City – Every place has its own rules and regulations regarding fencing. After you've established with your HOA/Subdivision that your fence can be installed, you then need to check city ordinances as well. This will impact where you can build a fence, if you need a permit, what style you can use, and what height you can install at.
Know the boundaries of your property – It's up to the homeowner to know where your property line is. If you have any uncertainties regarding your property lines, you can either get a surveyor or check with the city records office to see if they have the specifics on file.
Check in with your neighbors – While you're not legally required to tell your neighbors if you plan on installing a fence that's fully within your property, it can be a nice courtesy. Especially if you think construction might interrupt their day or might encroach on their property at any point. Keeping your neighbors updated about construction can help keep a friendly line of communication open between you and them.
Call Gopher State One/utilities – Here in Minnesota, Gopher State One is who you need to call in order to ensure that no utilities are hit or damaged during a fence installation. It's the responsibility of the fence installer to contact utility companies. If you decide to go with Northland Fence for your installation, we will handle contacting utility companies and marking out utility lines for you.
Reasons Buyers Want a Fence For Their New Homes
There are many pros to a house for sale having a fence already installed. Many people looking to own a house might have kids or pets. Having a fenced-in yard is a benefit in both instances, ensuring a safer yard for their loved ones. Having a fence already installed and in good condition also saves them money on installing one in the future. If you're debating about installing a fence on your property because of selling reasons, the pros outweigh the cons. More often than not, a potential buyer will see a well-kept and already-installed fence as a perk to the property.
Hiring a Professional to Install a Fence
There are many reasons to look at an installation company when wanting to install a fence in your yard. If you go with Northland Fence, our 15+ years of experience will only benefit you. Not only are our employees entirely in-house, meaning we never hire out contractors and our installers are trained to meet our standards, but we even work during the off-season and pay our employees during it as well.
Our time and connections in the fencing industry mean we can get access to high-quality, affordable fence installation materials in a way that the average consumer could not. We also already have all the tools and equipment necessary for a proper fence installation. Let us save you time and money by coming out and doing it right the first time, with no guesswork involved.
If you would like to get started on planning the fence of your dreams, why not check out our online fence planning tool? You can also give us a call at (763) 316-4881 and we'll happily answer any questions you may have. Our team here at Northland Fence is excited to work with you and give you the fence you deserve.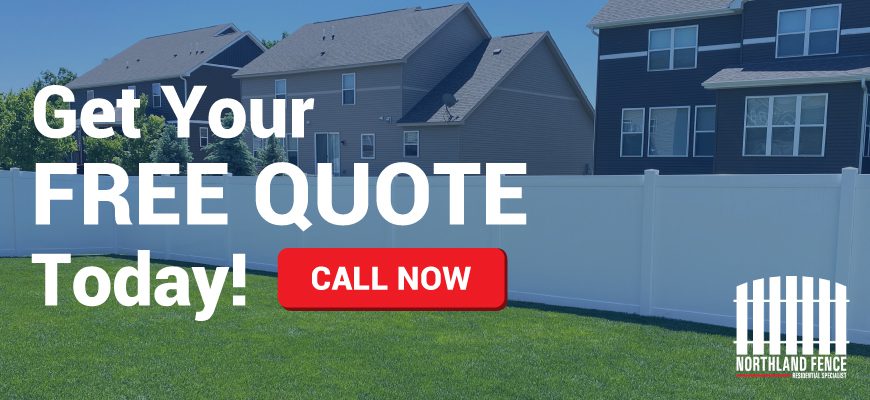 FAQs
Does the type of fence add value to the property?
A well-maintained fence can add value to your property just as the same fence type can negatively impact your property if it's in poor condition and falling apart.
How close are fences supposed to be to the property line?
The distance between your fence and the property line varies depending on the city you live in. Each has its own regulations and ordinances regarding this.
What type of fence is considered neighbor friendly?
If you take good care of your fence and make sure to manage any damage as it comes up, any fence can be a good neighbor fence.