Are you still pondering your dream gate to go along with your dream fence? Are you still searching for that perfect gate that will hold up against harsh Minnesota winters while still looking like a lovely addition to your backyard in the spring and summer?
A quality fence gate can give you peace of mind, whether you're afraid that a pet or child might slip out through the back, or if you're worried about a stranger making their way in.
There are tons of different gates to choose from, and you need one that will fit your look, personality, and needs. Whatever your taste in gates, we are sure to have a gate design that is right for you.
Vinyl Hidden Gate
One classic, minimalist look you could try on your vinyl fence is a vinyl hidden gate. A vinyl hidden gate will appear to be just another section of your vinyl fence from the outside. The hinges and latch will be discreetly hidden on the side of the gate that faces your home.
This has a few advantages. It looks nice, clean, and uniform. It will allow your whole fence to just blend into your neighborhood. It also prevents strangers from knowing where your gate is. This makes it more difficult for strangers to make their way into your property.
This is a pretty standard look that won't stand out or draw attention to your fence. If you are looking for a nice, simple gate for your vinyl privacy fence, a vinyl hidden gate might be right for you.
Metal Hidden Gate
A metal hidden gate is essentially the same as what we discussed above but for a metal fence. Now, unlike vinyl fences, metal fences are not opaque, so keeping the latch and hinges hidden from view is a little bit more difficult than with a vinyl fence. However, with the proper placement, the hinges and latch can still stay discreetly on the side of the gate that faces your home.
This gate option can still make it difficult for someone who is unfamiliar with your fence's layout to tell exactly where your gate is. This minimalist look won't stand out to your neighbors or draw attention to your fence.
If you have a metal fence and are looking for an out-of-sight, out-of-mind style gate, a metal hidden gate might be just the ticket.
Arched Gateway
If you're looking for something a little bit more eye-catching, an arched gateway might make a nice addition to your fence. An archway makes a sort of entrance to your yard that looks elegant.
Very often the arch creates a sort of frame around the gate itself, which may be shorter than the arch, depending on how you want it to look. Some arches are more rounded while others are more square. There are lots of different arched gateways to choose from.
Many people also use different landscaping techniques to decorate the arch. Flowers and vines add a nice little pop of color and enhance the beauty of this classic gate look.
Peek-Through Gate
A peek-through gate can be a nice addition to any fence. The basic idea is to create a kind of peephole that allows you to look through the gate and see what is waiting for you on the other side.
This is often done by inserting a glass pane into the middle of an opaque door. You can have fun with this and choose a shape that matches your style and personality. Rectangles, circles, and even square panes of glass are often framed and put in the middle of a panel of the gate. Depending on the look you want, you can add a handle on the inside or outside (or both!) of the gate.
If you want a cute look that lets you see just outside your yard, a peek-through gate is perfect for you.
Do-It-Yourself Creative Gate
If you're crafty and good with your hands, you can get creative and DIY your gate. You can use materials you pick out, or things that you have on hand and up-cycle them into a privacy fence gate. 
Some people have used things like driftwood or, if you have wood on your property, you can use heavy fallen branches to make your own fun-looking gate. 
If you are looking to do something artsy and think outside of the box, doing a DIY creative gate might be a great outlet to use some of your artistic skills.
Traditional Large Driveway Gate
If you're looking for something a little bit more stately, formal, and intimidating, a traditional two-door large driveway gate might be a good fit for you. This gate will make your property look elegant and well protected.
A gate of this size will definitely give off the impression that what's behind it is important and also well cared for. These gates are also good for people who don't want to be easily accessible to the public. If you choose a traditional large driveway gate, you may also want to install an exterior doorbell so people can alert you when they're at the gate.
Side Door Gate
On the other hand, if you want something a little more cute and understated, you can go with a small side door gate. This is often attached to a garage and leads to a door on the side of the house. It can also run between the side of the house/garage and the fence.
A side door gate is usually shaped like a small door. While this is not as covert as a hidden door nor as regal as a large driveway gate, this would make a nice little addition to the fence around your side yard.
If you want a small, convenient way to get in and out of your yard, a side door gate is a good choice.
Decorative Metal Gate
A decorative metal gate can be a great addition to any fence and a way to really let your personality shine. You can install something with a design that really shows off what you like.
Some decorative metal gates have designs in them like flowers or simple swirl designs. Some decorative metal gates even have ornaments made out of glass or other materials built into them.
A decorative metal gate can be a beautiful addition, and you can really make it your own. It gives you the option to choose something that speaks to your style and visual preferences.
Mixed Material Gate
You could also choose to do a gate that has a mix of materials. For example, people sometimes make a wood or vinyl gate that has some decorative metal in the center.
Once again, this is a fairly decorative style of gate that would be a little bit eye-catching and draw people's attention to your property. This is the kind of gate that could let your eye for design show through more than your average gate would. 
If you're looking for something that is more than just your run-of-the-mill, standard gate, doing something with mixed materials is a good way to change things up.
Gate Covered in Vines
Of course, if you are just looking for a way to beautify an already existing gate, you don't have to start all over. There are lots of ways to make an old gate look brand new!
Beyond just throwing on a new coat of paint, you can also landscape your gate. Grow some hanging vines, or even hang flowers like petunias, which will drape across your gate giving it a floral, pretty look without forcing it to look too new or polished.
Building a Fence With Northland Fence
Haven't picked out the perfect gate for your dream fence yet? No problem, Northland Fence can help you out with that. Northland Fence has been serving Minnesota for 18 years. In that time, Northland Fence has provided solid work, excellent customer service, and an overall great customer experience. Northland Fence has a near-perfect rating and zero customer complaints, according to the Better Business Bureau. When you hire Northland Fence, we will help you ensure that your fence is 100% up to code.
Whether you're looking for vinyl fencing or a metal privacy fence (chain link or ornamental wrought iron), Northland Fence can provide you with a 15-year to a lifetime warranty on materials, depending on the material, and 10 years on labor.
Are you ready to build your dream fence? Call (763) 316-4881 and get started today!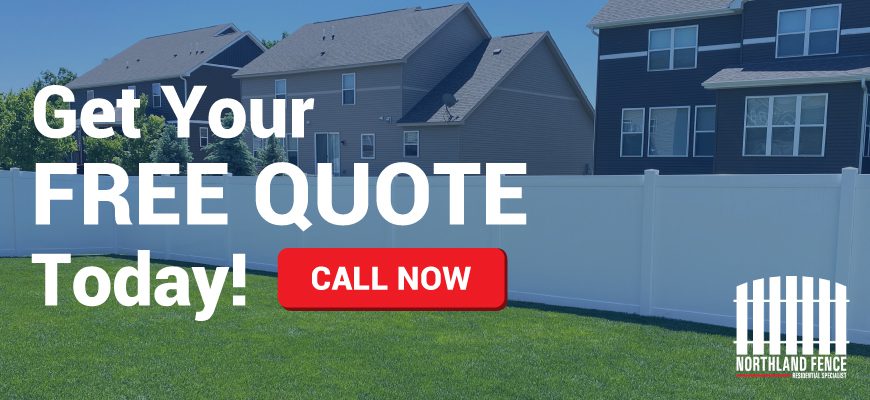 FAQs:
How do you make a hidden fence gate?
The key part of the hidden fence gate is making it look hidden. You want to make sure that your gate simply looks like a regular part of your fence from the outside. This means that the gate hinges and the latch go on the side of the fence facing your home. These hidden fence gates typically also do not have handles and are made of the same material as the rest of the fence.
If you're looking to install a hidden fence gate, you don't have to do it alone. Northland Fence is here to help with all of your gate-building needs.
Do privacy fence gates open in or out?
Fence gates of all kinds typically open inward. It is generally considered safer, and more visually appealing, because this way the hinges are on the inside of your fence and are not showing on the street-facing side.
How do you make a garden gate private?
There are many ways to make a garden gate more private. For one thing, you can install a hidden fence gate that looks the same as the rest of the fence from the outside but has hinges and a latch on the side facing your home.
Another great way to make your garden gate more private is to do some landscaping. Adding tall shrubbery or thick vines on or near your gate will help keep your garden from being so visible to outside eyes.
How do I build a fence gate?
When building a fence gate, it is important to measure the space between the posts as well as the rails before assembling and installing the frame.
The best part about building a fence gate is that you don't have to do it by yourself. Northland Fence is here to help you with all your gate installation needs.