Running a community of houses comes with a lot of decisions. Many times, you want your subdivision or community to look appealing. One of the ways you can do that is by ensuring the fencing you chose for your properties is high-quality. When you're showing off model homes to potential residents, you want to ensure that everything you showcase is the best of what you have to offer. So how should you pick your fencing for your model homes?
At Northland Fence, we've been in the fencing industry here in Minnesota for over 15 years. We strive to constantly improve and keep up with the current best practices and design choices for our customers to ensure they receive a fence that will stand the test of time. We don't just want our fences to look good, we want them to be good.
Standardizing Your Fence Design and Style in Your Community
The first part of standardizing the style of your community is finding the right company to help you accomplish your goals. Finding someone who's not only reliable, but highly rated, invested in the community, and knowledgeable in the industry isn't always easy to find – lucky for you, Northland Fence ticks all of those boxes.
No matter the size of your community, we can be your dependable fencing partner along the way. Our years of experience and insider knowledge can be an asset to you in your work on perfecting the image you want for your residential properties. We can work with you to determine what will fit within both your budget and desired styles. 
When it comes to model houses for a community, we can also ensure that the fencing accurately reflects the options and views they will see around them. Standardizing a style within your community can go as far as having a specific fencing option, or allowing customers to choose from a few select options to still have uniformity while giving them some choice in the matter. Whatever your desires, we can work with you to make them happen.
We Offer Three Types of Fences – Only the Best
We've come to find that certain kinds of fencing both look the best and last the longest. By offering only the three best options, we ensure we can always keep our product in stock and have the best understanding of our specific fencing types.
Vinyl fencing – Our vinyl fencing has the highest price point but also is our only fencing to offer a lifetime warranty on materials. Our warranties extend to communities because we trust the longevity of our materials so much. Vinyl fencing offers a nice, uniform look while guaranteeing privacy and safety for the families living there. Minnesota is known for its harsher winters and wet seasons. With vinyl fencing, you don't have to worry about the elements damaging the integrity of your fence.
Ornamental steel fencing – Ornamental steel is our mid-price point and our most customizable option. You can choose the topping style for the fence posts best suits your design choices. Our ornamental steel is galvanized and coated to ensure that it doesn't rot, rust, or chip. With minimal upkeep required, we offer a 15-year material warranty on these fences.
Chain-link fencing – Chain-link fencing is our most affordable option, while still giving a secure perimeter and classic look. Chainlink can easily fit any yard type and is still easy to maintain. Our chain-link fencing has a 15-year material warranty.
Across the board, we offer labor warranties for all of our fencing installations. This warranty is the same for one yard or one hundred yards. All of our installations have a 10-year labor warranty on top of the material warranty. We know we do good work, which is why we're proud to offer our warranty to our customers.
In addition, all of our fence posts are driven instead of concrete based. We've found that not only does this best withstand the Minnesota weather, but it also allows for a fast and clean installation process that doesn't unnecessarily tear up the yard in the process.
H.O.A's – Who Owns the Property Fence?
We are happy to work within the parameters of a homeowner's association when it comes to fencing. We can help find a fence that offers a secure and uniform look, while not cutting back on quality or appearance. We want to guarantee the satisfaction of all of our customers.
When it comes to fencing within a community, many HOAs will have specific designs or styles that a person can choose from for their property. Some of the restrictions can relate to height, durability, appearance, and even privacy or visibility. Our fencing options are moldable to almost any guideline set. While HOAs can differ from community to community, more often than not the fence is owned by the individual that owns the property. Fences bordering two properties that were predetermined before someone moved in can be a gray area. Make sure to ask your HOA if you have any specific questions.
Knowing Local Laws and Regulations for Minnesota Regarding Fence Building
When it comes to the code and regulations for fencing in Minnesota, we've got you covered. This is our job, and we're happy to help ensure anything you decide to do is within the laws of your area. If you decide to work with us to install the fencing for your properties, we will always ensure that they are within code while still being up to the standards you desire.
Working With Northland Fence to Install Your Fencing
Working with Northland Fence means being treated right. We always guarantee the happiness of all of those who we're connected with, from our customers to our employees. We ensure that our employees are paid year-round and are fully in-house. This means they're all well-versed in not only our standards but our clientele. They're dedicated to our company and customers because we're dedicated to them too.
Having in-house employees means there's a high chance that the people who install your fences will be the ones to come and check on them or repair them if there's a problem. Our employees know our products and projects inside and out, meaning they can deliver quality while not going over time or out of budget.
If you'd like to learn more about our process, discuss large-scale residential projects, or have any questions at all, don't hesitate to give us a call at (763) 316-4881. We'd be happy to answer any questions you may have or set up a meeting with you to discuss your project.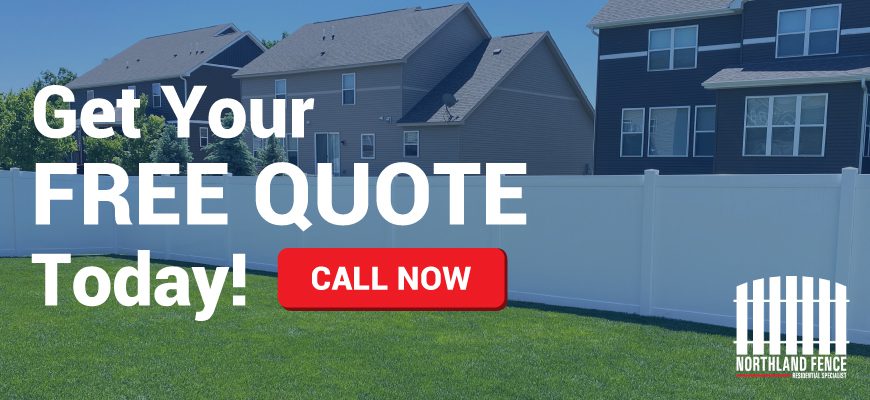 FAQs About Fencing For Model Homes
Do home builders add fences to new houses?
Normally those who build the house don't also build the fencing. Some home contractors might have partnerships with fencing companies, but having them as separate entities allows both to be experts in their specific fields instead of spreading themselves too thin.
Can you request that the builder add a preferred fence?
This depends on your specific builder and community or HOA guidelines.