If you're thinking about starting a fencing project for your yard and wondering how you might do it yourself, you're not alone. Many people have the desire to build a fence on their own. Maybe it's because they think doing it themselves will save them money, or maybe they haven't found the right company that they trust to get the job done right.
One of the key components when building a fence is making sure the posts that hold it together are secure. To make sure it's not going to topple over, you have to find a way to make sure it stays in the ground. Many people turn to concrete for the answer, but how much concrete do you need per fence post?
We've been in the fencing industry for over 15 years at Northland Fence. We're proud to say we were founded right here in Minnesota. Because of this, we have a repertoire of information regarding the best fencing techniques to make sure your project stands the test of time. We're happy to share this information, too. Let's talk more about fence posts and the best way we've found to install them.
How Does Post Size Impact Installation?
Yes, the size of the post you're wanting to install will impact not only the depth you'll need to dig per fence post but also the amount of concrete you will need to use per post.
When you install fence posts with concrete, you will need to dig each hole for the fence yourself. Having gravel at the base of each hole is recommended as well. You will also need to keep in mind the concrete's specific needs when it comes to drying and curing. Some might need dry conditions, meaning you will need to plan your fence installation around the weather. Other concrete might require the area to be left alone for a certain amount of time before you can properly tend to it again.
Before you start digging, you will also need to call your utility companies to ensure you aren't going to hit any potential utility lines or pipes.
Concrete for a 3 x 3 Post
If you have a 3×3 post, you will need a minimum 9-inch diameter for the hole you're going to be installing it into. The amount of concrete you will need per post will depend on the depth of each post. The depth of the post should be a minimum of ⅓ of the height of what's above ground. This means that if you want a 6-foot tall fence, you need at least 2 feet of the post to go below ground.
If this was the case, you would need at least 2 bags of concrete per fence post, with each individual bag being a 50lb bag.
Concrete for a 6 x 6 Post
Let's go with the same scenario, but now the posts are bigger. First of all, the diameter of the hole you need per pole is now going to be 18 inches. If you're still building a 6-foot tall fence, with 2 feet of your post being underground, you would need at least 7 bags of concrete per post.
Will Soil Conditions Impact How Much Concrete per Post You Need?
Soil conditions can impact the way you need to install a concrete base, or fence in general. Denser soil will better hold onto a fence post versus looser, sandy soil. If you have finer soil that has more give, it's better to make your post go deeper just to be sure. Dealing with post-heaving isn't fun.
Do I Need to Think About the Frost Line When Using Concrete for My Posts?
Here in Minnesota, the frost line should come into consideration when it comes to fence installation. The frost line is the depth at which soil is expected to freeze. When soil freezes, it can expand and shift, which can impact your fence posts.
When it comes to any structure that will have its support rooted underground, it's important to have part of your foundation underneath the frost line. If it's not, its stability can be compromised. Your post should be at least 6 inches underneath the frost line in order to best ensure that post heaving won't occur.
What is the Best Concrete Mix for Your Fence Posts?
There are many kinds of concrete out there, so what's the best option for you? Well, local supply and demand can vary, and we know not everyone has the same budget. Having concrete with a shorter curing time can be beneficial in order to move your project along faster, as long as you're not compromising structural integrity when you do.
Some may consider looking into ready-mix concrete, such as Quikrete. This will do just as well as most other kinds of concrete.
What Are the Alternatives for Concrete Posts?
Now, what if we told you that there are other alternatives for concrete posts that can not only ensure post stability but have less mess and hassle to deal with during installation? It's true! It's the process we use here at Northland Fence when installing all of our fences.
After 15+ years in the field, we strive to keep up-to-date on the best practices for fence installation to make sure our customers are receiving the highest quality fence installation possible. That's why we drive our fence posts into the ground instead of using concrete bases.
All driven fence posts go a minimum of 4 feet into the ground. We don't have to worry about digging out additional space and creating mess, nor do we have to worry about concrete mixing, pouring, and drying time. With concrete bases, there's always a chance for heaving. Especially in Minnesota with our winter seasons, having strong and secure fence posts is important. You want a fence that's going to stand the test of time, and not be potentially damaged after one harsh winter.
With the right equipment, like what we have here at Northland Fence, the installation process is much faster as well.
Choosing Northland Fence to Build Your Dream Fence
When you choose Northland Fence to help you build the fence, you not only are choosing a team who will get it done right the first time, but you're also getting your time back. If you decide to install concrete posts yourself, you're dedicating time not only to digging out and filling each individual fence post, but the cleanup and waiting time that comes afterward. In addition, we take away any guesswork. We'll make sure no utility lines are hit, and we'll make sure your fence is planned out just right. With Northland Fence, our team will get it done quickly and efficiently while still delivering a high-quality installation that will last.
We're so certain that we're giving you the best of the best, that we offer both a material and labor warranty on all of our installations. Our labor warranties are always 10 years, but our material warranties range from 15 years to a lifetime guarantee.
We treat our customers and employees like family. We'll never hide any fees from you and we will be totally upfront about any costs and procedures. We pay our employees even during the off-season, and we never hire outside contractors. This means our team knows our standards and upholds them with every installation. We'll get it done right the first time.
If you have any questions about starting your fencing project, check out our online fencing estimate tool, or give us a call today at (763) 316-4881 so we can answer any questions or help get you started. We look forward to helping you achieve the yard of your dreams.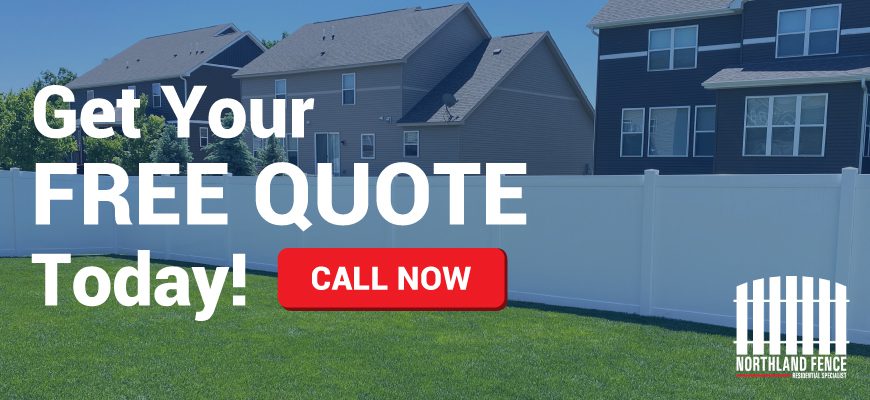 FAQs About How Much Concrete Per Fence Post
Are we required to call before we dig to install a fence?
You should always call your utility companies before digging in your yard to make sure you don't hit any utility lines.
Is there an alternative to using concrete in posts?
Driving fence posts is a more secure, stable, and cleaner process for installing fence posts than using concrete bases.