Your home's fence can take a heavy beating over the years as weathering and other physical elements take their toll. Even vinyl, an incredibly durable fencing material, can incur some damage during its lifetime. When it comes time to repair your vinyl fence, it's a simple process to replace separate pieces and sections. You can either DIY fence repairs or work with an experienced fencing contractor to complete the fixes to your vinyl fence.
Varieties of Vinyl Fencing
Adequate fencing around your property is an integral part of a well-functioning home. Fences mark property lines, enclose pets and kids within a yard, and provide protection from intruders or the elements. Homeowners have an abundance of different fence styles to choose from for their properties. Some of the most common fencing materials include:
Vinyl
Chain link
Ornamental steel or wrought iron
Wood
Aluminum
Living fences
Every type of fence has unique characteristics and advantages. However, vinyl fencing remains a top choice for homeowners across the country. There are numerous advantages to installing a vinyl fence on your property. From increased privacy to enhanced security and added curb appeal, vinyl fencing is the way to go for any homeowner.
The Benefits of Choosing Vinyl
Vinyl fencing is one of the most popular options amongst American homeowners. Many property owners choose to install vinyl fencing over more traditional choices like wood and chain link fencing because of the numerous benefits it offers.
Here are just a few of the excellent advantages of installing vinyl fencing for your home:
It comes in a variety of colors.
It doesn't require painting or staining.
Easy to install, clean, and maintain.
Safer, since it's smooth and difficult to climb.
Fences offer privacy and protection from intruders.
Durable vinyl posts and slats won't crack or break easily.
Vinyl won't warp or sag when installed correctly.
Vinyl is versatile and great for any sized property.
When damage does occur, it's easy to repair each section of vinyl fencing individually.
Although vinyl is a durable material, damage can still happen because of humans, pets, physical forces, weathering events, and more. Even with proper annual fence maintenance, you might need to repair your vinyl fencing at some point. Luckily, fixing a vinyl fence is an easy process.
How Damage to Your Vinyl Fencing Can Occur
Fence damage can happen in several different ways. Weathering, physical forces, and other factors all have an impact on vinyl fencing. When performing regular fence maintenance, make sure to look out for damage from the following:
1. Weather
Different types of weather conditions and unpredictable weathering events can adversely affect vinyl fencing. Fallen tree limbs, strong winds, hail, and other weathering agents all take a toll on a vinyl fence's structural integrity. Watch out for weather damage on your fence from:
Sun
Wind
Rain
Snow
Ice
Hail
2. Pets and Humans
People and pets can put stress on a vinyl fence's structure as well. When dogs jump against a fence for the mail carrier, it puts stress on the fence's frame. Climbing kids or even larger adults can place unnecessary pressure on the fence posts and potentially knock the fence down altogether. At the very least, these kinds of forces can create cracks or holes in the vinyl material.
3. Physical Forces
External physical forces are also known to take down a fence. This can include anything from a plow truck pummeling snow into your fence or an out-of-control car crashing through the structure. Obviously, all homeowners hope this kind of damage never happens, but there is always a possibility that physical damage to a fence will occur.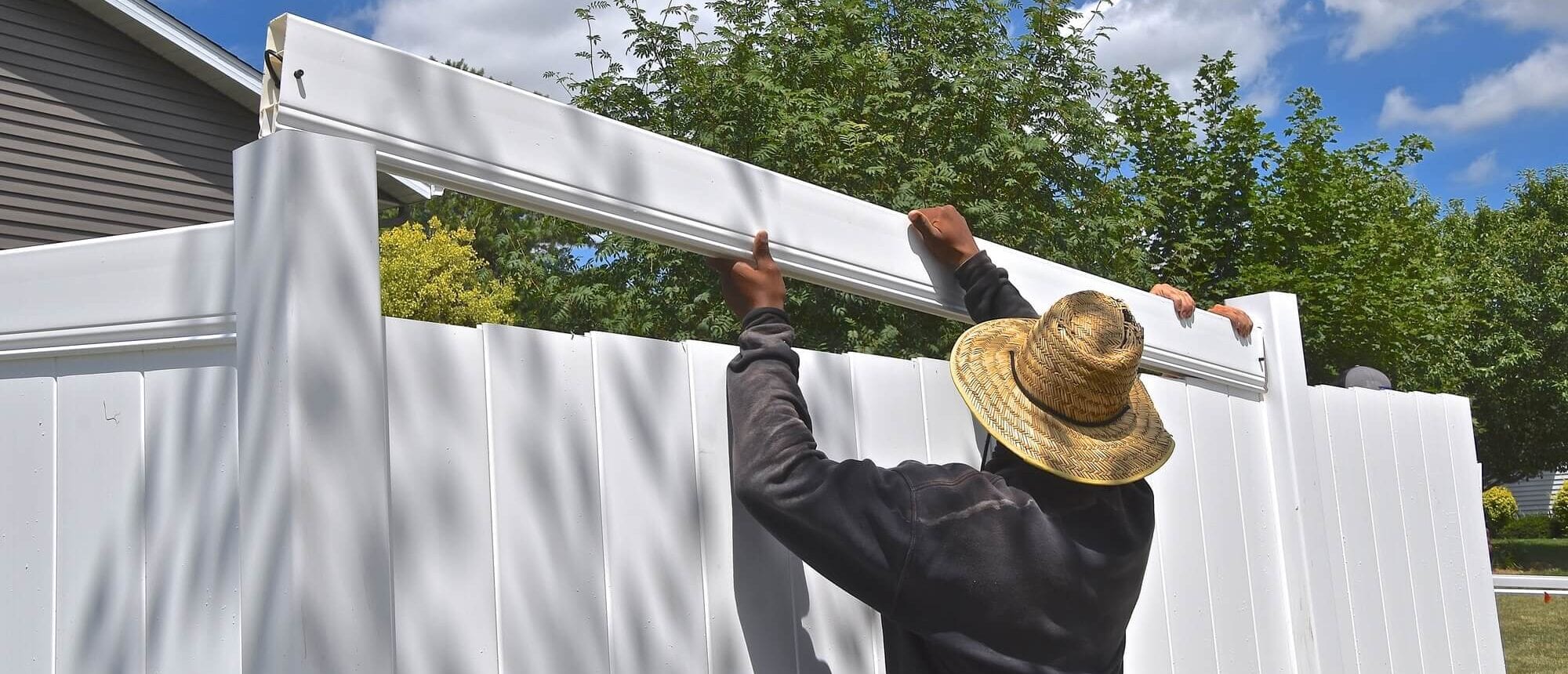 Repairing a Vinyl Fence
When fence damage occurs, it's important to fix the issues right away. Fence damage can include things such as cracking, holes, water damage, stability issues, algae, and more. Repairing a vinyl fence is a simple process since each section of the fence is put together separately, and you can replace individual pieces without taking apart the entire fence.
Some manufacturers make products to patch holes and small cracks in vinyl fence posts. When damage is more extensive, all you have to do is replace individual slats or posts, and your fence will be in perfect condition once again. Although vinyl fences are incredibly sturdy, it's simple to remove small parts and pieces to put the fence back together in working order with new materials. All you'll need is a couple of tools that are probably already lying around the house. To repair a vinyl fence you will need:
Driver-drill with a Philips head bit
Hammer
Chisel
There are tons of online tools and resources to guide you through the process of repairing separate sections of your vinyl fence. You can find videos like this one on YouTube that show step-by-step instructions on fixing a vinyl fence section. The process is quite quick and straightforward to complete, with just a few critical steps:
Take the caps off the vinyl fence posts using the chisel.
Remove the screws that secure the top rail of the fence.
Pull the top rail off and away from the fence posts.
Remove the damaged slats or pickets and replace them with new materials.
Put the rail back in place and secure post caps again.
If home improvement projects aren't really your thing, there's no need to stress out, as you have other options. Your local fencing company can easily repair vinyl fence sections, typically at affordable rates.
Don't let fence damage linger, as existing issues can become more extensive very easily. It's essential to act quickly and either DIY the job yourself or contact a fencing company to come to your property and repair your vinyl fence.
Conclusion
Homeowners have to make vinyl fence maintenance a priority to ensure maximum benefits for their property. If you experience vinyl fence damage, don't hesitate to contact a local fencing company for help or start doing your own online research on repairing a vinyl fence.
For homeowners with vinyl fencing, repairs are a fast and easy process. The unique design of vinyl fencing makes it simple to remove individual slats and posts and replace them with working materials. When cracks or holes occur because of weathering and other damaging agents, you can find useful products that provide a quick, durable fix.
When you notice damage to your vinyl fencing, don't wait for it to get worse. Extensive repairs will wind up costing you in the end. Instead, contact a fencing company like Northland Fence for expert vinyl fencing repairs right away. With an experienced fencing contractor, your property will be back in top shape in no time.