The right residential fencing style can provide many benefits to homeowners, and fences are an integral part of any property. Between increasing safety levels and adding eye-catching beauty to your yard, ornamental fencing is an excellent option.
Modern ornamental fences available in an array of unique colors and styles to suit anyone's preferences. To better understand what makes ornamental fencing such a great choice for your home, we take an inside look at this essential outdoor element.
Ornamental Fencing Explained
Fences are a critical component of residential and commercial properties, providing many additional benefits in terms of safety and aesthetics. There are many different types of fences to choose from, including:
Vinyl picket fences
Vinyl privacy fences
Chain link fences
Ornamental wrought iron fences
Wooden fences
Of the list mentioned above, ornamental wrought iron fences are perhaps the most durable and easy to maintain. Modern wrought iron materials are actually made with materials like aluminum and steel, so the ornamental fence you install is likely to have an enduring lifespan.
Ornamental fences aren't a new fad either; wrought iron fences are a tried and true fence style that any home or business owner can take advantage of on their property. Humans have used wrought iron for centuries, so it should come as no surprise that it's one of the most sought after fencing styles for many property owners. The ornate sophistication of this fencing style can bring any lawn to life.
The Rise of Wrought Iron
The history of wrought iron fences is long, with the material being used to construct ornate architectural structures, tools, and more for many centuries. Tools made with wrought iron materials can be traced back all the way to 1500 BC.
Wrought iron gained traction as a popular type of fencing material for multiple reasons. The term "wrought" literally translates to "worked," which is precisely what happens with wrought iron fencing. In the original forging process, the iron materials were heated up and melted down, allowing iron-workers to easily forge the materials into a variety of smart, polished patterns. Iron was a popular option for its strength and durability despite harsh weather conditions and other impacts.
Many of the wrought iron fences we see today on residential properties or adorning commercial enterprises' lawns are made from aluminum and steel. However, they're still just as powerful, durable, and attractive as original wrought iron fencing. You can turn your property into a palace with a professional fence installation from your local fencing company.
Ornamental Fencing Around the World
Wrought iron fences have been a staple in extravagant architecture around the world for centuries. From gorgeous French gates to opulent outdoor balcony fencing and more, wrought iron ornamental fencing is present in a plethora of landmark locations worldwide. When thinking of installing ornamental fencing on your property, you can use these iconic wrought iron gates and fences for inspiration.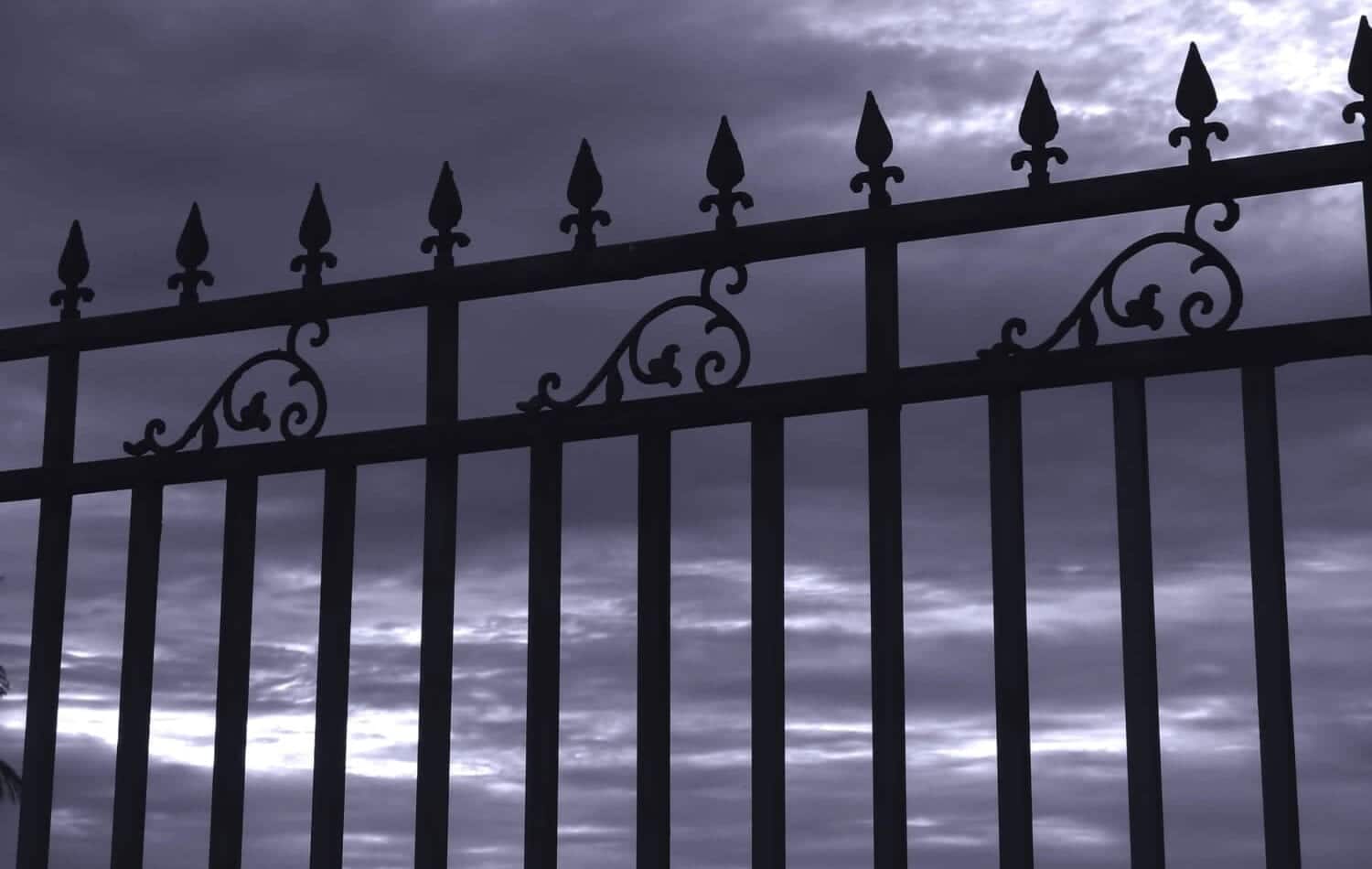 Ornamental Fencing's 5 Best Benefits
There are many advantages and up-sides to installing ornamental fencing on your property. The initial investment can add value to your home while also helping provide security for your family and pets. Below, we dive further into the five most substantial benefits of choosing beautiful ornament fencing for your home.
1. Improves Curb Appeal
Of course, your fence is one of the first things you, your neighbors, and guests see when looking at your property. Ornamental fencing adds style and sophistication to your lawn, helping to improve curb appeal immensely. Improvements to your curb appeal are beneficial in the long run because if you ever choose to sell your home, ornamental fencing will attract potential buyers.
Curb appeal isn't just important for residential properties; commercial property owners can install ornamental fencing as well, creating an inviting atmosphere for incoming customers. Ornamental wrought iron is an elegant fencing option for any type of property.
2. Boosts Property Values
One important thing to consider about ornamental fencing is that it might make you want to sell your home! Adequately installed fencing can add immense value to your home and property, putting more money back in your pocket in the event of a sale.
Higher property values also help save you money when refinancing your home's mortgage. Charming ornamental fencing can elevate your property and entice potential buyers.
3. Provides Increased Safety Levels
Another live-saving benefit of ornamental fencing is the increased security it offers to property owners. Both commercial and residential property owners need fencing for enhanced safety and security. Ornamental fencing is a strong deterrent for lurking nighttime intruders and unwanted animal guests.
Ornamental fencing doesn't just keep things out, either. Homeowners with young children and pets can utilize ornamental fencing to provide a barrier between their front or backyards and busy streets, other homes, or densely wooded areas. Ornamental fences ensure that perky pets and mischievous children maintain their safety within the confines of your property line.
4. Minimal Maintenance Requirements
One of the things that many homeowners look for in fencing is low maintenance levels. With ornamental fences, you get exactly what you're looking for in terms of maintenance time. Most ornamental fencing materials are rust-resistant and easy to clean.
You can use soapy water or a low-powered pressure washer to wipe away any dirt, debris, or accumulating algae and lichen, which will likely impact your ornamental fence at some point. When storms or significant weathering events occur, simply remove branches and leaves from the spaces in your fence. Ornamental fencing materials are some of the most durable available and won't bend or break from big storm surges.
5. Style and Design Versatility
The final benefit of ornamental fencing on our list is its versatility of style and design. Don't worry if you have a pool or patio because your local fencing company can place the new fencing around existing landscape elements. Incorporate additional fencing accessories like a gate to gain access to your backyard or other areas of the property.
Ornamental wrought iron fencing comes in two attractive style options, which include:
Not only is it easy to achieve the desired design on your property with ornamental fencing, but it's also easy to find a fencing style that fits your personality perfectly. You can choose between different finishes and flat or spear-top styles for an ornamental fence that matches your home perfectly.
Ornamental Fencing Is Environmentally Friendly
Perhaps the biggest benefit of ornamental fencing is how good it is for the environment. Most modern ornamental fencing materials consist of aluminum and steel, which are in continuous demand around the world. Both aluminum and steel are recyclable materials.
Not only are aluminum and steel materials recyclable, but they're also incredibly long-lasting, so you won't need to contribute to any new manufacturing for many years.
When you choose to install an ornamental fence on your property, you are picking out an environmentally friendly option. When it comes time to replace your property's fencing, you can easily reuse, repurpose, or recycle the metal materials from your old ornamental fence. Installing ornamental fencing is one excellent way to reduce resource and energy consumption over time.
Professional waste disposal services can help you remove the older fencing materials and minimize your impact on the surrounding environment. All in all, ornamental fencing is the sustainable and environmentally conscious choice for commercial and residential property owners alike.
Take Advantage of Ornamental Fencing
Ornamental wrought iron fencing has been around for thousands of years, which is for some excellent reasons. Installing an ornamental fence on your property can be advantageous in several unique ways. At Northland Fence, we recommend installing an ornamental wrought iron fence for enhanced safety and security, improved property values, curb appeal, and aesthetics.
Many homeowners find that investing in an ornamental fence installation provides immense benefits in both style and functionality. No matter your property's size or the layout of your existing landscaping, a professional fence company can install an ornamental fence that enhances your life in a multitude of ways. Make the right choice with an ornamental fence for your home or business. When you're ready to construct new fencing or replace an existing fence, you can contact Northland Fence for expert fence installations every time.