Try to picture the perfect Minnesota summer day. What do you imagine?
About a third of our great state is a beautiful, lush forest. So you may imagine hiking through the woods, pretending to be a modern-day Lewis and Clark. Getting off the beaten path, even for a little bit, can be just the escape you need from the demands of everyday life. Disconnect from the stress of modern technology and reconnect with nature.
While aimlessly wandering the woods is a worthwhile activity in and of itself, it's much more satisfying to walk with purpose. Minnesota is referred to as the "Land of 10,000 Lakes" for a reason. It's hard to walk through one of our lush forests without encountering a body of freshwater. At the end of a long hike, you encounter a freshwater oasis that is quite literally a sparkling beacon that calls to you.
What if I told you that you could capture the magic of a sparkling lake in the comfort of your own backyard? A backyard pond can be your own personal oasis, no hiking required.
Planning Pond Perfection
Decorating and protecting a pond in your yard is not nearly as difficult or complicated as it may seem. You have your backyard aquatic oasis up and running, teeming with wildlife. There it is a spectacular pond that impresses the neighbors and adds value to your home.
Fencing around your pond can add the decorative beauty and secure protection that ties everything together, and Northland Fence is here to help.
As with any home project, it's important to keep safety as the No. 1 priority. The first box to mark off on your safety checklist is to call any and all utility companies before you start digging, which is essential when you install pond fencing, too. No matter how small the pond may be, you must first determine if there are any buried power lines, gas lines, or anything else that can cause serious injury or even death.
Safety Is Key: The Pond Fences
The most important aspect of pond safety is choosing the right fence to protect your personal oasis. You've spent countless hours researching the correct types of wildlife that will thrive in your slice of aquatic wilderness. A proper fence can protect your pond pets from any predators that may wish them harm.
And more importantly, a pond fence can protect children from falling into the water. There are dangers associated with any body of water, no matter how small or shallow. Proper pond fencing can eliminate any potential dangers and provide peace of mind.
The Best Material for Pond Fences
Here at Northland Fence, we offer three types of fence materials that are perfect for framing and protecting your personal oasis. While maximum protection and security may not be the No. 1 priority when choosing a fence material to protect your pond, all three of these materials offer superior strength and durability.
Chain Link Fencing:
Chain link fencing has been a residential and commercial fence standard for decades, and for good reason. What this material lacks in visual appeal it makes up for in durability, security, and affordability.
Our black chain link fence is created using galvanized or black vinyl coated steel wire. Galvanizing the steel helps to prevent rust, which is very important not only because of the harsh Minnesota weather but also because it will be in such close proximity to your body of water.
A common misconception about chain link fences is that they are relatively weak because they are made from steel mesh rather than solid rods. However, the mesh technique enhances the strength of the steel wire, making it very difficult to break without using heavy construction tools. Because of its strength, a chain link will help protect your pond from any potential predators looking to make a snack for your outdoor pets.
Another upside of chain link is that it requires little to no maintenance. Even if the fence is ignored completely, it should last for decades. But just in case, we offer a 15-year warranty on fence materials and a full 10-year warranty on labor.
Vinyl Fencing:
Because of our commitment to only offering top-quality and practical fencing materials, Northland Fence offers vinyl fencing in situations that call for the look and strength of wooden fencing. Wood fencing does not hold up well to harsh Minnesota weather.
In contrast, vinyl fencing offers the very same beauty as wooden fencing but requires little to no maintenance. The strength of vinyl provides the perfect protection for your personal pond, keeping out both predators and any children who could potentially fall into the water.
Vinyl fencing can also add to the beauty of your outdoor oasis. With a look that replaces the beauty of traditional wooden fencing, vinyl provides a barrier that comes in both picket and solid options and a variety of different colors.
Unlike inferior materials, vinyl doesn't rot, chip, fade, crack, or peel. We offer a lifetime non-prorated warranty on the material and a full 10 years on our labor, making this the last fence that you'll ever need to buy.
Ornamental Steel Fencing:
If you want your backyard oasis to be just right, ornamental steel fencing may provide the beauty that sets it over the top. Ornamental fencing has been around for centuries and will continue for generations to come. This type of fence is renowned for its beauty as well as its practicality and security.
Traditionally, these ornamental fences have been constructed from wrought iron. At Northland Fence, we opt to make these beautiful fences out of galvanized steel. Steel is better equipped to withstand harsh Minnesota weather much more than iron is able to.
Ornamental steel fences can provide the elegance and security you're looking for in a pond fence. The name gives it away, but ornamental steel can be crafted to look beautiful. We offer both flat tops and spear tops, depending on what look and safety features you prefer. Both can look fantastic given the right circumstances and can be customized to your needs.
We believe our ornamental fences are some of the best in the entire state of Minnesota, which is why we offer a 15-year warranty on our materials and a 10-year warranty on labor. Unlike our competitors who use wrought iron and inferior materials, we only use galvanized ornamental steel, which is far sturdier and more durable.
Do I Need a Permit to Build a Fence for a Backyard or Garden Pond?
The short answer is no. You are allowed to build fencing on your own property in Minnesota as long as it's below 7 feet tall. There are also no laws that say you are required to build a fence around a small backyard pond. This is simply a matter of safety and visual appeal.
That said, it's always a good idea to check in with your neighbors and/or homeowners association before starting any project such as a backyard pond or fence. Your neighborhood may have individual restrictions on pond size and fence height, so it's best to consult the rules before breaking ground on your personal oasis.
Every fence we offer here at Northland Fence will properly serve as security for your pond. There is no real correct answer for the best material for a pond fence. It all comes down to your budget and personal visual taste.
We're here to work with you to make your pond fencing perfect. Call us today at (763) 316-4881 to get started.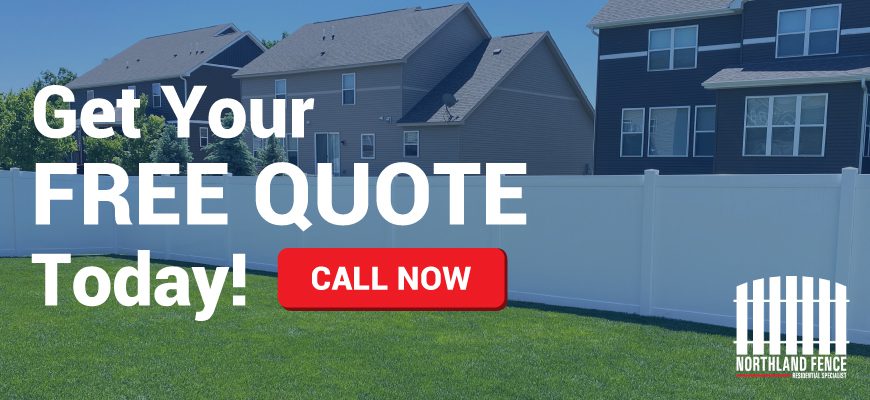 FAQs:
How do you fence around a pond?
There are no real restrictions or requirements regarding how to fence around a pond, but fences should be built to provide ample space for routine pond maintenance to be conducted.
How deep can a pond be without a fence?
Generally speaking, any body of water that is more than 18 inches in depth should be completely surrounded by a protective fence. While this isn't an official regulation, it is a good rule to follow to ensure the safety of children and pets.
Do I need a fence around my koi pond?
There are no laws that require fencing to be built around a small pond. That said, fencing is a good way to keep children safe as well as protect the creatures in your pond from potential predators.
How can I make my pond look nice?
There are many ornamental plants, waterfalls, and fixtures that can serve to make your pond more beautiful. Ornamental fences can also tie the look of a pond together as well as add necessary security.