When it comes to selecting a fencing style, there are many options to choose from. Popular choices include chain link, vinyl, wood, and wrought iron fencing. Wrought iron ornamental fencing proves to be a popular choice for property owners who want a secure and stylish fence.
There are many benefits of wrought iron fencing, including increased curb appeal and property value, low maintenance needs, and environmentally friendly materials. Even though many people want to add wrought iron fencing to their homes, they often get stuck wondering where to incorporate the fence and how to maintain it. Let's take a look at some of the most versatile places to integrate wrought iron fencing, as well as how to maintain it properly.
Where to Incorporate Wrought Iron Fencing
There are so many creative places to incorporate ornamental fencing. Many people think a wrought iron fence is only suited for surrounding impressive suburban homes, but that is simply not the case.
Whether you live in a small urban home or on an expansive rural property, there are places you can integrate ornamental fencing. Wrought iron fencing can absolutely surround the area of a suburban home, but you can also incorporate it in areas such as:
1. Gardens
Incorporating a wrought iron fence into a garden is a popular modern technique. Ornamental fencing boosts the appeal of other landscaping elements in a garden like flowers, trees, and stonework.
Homeowners love to create gated gardens with ornamental fencing. Wrought iron gates not only add an attractive feature, but the enclosure helps deter garden pests like rabbits and skunks. Colorful flowers add a beautiful contrast to the sleek, sturdy design of wrought iron fences.
If an entire enclosure doesn't suit your garden, consider only adding a wrought iron gate as a decorative feature. Iron gates make an eye-catching addition to front yard flowerbeds or shrubbery.
If you have climbing plants in your garden, consider using a section of wrought iron fencing to feature the vines. Beautiful climbing plants that incorporate nicely with wrought iron include:
Ivy
Honeysuckle
Trumpet vine
Clematis
Hydrangeas
Wisteria
2. Small Detailed Areas
Gardens aren't the only small areas that can benefit from the attractive nature of wrought iron fences. One of the unique design principles of wrought iron fencing is how the majestic nature of the fencing can suit small, unassuming places.
Rather than operating as the main focal event, wrought iron fencing can be a detail in small areas such as:
Birdbaths
Yard fountains or ponds
Small waterfalls
Flower beds
Driveway edging
Dog houses
3. Patios
Don't forget to include your patio when you consider places to incorporate ornamental fencing. Wrought iron fencing is the perfect solution for property owners who want to enclose their patio and achieve privacy without total obstruction. Since you can see out of wrought iron fences, they allow you to socialize with people in the other parts of your yard.
Whether you have an elevated or ground-level patio, with or without a grassy yard, patio enclosures are a fantastic way to incorporate wrought iron fencing on your property. Additionally, commercial businesses like restaurants, event centers, and country clubs appreciate the attractive privacy that wrought iron fences offer outdoor patios and gathering spaces.
4. Large Rural Properties
We've explored small areas to incorporate ornamental fencing, but what about wrought iron fencing for large properties? Fencing large properties such as outdoor complexes, historical sites, schools, or farms can be achieved with wrought iron.
Fencing a large property makes sense if:
You want to protect the privacy of students, guests, or residents.
You own livestock or other free-roaming animals.
You want to keep your property safe from trespassers.
You want to establish your property line.
Even if none of the points above apply to your property, aesthetics are a perfectly valid reason to install a wrought iron fence. The ornate, modern, and grandiose nature of wrought iron fences adds curb appeal and increases the value of large properties.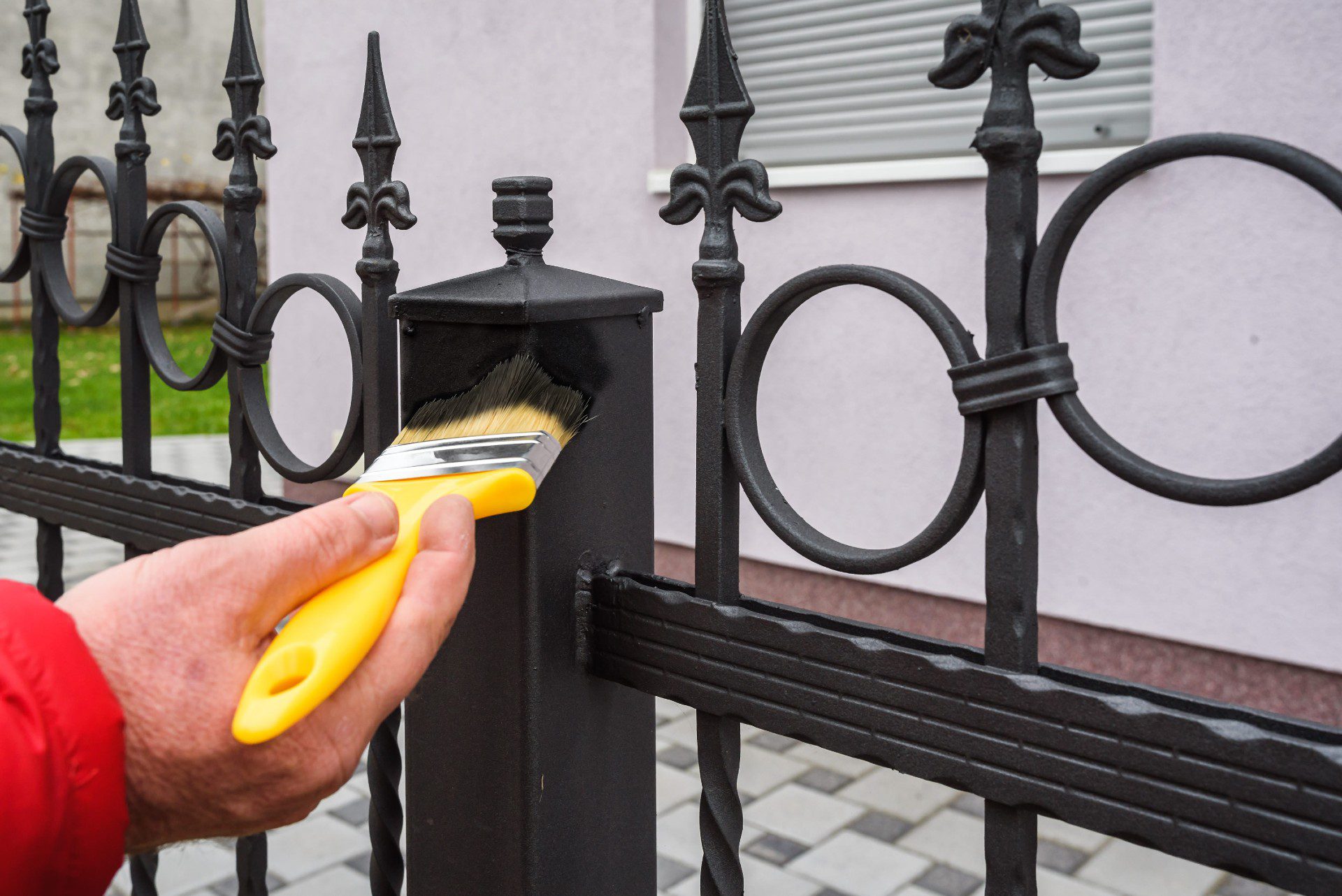 How to Maintain Your Wrought Iron Fence
Now that you have an idea of where you can incorporate a wrought iron fence on your property, you may be wondering how involved the maintenance is. Thankfully, wrought iron fences are relatively low-maintenance, which adds to their popularity. If you keep up with the following wrought iron maintenance suggestions, your fence will remain in pristine condition for many years.
1. Clean Regularly
Whether you install a wrought iron fence around a large property or place an iron gate in your garden, it is essential to keep an eye on it. When you notice significant debris gathering on your ornamental fence, remove it as soon as possible. Debris can include dirt, pigeon droppings, and dust.
Clean your fence with warm, soapy water and a clean sponge or rag. You can rinse off the soap mixture with a garden hose. Regular cleaning will keep your ornamental fence in top condition for many years.
2. Paint Annually
It is wise to create an annual painting schedule for your wrought iron fence. You can paint your fence every year, but most wrought iron fences only need a new layer of paint every two to three years.
Paint and primer specifically made for wrought iron help provide an additional protective layer. Oil-based paints and primers are the best choices for metal fences. An efficient way to paint your fence is by investing in an aerosol paint sprayer that will cover more surface area in less time.
3. Remove Weeds
If you choose to incorporate climbing plants with a wrought iron fence in your garden, you will need to distinguish your ivy from invasive weeds. Just like how you need to pull weeds from grass and gardens regularly, weeds need to be removed from iron fences before they lead to expensive repairs.
If you notice any of the following weeds making a home with your ornamental fencing, remove them as soon as possible by using branch cutters, trimmers, weed whackers, or scissors.
Algae
Vine tendrils
Tallgrass
Dandelions
4. Scrub Rust Away
If you live in a damp environment or experience harsh weather, your wrought iron fence can develop rust spots. Even rust-resistant fences can be susceptible to rust at some point. It is vital to control the levels of rust that appear on your iron fence to keep it in reliable condition.
You can clean rust spots by using sandpaper to remove the rust. Then, wash with warm, soapy water and apply a new layer of paint once the area has dried.
5. Create a Regular Maintenance Plan
Wrought iron fences are known for being durable and sturdy. Even still, regular maintenance inspections are necessary to maintain their longevity. An annual inspection will ensure that the fence is functioning correctly and any areas of concern can get addressed promptly.
Your trusted local fencing company can help you create a detailed maintenance plan to ensure that nothing gets overlooked.
The Options Are Endless For Wrought Iron Fences
As you can see, there are many fantastic ways to incorporate wrought iron fencing into properties both large and small. Whether you want to stylize your garden, feature an otherwise overlooked area of your yard, enclose your patio, or surround your sizeable rural property, wrought iron fencing will add style, security, and value.
Beyond being an attractive addition to your property, wrought iron fences are also easy to maintain with regular cleaning and a comprehensive maintenance plan. If you're ready to integrate a wrought iron fence into your property, contact the friendly team at Northland Fence today!