Are you considering fencing for your large rural property, outdoor complex, or historical site? There are many types of fencing to choose from. You can consider wood, chain-link, or synthetic fences.
But have you considered wrought iron fencing for your large property? There are many benefits and unique features of wrought iron fencing. Is it the right choice for your property? Let's learn more and find out!
Do Large Properties Need Fencing?
Property fencing is usually associated with suburban homes. They are often installed so that pets can run around freely in yards. Residential fencing also offers privacy and distinguishes property lines.
Fencing makes sense for contained residential properties, but what about large properties like farms and schools? If you own a large piece of land with no animals or even no buildings on it, there would be no reason to build a fence.
Fencing a large rural area makes sense if:
You own livestock or other animals
The property is a vacation home, bed and breakfast, or another establishment that welcomes guests
You're worried about trespassers
You want to make your property line clear
Similarly, schools, historical sites, and outdoor athletic complexes don't need fencing unless you are concerned about safety or property lines. Keep in mind, aesthetics and appearance are completely valid reasons to install a fence on a large property! If you would love the way it looks, that is a good enough reason.
Before you undertake fencing a large property, be aware that there are certain rules and regulations for the county and property association you belong to. Installing a fence by yourself on a large property often results in frustration and wasted money. Be sure to hire a trusted fence contractor when dealing with large properties.
What Is Wrought Iron?
Wrought iron fencing is one of the best options for large properties. But what even is wrought iron?
Wrought iron is a low carbon iron alloy that is incredibly strong and malleable. It was historically the iron of choice for shaping. Wrought iron is made by continuously heating the iron and deforming it with tools.
Wrought iron grows stronger the more it gets worked on. Since it is so malleable, it can easily be heated, re-heated, and worked into shapes.
The history of wrought iron is fascinating. It was used as early as 2000 BC in what we now classify as Turkey. It grew in popularity in the 19th century. Since the 20th century saw advancements in technology, it became easier and less expensive to form metal parts by machine.
Blacksmithing ultimately was seen as time-consuming and expensive compared to the new advancements, and the art and practice of blacksmithing died down. Since blacksmithing is not widely practiced anymore, very few pieces of true, classic wrought iron exist today.
Nowadays, "wrought iron" generally applies to any iron that is twisted or bent into shape. Most modern wrought iron fences are made of steel that is constructed to look like classic wrought iron fences.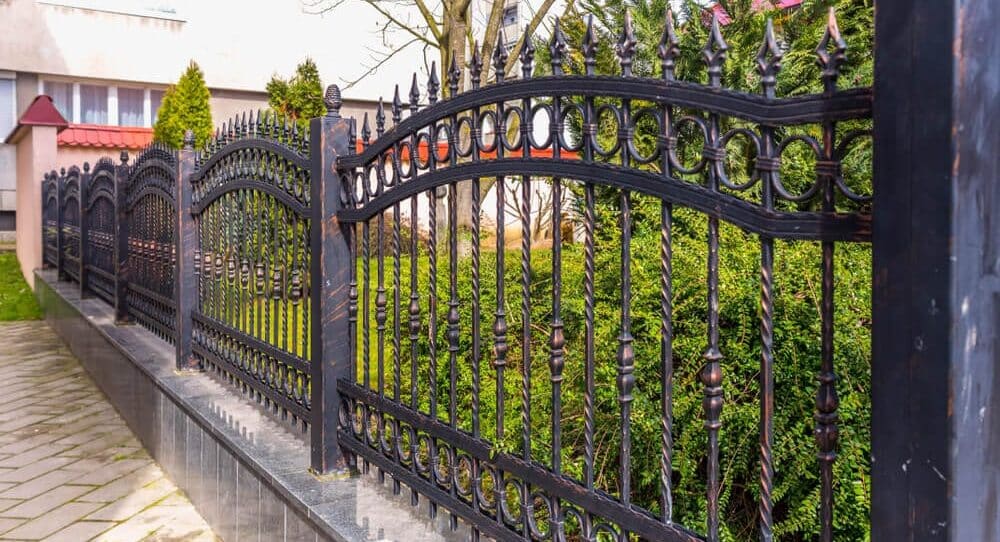 Why Is Wrought Iron a Good Choice for Large Properties?
You may be intrigued by wrought iron fencing and considering it for your large property. It is a good option to consider because there are many benefits of wrought iron fencing.
Benefits of wrought iron fencing include:
Strength: Wrought iron is much stronger than other popular fencing materials. It is a fantastic choice for security purposes.
Visibility: You can keep an eye on what is going on outside of your property because the rails on wrought iron fencing are spaced apart.
Longevity: Durability is the name of the game with wrought iron fencing. It will last for many years. It cannot rot, warp, or dry out like a wooden fence.
Attractive: Hey, there is nothing wrong with wanting to have the most elegant fence in your area. Wrought iron is the most stylish fencing material available. You can customize it to be as simple or ornate as you want.
There are some iconic wrought iron fences that surround large properties. While you may not be outfitting a palace with a new fence, it is clear that wrought iron historically offers protection and character to large properties.
Wrought iron has always been a top choice for security because criminals are dissuaded from climbing a tall fence with sharp tips. They also cannot break through the fence due to its sheer strength, compared to how they can cut through chain link fences.
If you have a property with a beautiful view, wrought iron fences won't block the view. These fences give your property curb appeal, and they accentuate the aesthetics of the buildings on the property.
How Much Does It Cost?
With full transparency, wrought iron fences are more expensive than other options such as vinyl, chain link, or wood. The average cost of wrought iron fencing can range between $1,200- 8,000. When we consider fencing a large property, the cost will be on the higher end of the spectrum.
Be sure to budget for additional installation costs which include:
Manual labor
Building permits
Hauling and moving
Prepping the land
Installing fences requires a lot of hard work, and you'll be thankful to have a trustworthy installation company to do the work for you.
How Do You Care for a Wrought Iron Fence?
Wrought iron fences last for a long time, and with the proper care, they can last even longer. If you live in a damp environment or face harsh weather, your wrought iron fence can develop rust spots.
To clean rust spots, use sandpaper to remove the rust. Afterward, apply a protective layer of paint. Rust is not a cause for concern. The material will not weaken unless it is left unattended for many years. Be sure to schedule annual maintenance and inspections on your fence. Plan to re-paint your wrought iron fence once every 10-15 years.
That's it! Another perk of wrought iron fencing for large properties is that it does not require lots of hands-on maintenance.
Ready to Install a Wrought Iron Fence on Your Property?
If you think your large property could benefit from the strength, longevity, elegance, and minimal care that a wrought iron fence has to offer, don't wait to get started. Contact Northland Fence for a free estimate any day of the week.
Even though your property probably isn't a palace, it still deserves to look like one. Wrought iron fencing is sure to bring the personality of your large property to life.