A beautifully crafted fence adds a sense of security and style to any property. From white picket fences to standard privacy enclosures, there is a style for everyone.
One of the best ways to transform your yard is by adding a fence that dynamically matches your home's aesthetic; however, when it comes to picking the best color fence to match your home's exterior, there are many factors to consider. Now, while a good fence can add character to your house, it can also make or break your curb appeal.
Even though it can feel daunting to choose between the different colors, textures, and materials, there are helpful tips that you can follow.
What Are Some Factors to Consider When Choosing Fence Colors?
Think of your fence as a continuation of your home's design. That's why it's so important to have a cohesive look that resonates with your home's color scheme. A complimentary color blends perfectly with your home's exterior and adds to your property value. However, if you choose a conflicting style, it could be an expensive eyesore.
So, where do you begin to strategize styles, materials, and color combinations? Let's look at some things to consider when picking out the best color fence to match your home.
Exterior Siding
Before you sift through color swatches for your new fence, it's essential to establish what color your home's exterior is and what colors complement and conflict with it. For example, if you have a tan exterior, installing a black modern-looking fence would clash terribly and detract from the overall aesthetic of your property.
Instead, pair it with a white or dark brown fence to create a more united color scheme.
Match Your Trim
One of the simplest ways to pair a fence with your home is to match it to your trim. Since shutters and the frame on your exterior are usually the same color, color-matching them with your fence will pair well together.
For example, if you have white trim, a white PVC fence will compliment it nicely.
Style
Consider your home's style. Do you have a farmhouse or ranch-style home? Maybe you have a colonial or even post-war place? Finding a fence color to embrace the character of your home is crucial.
While you may prefer trendier colors, like black or oak stain, make sure to pick a coordinating color scheme. Leave the black for modern homes and oak stain for ranch-style houses.
Pair It With Your Other Permanent Structures
Do you already have a pergola, deck, or other permanent structures in your yard? When adding a fence, it's crucial that everything cohesively works together to add, not distract, from your property. Consulting a skilled contractor allows you to visualize what your new fence will look like so that you can adequately color match these structures.
If you already have a patio design, try and coordinate with the color palette.
Match Your Landscape
Since lighter colors pull focus forward, you'll need to decide how to work with your space. If you want to highlight your garden or landscape design, consider a dark-colored fence to make your area appear larger.
Double Check Your HOA Guidelines
Do you have any restrictions imposed by your Homeowner' Association? Some homeowner associations have color requirements and policies that dictate what colors you can use on your property. While it's an inconvenience consulting your HOA before installing a fence, it will save you thousands in fees or replacement costs.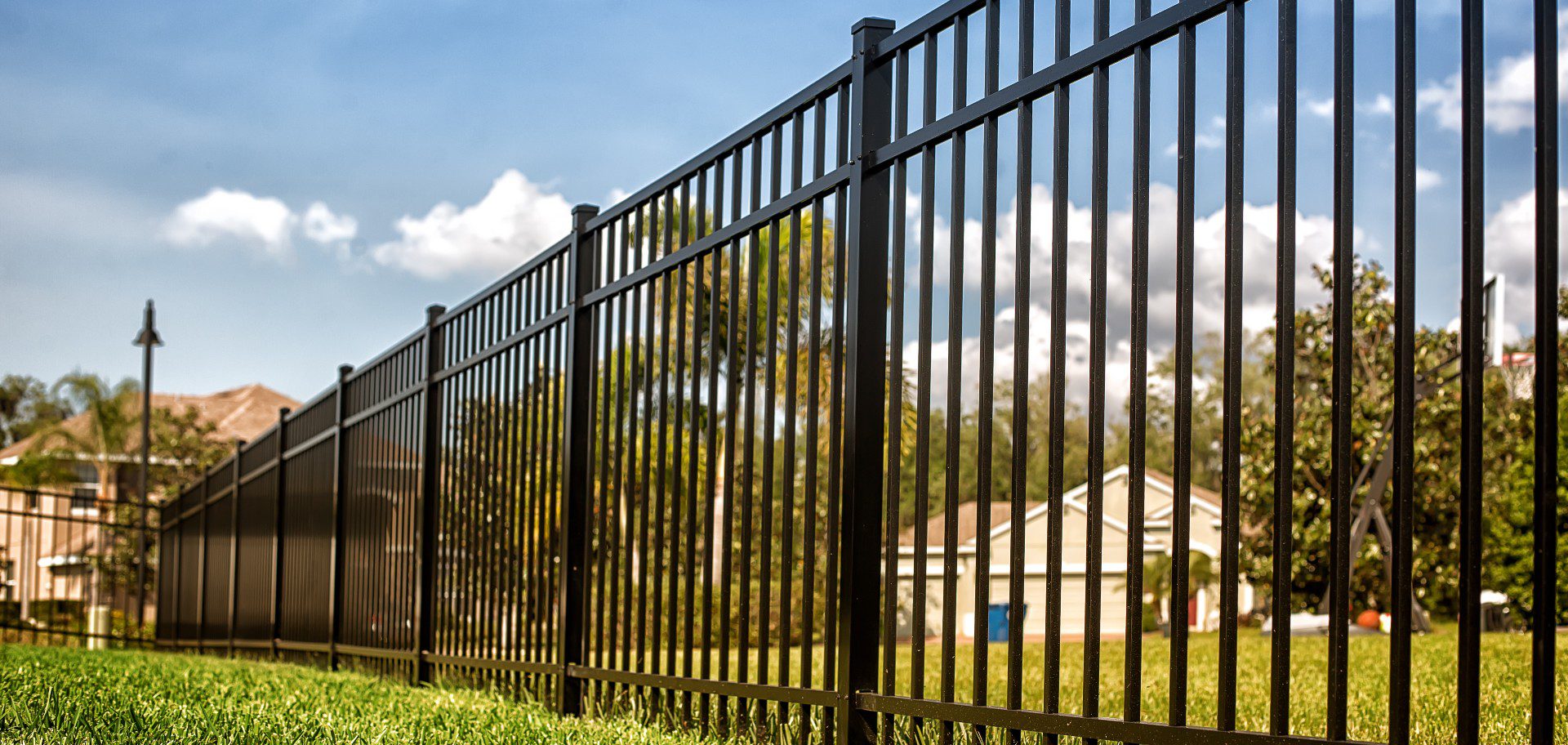 Find the Right Fence Material & Style
At Northland Fence, we offer various fence styles and materials that allow you to personalize your property. Now that you have a better idea of what to look for when planning your fence let's explore which materials are available.
Metal Fences
Choose from either 3-rail ornamental iron or chain link metal fences for strength and functionality. Chain Link fences are an excellent addition for defining property lines without a hefty price tag. Try adding some green hedges or taller foliage for added texture.
Ornamental iron fences, on the other hand, are more decorative. This style of fence adds personality and distinction to your property. If you have a Mediterranean, brick, or classically designed home, iron fences are excellent choices for you.
PVC Fences
PVC fences are made from vinyl and come in several set colors. You can even choose from either vinyl picket or privacy fences. Unlike wood, PVC fences don't need to be restrained or resealed every year. However, they also are unable to be stained or painted, so it's essential to confirm your color before installation.
Popular Fence Colors
Ultimately with the current price of lumber, PVC fences are a more affordable and longer-lasting fencing option than wood alternatives. Browse some of the popular vinyl fence colors below.
Black
Don't be fooled by its dark color; black brings a lot of personality and style to your yard, especially if you have a modern home. It also makes an excellent backdrop for your flowers and plants. Remember to choose black because it matches your home's style and not because it's a trendy neutral.
Arctic Blend
Another staple color for vinyl fences is an arctic blend. It reads as a natural, light grey color with added dimension. Arctic Blend is a staple color that can pairs perfectly with neutral homes or other edgier designs.
White
There is nothing quite as classic as a white picket fence. White allows colorful flowers to pop and draw in visitors with beautiful curb appeal. It is also an excellent choice for homes that have white trim.
Dark Brown
If you want a more traditional or rustic look, a brown vinyl fence that mimics a classic wood stain is a solid choice for you. Why not choose a wood fence instead? Since wood has to be treated and restrained or repainted nearly every year, it becomes a hassle. PVC fencing can replicate the dark wood privacy fence you desire while being more cost-effective and durable.
Two-Tone
A great way to add character to your yard is by adding a two-tone fence. If you have a neutral exterior with white trim, a two-tone design can carry that same style throughout your property. Unsure of which two colors to choose? Ask your fencing contractor for color matching options.
Tan
White, beige, or other light-colored homes benefit from a complimentary tan fence. Since it's a natural color, it doesn't distract or detract from your home's exterior.
Don't forget to utilize the online fence planning program. The program collects all essential information regarding your fencing needs and then provides an installation estimate for your project.
Northland Fencing: Finding the Best Color Fence for You
If you're investing in a new fence, it's essential to find the best color fence to match your home's exterior to create a clean, cohesive look. If it doesn't compliment your home, it could work against your overall curb appeal, and that's an expensive mistake you don't want to make.
Consult the fencing contractors from Northland Fence. We'll guide you in choosing the right design, style, and color to perfectly match your exterior.