So you have invested in a beautiful new fence – now what? A fence can offer both a sense of security and an aesthetically pleasing division between you and your neighbor's yard. While there are so many wonderful benefits of adding a fence to your property, it's essential to implement a maintenance strategy for upkeep. This goes hand in hand with keeping open communication with your neighbors to avoid any issues since nothing can sour a neighbor relationship faster than an unsightly fence.
After installing a new fence, you need to ensure that you follow some care tips to maintain a clean property line between you and your neighbor's yard. Read on to learn more about fence etiquette and how to care for your property line appropriately.
Fence Etiquette in Minnesota
Practicing proper fence etiquette goes beyond notifying your neighbors of a new fence installation. From construction to yearly maintenance and everything in between, it's essential to consider all of these details to ensure a friendly interaction between you and your neighbors.
Properly maintaining a fence is a great way to keep a visually pleasing neighborhood. It's also essential for avoiding strife between neighbors about boundary disputes. A good neighborly relationship can quickly go south if there isn't constant communication and regular fence preservation.
5 Fence Care Tips for Your Property Line
While most modern fences like vinyl, chain link, or wrought iron require little maintenance, there are small ways to help keep them looking beautiful and adding to their longevity. Use this as a guide to help keep your property line looking beautiful and your neighbors happy:
1. Know Your Property Line
By clearly identifying your property line with a surveyor, you can eliminate future boundary disputes. While most counties throughout Minnesota require you to build a fence at least six inches within your property line (check your local ordinance to confirm), there are times when it's advantageous to construct it directly on your property line. If this is the case, you'll need to get your neighbor to sign a written agreement, vowing to share equal cleaning and maintenance responsibilities. Choose whichever works best, depending on what is more advantageous for both parties.
Regardless of which option you go with, you'll still need to ensure that you're doing your part to keep the fence clean, functional, and visually appealing.
Avoiding Fence Disputes
Before you install a fence, it's essential to consider how it will blend with your home's exterior as well as the rest of the neighborhood. In addition to speaking with your neighbors about maintenance responsibilities and property lines, it's also a good idea to notify them of your fence's intended style and height.
If you're a member of a Homeowner's Association (HOA), you will need to consider the styles and upkeep required of all fences to avoid costly fees or having to install a new one. These factors play into maintaining your property line, so don't be afraid to use the fence planning tool in preparation.
2. Regular Lawn Care
Depending on how much water and fertilizer your lawn gets, it could have an extended growing season. For a property owner, that means more lawn maintenance is needed. Frequent mowing and trimming is a great way to prevent weeds or long grass from growing through your fence into your neighbor's yard. Don't forget to clean up any remaining grass clippings so that they don't cling to your fence's exterior.
Edging is another excellent way to distinguish your fence line and prevent grass from growing under your fence. After this process, you can either keep the soil exposed or add decorative rocks or mulch. Just make sure to replenish as needed.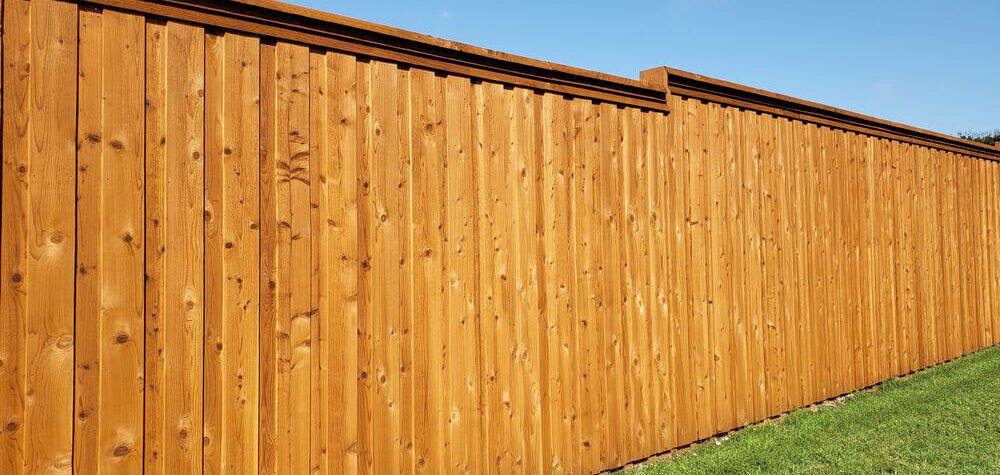 3. Give Your Neighbors the "Good Side"
Many fence styles have a front and back side which gives them a signature look. For vinyl fences, the front side doesn't have visible fence posts or exposed hardware. By placing this "good side" towards your neighbor's yard, you give them a beautiful background that will help to ease any tensions.
Another benefit of this placement is that you will have easy access to all essential hardware in case you need to make any repairs. Chain link and ornamental fences don't have this same concern because they look relatively the same on both sides. Nevertheless, you'll still want to have any key components facing your yard for easy access.
4. Clean Throughout the Year
One of the many benefits of a vinyl, ornamental, or chain link fence is that they don't require as much maintenance throughout the year, unlike wood fences. Instead, you can simply brush away cobwebs, dirt, grass clippings, and any other debris that can build up over time.
When it comes time to deep clean your fence, you'll only need some mild detergent and a hose. Try to clean this way a few times a year, and scrub any areas with stains or imperfections.
5. Repair and Replace Problem Areas
No one likes the looks of an unsightly fence. Not only does it bring down your curb appeal, but it also reduces its efficiency. While vinyl fences don't require new paint or stains like wood fences, they are susceptible to severe storm and hail damage. Thankfully, fence posts, damaged fence hardware, or broken panels are easily replaceable.
Once again, you must fix any weakened areas promptly to avoid any problems or fees from your local HOA or zoning department.
Work With the Fence Specialists at Northland Fence
You will be amazed at how far keeping a clear line of communication, regular lawn care, and regular maintenance throughout the year will go with preserving your property line. For all other concerns, storm damage, or repairs, make sure to reach out to skilled fence professionals at Northland Fence.
Our fence installation experts can assist you with new vinyl slats or posts, critical hardware, and even clear installation guides. Contact Northland Fence today, and our team will be happy to help you with any fence care tips you need for an aesthetically pleasing property line.