Sometimes, it can be fun to redecorate your home by rearranging furniture, adding new wall art, or even painting the walls a new color. Do you ever wish you could redecorate your yard too? If you have a fence surrounding your yard, the good news is that there are many creative ways to decorate and accessorize your fence to breathe a new life into your outdoor space.
Owning a fence adds to property value, so it's easy to understand why having a fence is beneficial. When you accessorize your fence to make it feel more personal and unique, you will feel its value in your daily life. Are you ready to learn about six creative accessories that anyone can add to their fence? Keep reading to discover our favorites.
1. Incorporate Climbing Plants
Ornamental steel or wrought iron fences are famous for their modern and stylish designs that feature open spaces between each picket and post. These open spaces offer a host of creative decorating opportunities, particularly when it comes to plants. Incorporating plants into an ornamental fence is one of the most eye-catching design principles for wrought iron fencing. Certain plants work better with ornamental steel fencing than others. Plants that grow and climb along a fence are incredibly striking and impressive. Consider accessorizing with some of the best climbing plants for your fence:
English Ivy
Boston Ivy
Persian Ivy
Carolina Jessamine Vine
Climbing Roses
Morning Glory
Wisteria
Honeysuckle
If you don't want to incorporate climbing plants on your fence, you can get a similar stylish outcome by planting flowers or shrubs on the edge of your fencing. Colorful flowers particularly allow the design of wrought iron fences to stand out.
2. Hang String Lights
Turn your backyard into an oasis perfect for entertaining by accessorizing your fence with string lights. You can choose small twinkly lights, colored lights, or string lights with a lantern-shaped bulb. Better yet, you can swap out different types of string lights during each season to keep your accessories fresh and exciting.
To hang string lights on your wooden or vinyl fence, attach cup hooks, metal mounting hooks, or self-adhesive plastic clips. You can weave the string lights in and out of the open spaces if you have a chain-link fence.
Adding string lights to your fence creates a warm ambiance, so much so that you'll never want to leave your yard! Host gatherings with your friends and family and keep the party going after sunset.
3. Paint a Mural
Do you ever notice murals painted outside of businesses in your city or town and wish that you could incorporate a mural onto your property? Good news, you can! If you own a vinyl or wooden fence, you or a professional artist can paint a mural directly onto the side of your fence that faces in towards your property.
Even if you have a chain-link fence, a mural is not out of the question. You can add a privacy mesh screen to a chain-link fence and paint a mural on the side that faces your yard. Privacy screens typically come in black, tan, or white. However, you can even find privacy screens with designs printed on them. If you're looking to skip the step of painting a mural, you can achieve a similar outcome with a printed privacy mesh.
4. Add an Accent Arbor
A visually striking way to accessorize your fence is to add an arbor or trellis. An arbor is a vertical structure meant mostly for aesthetic purposes, but it can also add some levels of shade and privacy. Arbors can be attached to a wall or fence or be freestanding.
Just like how fences are available in a variety of materials, arbors are also made out of wood, wrought iron, or other materials. Some arbors can be up to ten feet tall, so be sure to understand your city's laws about residential fence height restrictions before committing to installing a trellis.
In addition to wrought iron fences, climbing plants also make a visually appealing addition to trellises. Completely change the look and feel of your fence and yard when you add an accent arbor.
5. Install a Container Garden
Once you complete spring fence cleaning and maintenance after the cold winter months, it's time to spruce up your yard with a colorful garden. Did you know that gardens can exist in unique found items, not only on a designated plot of land? That's right; you can attach hooks to your fence and install mini gardens directly onto the structure.
Container gardens can be planted in all sorts of creative items, including:
Watering Cans
Fill a watering can with soil and a green or flowering plant. Hang multiple watering can gardens on your fence as a unique accessory. You can even paint the outside of each watering can to match your ideal aesthetic.
Rain Boots
When April showers bring May flowers, consider creating mini gardens inside rain boots for a quirky and fun addition to your yard. You can find rain boots in many vibrant colors and designs and more neutral colors. Add soil and flowers to each rain boot and attach them to your fence with hooks or nails.
This DIY craft is excellent for when your kids grow out of their rain boots. You can even use the opportunity to teach them about gardening and let them choose what plants they want to grow.
Hanging Planters
If you don't have the time or interest in making a DIY garden, you can find many pre-made hanging planters at your local garden center. You can swap out the types of flowers with each season or add a woven macrame plant hanger to the outside of the pot for an added design touch.
Wooden Box Planters
Most home improvement stores and garden centers carry wooden planter boxes in a wide range of sizes. These planters have a rustic feel and are easily added to fences by hanging over the top or with the help of wall planter hooks.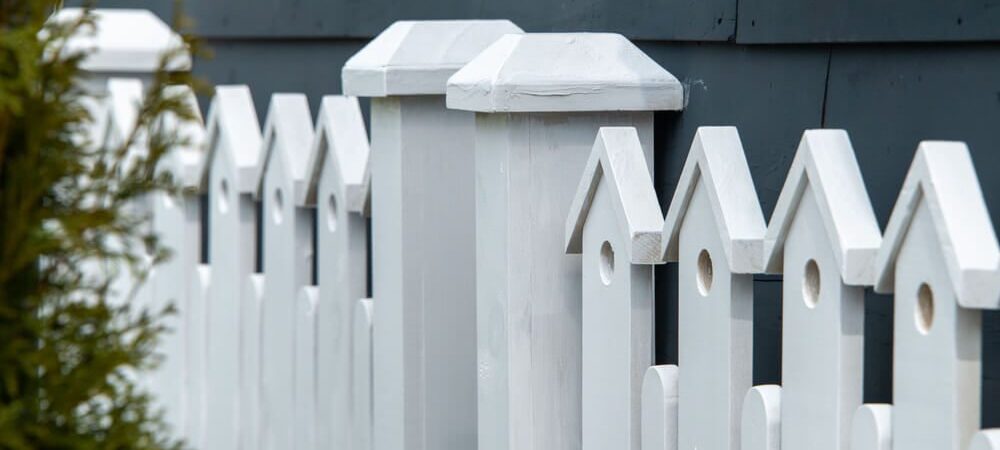 6. Decorative Post Caps
Vinyl and ornamental steel fences often feature flat post tops that leave room for decorative post caps to be added. You can find post caps in a variety of colors and shapes, including:
Round
Square
Spear
Ball
Lantern-shaped
Stained glass
You can even find unique post cap designs like stars, animals, and pineapples.
Get Creative and Make Your Fence Feel Brand New
When you get creative and accessorize your fence by adding plants, lights, murals, or post caps, your yard and fence will feel completely different in the best way. Swap out various accessories with each season to keep your property feeling exciting and new.
If you're looking to install a new fence or need maintenance on your existing structure, contact the experts at Northland Fence today!